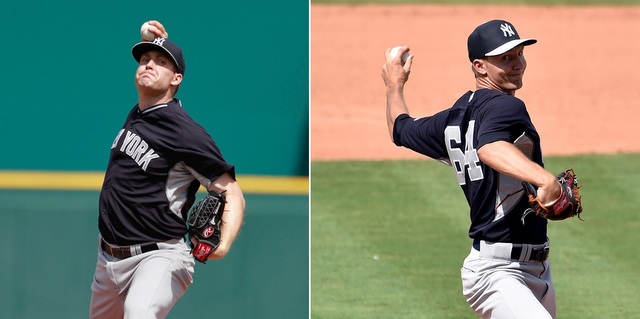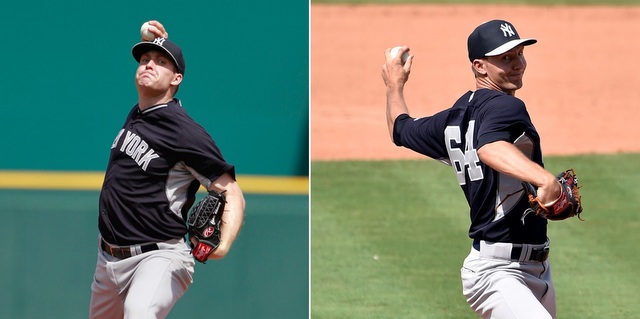 The Yankees open the 2015 regular season in just six days now. And, at this very moment, it's still not clear who will fill the last two bullpen spots. We know Andrew Miller and Dellin Betances will work the late innings — assuming Betances straightens himself out — and Justin Wilson and David Carpenter will get the middle innings. Esmil Rogers will be in the bullpen in some capacity too, like it or not.
Those last two spots are still unaccounted for. In fact, the Yankees haven't even dropped any hints about which way they may be leaning. Another long man? Two more short relievers with Rogers being the long man? A third lefty? Nothing. The only hints we've gotten have come via roster cuts — players optioned or reassigned to minor league camp are out of the running for the Opening Day roster. I mean, yeah, one of those players could always make the roster, but that's a rarity. Guys are sent out because they're no longer considered MLB options.
By my count, the Yankees have 36 players remaining in big league camp, 17 of whom are pitchers. Three of those 17 are injured — Vicente Campos (Tommy John surgery), Chris Capuano (quad), Ivan Nova (Tommy John surgery) — so it's really 14 healthy pitchers. Ten of those 14 are locks for the Opening Day roster (the five relievers I mentioned earlier and the five starters), meaning the last two bullpen spots are down to a four-man race. And when you look at them individually, it's easy to see who the two favorites are.
RHP Andrew Bailey
Bailey, 30, has throw four one-inning appearances this spring as he works his way back from a torn shoulder capsule, and he's had at least two days off between each of those appearances. He hasn't even worked with one day of rest between appearances, nevermind back-to-back days, which most relievers both in Yankees camp and around the league have already done at this point of spring. After spending nearly 20 months rehabbing from major shoulder surgery, four innings plus whatever Bailey throws this week doesn't figure to be enough to land him on the Opening Day roster. Brian Cashman and Joe Girardi have continually downplayed Bailey's chances of making the team and it makes total sense. He's simply not ready yet.
RHP Chris Martin
Martin's spring has been better than his 5.63 ERA would lead you to believe. He's made nine appearances and five of the six runs he's allowed have come in two of them, plus he has 13 strikeouts and one walk in eight innings. More importantly, the 28-year-old Martin's stuff has looked good — hittable, but good — which might be enough to convince the Yankees they could hide him as the seventh reliever for a few weeks until Capuano returns or a Triple-A reliever forces the issue.
LHP Chasen Shreve
Not counting the guys who were competing for a rotation spot, the 24-year-old Shreve leads all relievers in camp with 10.1 innings pitched. The Yankees have given him plenty of exposure against righties — 29 of 43 batters faced have been righties — and he's held his own, with seven strikeouts and one walk in 7.2 innings against hitters of the opposite hand. The overall Grapefruit League numbers are not good (5.23 ERA), but I don't think the club will ding Shreve too hard given how much they've pushed him against righties. The Yankees are not a team that tends to dwell on spring performance. The way they've used him makes it seem like they want him to make the roster, or at least considered him a serious Opening Day roster candidate at one point. They might like Shreve's split-changeup hybrid enough to carry him on the roster to open the regular season.
RHP Chase Whitley
Whitley was a fifth starter candidate but not really. He did get stretched out but only made one start, and he never did throw more than three innings in an appearance. Whitley has helped himself with a strong spring (0.79 ERA), which is better than getting hit around, especially since the Yankees know him from his time with the team last year. It's hard to say no to a guy who was with you last year and has pitched well in camp, know what I mean? For example, in one hand the Yankees have Martin, who is new to the organization and requires you to squint your eyes to see the positive in his spring performance. In the other is Whitley, who's three years younger than Martin, has been in the organization for years, and has pitched well in recent weeks. Seems like an obvious call to me.
* * *
The process of elimination leads me to believe Whitley and Shreve are likely to get those last two bullpen spots. Bailey simply isn't physically ready for the big leagues yet. He hasn't shown he can handle the workload. Whitley has pitched well and is an incumbent, and Shreve has been used in a way that suggests he is ahead of Martin on the depth chart. The signs point to Shreve and Whitley.
Of course, the bullpen is a very fluid part of the roster, and the Yankees have built enough depth that making the team on Opening Day isn't a guarantee Shreve and Whitley won't be in Triple-A come, say, April 20th, two weeks after Opening Day. Winning a roster spot is one thing. Keeping it is another. The Yankees have the ability to swap out relievers as needed and I expect that happen. Being on the Opening Day roster just means Shreve and Whitley (or whoever) will get the first shot at sticking all year.