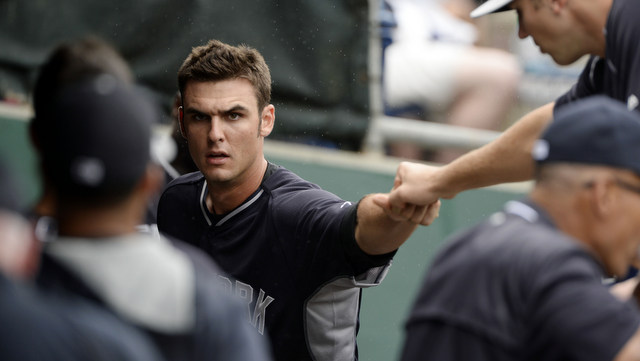 Opinions will vary, but I think most would agree first baseman Greg Bird has been the most impressive young hitter in Yankees camp this year. Jose Pirela has better stats but Bird looks the part of a big leaguer at the plate. He knows the strike zone and he hasn't looked overwhelmed either by pitchers or the environment. Bird just looks like a hitter. I don't know how else to explain it. Look at how quick his hands are:
It seems like Bird he was born to hit. He went 5-for-14 (.357) with three doubles and a home run during Grapefruit League play before being reassigned to minor league camp yesterday.
Aside from being late to lunch
, Bird was extremely impressive in Spring Training. Brian Cashman called him "by far the best hitter in the (farm system)" a few weeks go and Alex Rodriguez has sung his praises as well. From
John Harper
:
"I mean, when you've been around for 20 years, you know who can play and who can't. You see the way the ball comes off his bat. Then you see his work ethic, and how he watches and asks smart questions, and you know he's got a great makeup. He's going to be around for a long time."
This isn't Jorge Posada or Jason Giambi calling Phil Hughes the next Roger Clemens or something silly like that. It's just A-Rod praising Bird for being an intelligent player and a good hitter. There's no hyperbole. A-Rod is just repeating what a lot of other people have already said about Bird, that's all.
As it turns out, A-Rod had a small hand in Bird's development as a hitter. The two first met back in 2013, when Alex spent a few days with Low-A Charleston working his way back from his surgery. A-Rod has always been great with young players and Bird credits him for some advice, not just as a hitter but about being a pro baseball player in general. From Andrew Marchand:
"Some of the things that he told us still is some of the best advice I've ever gotten as a hitter, just as far as professional baseball went," Bird, now in his first big-league camp, said the other day.

A-Rod told Bird and the rest of the Single-A Charleston River Dogs that the higher the level you go, the easier the game becomes — the stadiums are nicer, the lights are better, the umpires are more precise, on and on. A-Rod also gave practical advice on hitting, making it simple.

…

"He is not even worried about (looking for pitches in specific spots)," said Bird, a 22-year-old, 6-foot-3, 215-pound, left-handed first baseman. "You can't worry about the inner half of the plate because if you do, you give up the outer half. You give up off-speed pitches. Just hearing that out of his mouth that first full season was big. It stuck with me ever since."
Bird, who turned 22 in November, obviously has a boatload of talent and it all starts there. His talent got him drafted — the Yankees selected Bird in the fifth round of the 2010 draft but paid him first round money ($1.1M bonus) — and is the main reason he's torn up the minors, but taking advice and using it make the necessary adjustments is often what separates the guys who make it and the guys who don't. It seems Bird has been able to do that after talking to A-Rod.
The Yankees have made it clear in recent years they have a "type." They prefer certain kinds of players over others and I'm guessing every organization does as well. The Yankees like pitchers who throw hard but don't walk everyone in the park — you didn't think they pulled Michael Pineda and Nathan Eovaldi out of a hat, did you? — and the taller they are, the better. They also like great defensive catchers. And, of course, they like left-handed hitters with power and patience. Guys like Bird. He's right in their wheelhouse.
This offseason the Yankees shifted gears and focused on getting younger, most notably by trading for Eovaldi and Didi Gregorius. Comments made by Cashman and Hal Steinbrenner this past offseason also make it seem like they will be more willing to give prospects an opportunity going forward, and there's a clear path to MLB for Bird. Spend this year in Double-A and Triple-A, next year going up and down based on Mark Teixeira's health in the final season of his contract, then step into the lineup full-time in 2017. A-Rod helped Bird get here, now Bird has to take the next step and give the Yankees a reason to give him a chance.