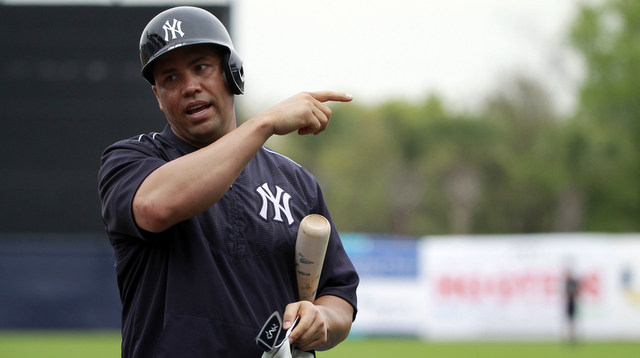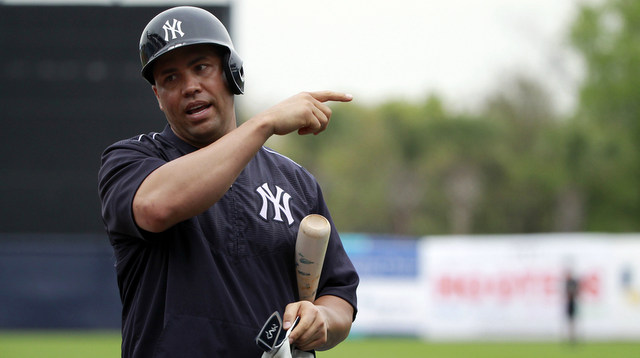 One year into his three-year contract, the Carlos Beltran signing looks like the position player version of the Randy Johnson trade: the Yankees got the right player, just nine years too late. Beltran's first season in pinstripes was a disappointment for several reasons, mostly because he didn't hit (95 wRC+) and was banged up just about all season. Those two things are not mutually exclusive.
Beltran, who will turn 38 in April, had offseason surgery to remove a bone spur from his right elbow after it hampered him from mid-May through the end of the season. He wanted to play through it and the Yankees were on board since the pain could be managed and the injury couldn't get any worse, but in hindsight it was a mistake. Brian Cashman admitted as much after the season. Beltran should have just had surgery in May and been done with it.
Year two of Beltran's contract offers the hope that, with the bone spur out of the picture, Beltran will get back to being productive and an asset in the middle of the order. After all, he hit .296/.339/.491 (131 wRC+) with 24 homers as recently as 2013. It's not like you have to squint your eyes and look back five years for the last time he was an impact hitter. Beltran's bat is a big factor for the 2015 Yankees.
Yankees Need: Damage Against Righties
Beltran is a switch-hitter and the vast majority of pitchers are right-handed — the batters faced split has sat around 75/25 in favor of righties the last few years — so the Yankee are going to count on him to do serious damage against them. I don't just mean hold his own, I mean be a force. A middle of the order guy, a number three or four type hitter, hit for both average and power against northpaws. That kind of hitter. At this point of his career Beltran's only redeeming quality is his bat. The Yankees need him to wreck righties.
Beltran Can: Still Produce Against Righties
Even while battling the elbow issue last year, Beltran still managed to hit .254/.331/.446 (118 wRC+) with 12 of his 15 home runs against righties. He also posted better than average strikeout (16.2%) and walk (9.5%) rates against righties, which is in line with his career numbers overall. Beltran didn't put up 2013 numbers against righties (143 wRC+) but he was able to contribute from the left side of the plate even with the bone spur in his elbow.
The left side is Beltran's more productive side and has been for years. (He's a natural right-handed hitter, weirdly.) Last year he really seemed to struggle with inside pitches as a lefty batter and the data backs it up. Here are Beltran's strike zone heat maps as a left-handed batter from 2012 through 2014 in terms of runs produced above average per 100 pitches (via FanGraphs):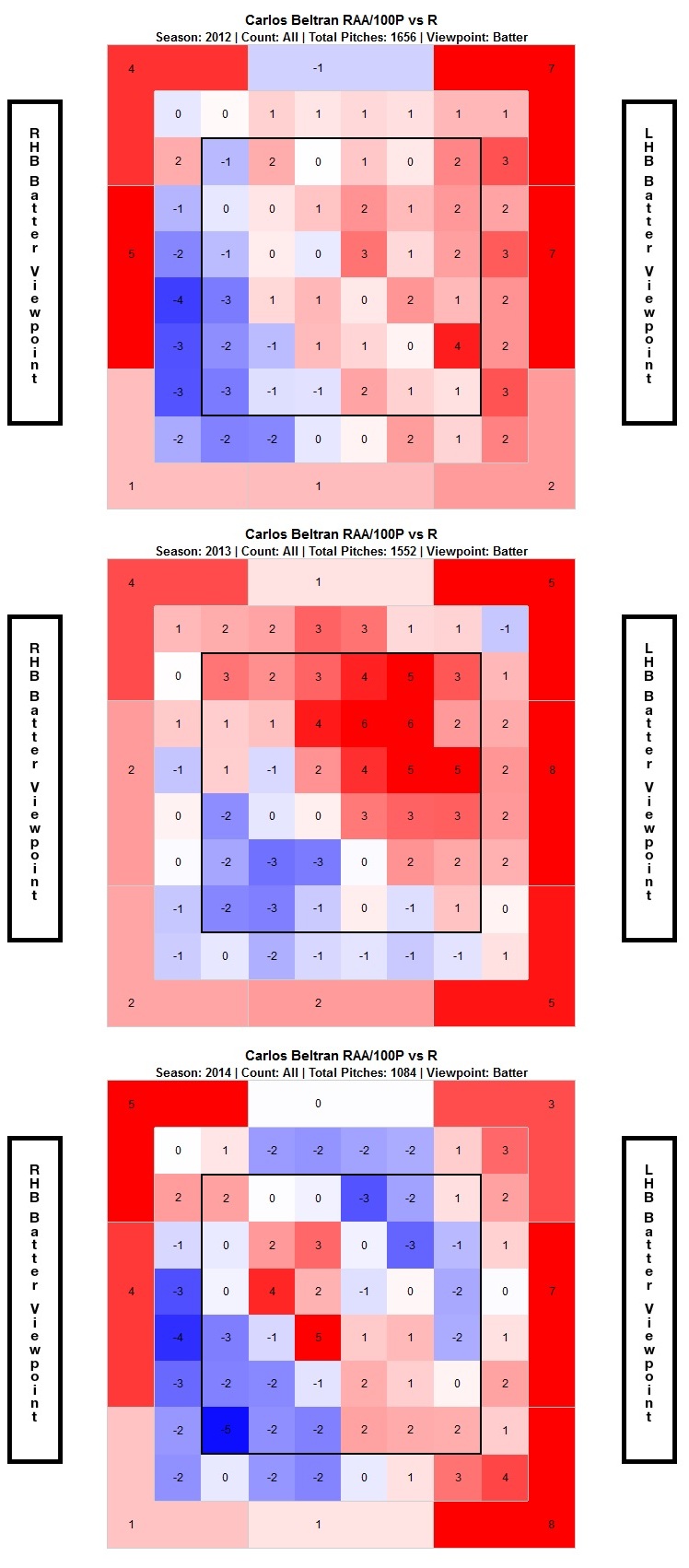 The brighter the red, the more damage Beltran did against pitches in that particular location. The brighter the blue, the worse he did. Notice how the inner half of the plate (the right side of the heat maps) is nice and red in 2012 and 2013 before turning blue in 2014. He was five or six runs (per 100 pitches) above-average in certain inside spots in 2013 before dropping to two or three runs below-average in 2014. That's a huge, huge swing from one year to the next.
Beltran's bone spur was in his right elbow, his lead elbow as a left-handed hitter. That obviously could have played a major role in his sudden inability to hit inside pitches. Beltran simply might not have had the range of motion necessary — or at least have the necessary range of motion without discomfort — to hit those pitches. Or it could just be that he's a soon-to-be 38-year-old player who is losing bat speed by the day and is no longer able to get around on inside pitches. We can't rule that out either.
Now that the bone spur is out of his elbow, there's at least some hope Beltran will better be able to handle inside pitches and thus improve his production against righties this coming season. He might not get back to where he was in 2013 or his overall 2011-13 level (139 wRC+), but something more than last year would be nice.
Yankees Need: Production Against Lefties
The Yankees are projected to have four right-handed hitters on the Opening Day roster: Alex Rodriguez, Chris Young, John Ryan Murphy, and Brendan Ryan. Only one of them figures to be in the regular starting lineup. That is not a lot of offensive firepower from that side of the plate, so the switch-hitters like Beltran (and Mark Teixeira and Chase Headley) are going to have to help pick up the slack. The AL East isn't what it once was, the days of seeing David Price or Jon Lester every other weekend are over, but there still needs to be lineup balance and the ability to handle southpaws.
Beltran Can: Hopefully Halt The Decline Against Lefties
At this point Beltran is a switch-hitter in name only. The right side has been his weaker side of the plate for a few years running now and it's only getting worse. Across the board his AVG, OBP, SLG, ISO, and wRC+ against lefties have been trending in the wrong direction since 2010. (His walk and strikeout rates have been all over the place.) Check it out:
| | AVG | OBP | SLG | ISO | wRC+ | K% | BB% |
| --- | --- | --- | --- | --- | --- | --- | --- |
| 2010 | .292 | .364 | .646 | .354 | 165 | 20.0% | 9.1% |
| 2011 | .286 | .338 | .585 | .299 | 153 | 17.5% | 6.9% |
| 2012 | .276 | .329 | .538 | .262 | 129 | 22.4% | 7.5% |
| 2013 | .252 | .281 | .448 | .196 | 100 | 15.2% | 4.1% |
| 2014 | .196 | .242 | .322 | .126 | 50 | 20.9% | 5.9% |
Yikes. Yes, the "bone spur in the elbow" caveat applies to last season, but leave 2014 out of it and that's still a really scary trend. Even with a healthy elbow, why would I expect Beltran to be even an average hitter against left-handers this coming season? Hopefully he'll rebound with a healthy elbow and top last year's production, but I feel like it'll take some BABIP luck to get back to a 100 wRC+ in 2015.
I doubt it'll happen, but there's an argument to made the Yankees are best off platooning Beltran with Young this summer. Or at the very least batting Beltran lower in the order against southpaws.
Yankees Need: "Just Don't Mess Up Too Bad" Defense
In his prime, Beltran was an unreal center fielder with great range, tremendous reads, and a strong arm to back it all up. He wasn't Andruw Jones but he was the next best thing. He was that good defensively. It's been a very long time since Beltran was a plus defender though. You have to go back to his days with the Mets, basically. The Yankees are not unrealistic. They'll again shade Jacoby Ellsbury towards right-center to help compensate for Beltran's lack of range — having Brett Gardner in left allows that — and hope Beltran can simply make all the play he's supposed to make. Right field in Yankee Stadium is relatively small. There's not much ground to cover out there.
Beltran Can: Stand In Right Field For A Few Innings
Beltran has consistently rated as a below-average right fielder by the various defensive stats the last few years and that definitely matches up with the eye test. It's not just a lack of range brought on by age and years of knee problems, there was was straight up laziness at times last year. I'm sure you remember Beltran getting caught standing around on this play last year:
The Yankees made a point of improving their defense this offseason and there's no argument to be made that lifting Beltran for a defensive replacement (Young) in the late innings of a close game is not a smart move. Especially if the Yankees are leading. If they're down a run and want to try to get Beltran an extra at-bat, fine. But if the lead is small and it's the sixth or seventh inning, Beltran has no business playing the field. He's that much of a liability. This is one aspect of his game that getting over the bone spur won't improve. Immobility is immobility.