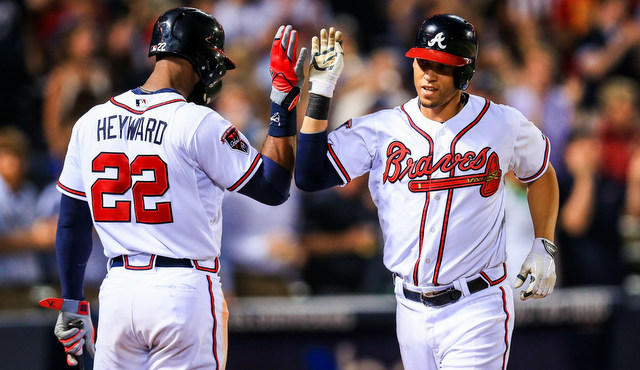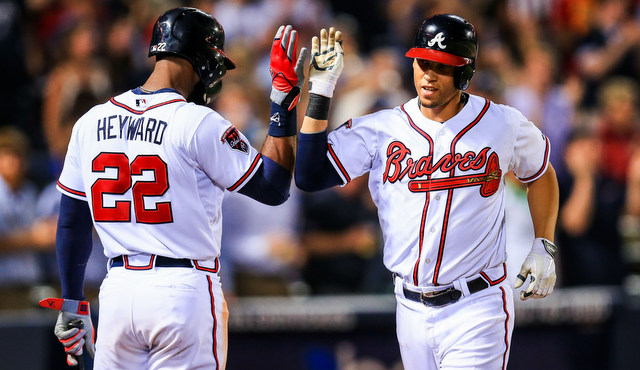 We get a fair amount of tips here at RAB. Well, we get a lot of emails that claim to be tips. Let's put it that way. The vast majority of them turn out to be false — which is why we never post them, even the totally believable ones — but every so often one of 'em is true. When that happens my feeling is more "hey, neat" than "damn we should have posted that!"
A few weeks back we were tipped off that the Yankees had been discussing a massive trade with the Braves that would have brought Jason Heyward and Andrelton Simmons to New York. (I'm pretty sure we got the tip after Heyward was traded to the Cardinals.) Apparently this was one of those rare true tips. Andy Martino reported on the trade talks earlier this week:
According to two major league sources, the Yankees and Atlanta Braves were talking more than we knew over the winter, in addition to swapping Manny Banuelos and David Carpenter. The Yanks were interested in what would have been a blockbuster acquisition of outfielder Jason Heyward and shortstop Andrelton Simmons.

On Monday, Cashman would not confirm his offseason interest — it is rare for a GM to publicly discuss players belonging to other teams — but here is what we were able to gather elsewhere: Before the Yanks acquired shortstop Didi Gregorius, they asked Atlanta about Heyward and Simmons. It is not clear what the Braves would have wanted in return, and it is possible that talks never progressed to the concrete offer phase.
Heyward was traded to St. Louis on November 17th, so it was very early in the offseason. It was basically the first huge move of the winter. The Yankees were talking to the Braves about the potential Heyward/Simmons deal very early in the offseason, long before they traded for Gregorius and Nathan Eovaldi, signed Andrew Miller, re-signed Chase Headley, the whole nine.
On the surface this rumor makes total sense. The Yankees prioritized defense this winter and Heyward and Simmons are the best defensive right fielder and best defensive shortstop in baseball, respectively. They also focused on getting younger, and both Heyward and Simmons are only 25. Heyward also fits their model offensive profile — left-handed and patient will pull power. Simmons isn't much of a hitter but they wanted his glove.
The Braves made it very clear they were seeking young high-end pitching early this offseason — Heyward (and Jordan Walden) was traded for Shelby Miller and a pitching prospect — and I'm guessing that's where things fell apart. The Yankees don't have enough young pitching to trade unless they were willing to part with Michael Pineda, and even his trade value is hurt by his injury problems. Shane Greene? Luis Severino? Bryan Mitchell? Manny Banuelos (who was traded to the Braves in January)? None of those guys have Shelby's pedigree.
Anyway, as fun as this potential blockbuster is, I don't want to focus too much on the rumor itself. Instead I want to discuss how the offseason would have changed had the Yankees managed to swing a deal for Heyward and Simmons. It's hard to do that without knowing who would have gone to the Braves in the trade, so we're going to have to make assumptions. Our tipster said the deal was built around prospects, so I'm going to say the package included:
Greene: Atlanta wanted MLB ready pitching based on the Miller (and later Mike Foltynewicz) pickup and the Yankees traded Greene for Gregorius, so I assume they were willing to trade him for Simmons too.
Severino: Again, the Braves wanted young high-end pitching, and Severino is not only New York's top pitching prospect, he's one of the best in the game. You don't get Heyward and Simmons without trading someone like this.
Banuelos: He was eventually traded to the Braves, so clearly they had interest and clearly the Yankees were open to moving him. And, again, Atlanta wanted pitching.
Multiple Prospects: I'm going to say the rest of the trade package was filled out by prospects who aren't expected to help the Yankees at the MLB level this year. Guys like Aaron Judge, Greg Bird, Eric Jagielo, Luis Torrens, so on. I'm not saying all those guys would go in the deal. I'm just assuming the rest of the package included prospects like them who wouldn't change the 2015 roster outlook.
That sound good? If it doesn't, too bad. It's my blog and we're going to roll with this. Had the trade gone down as presented above, the Yankees would have been sitting on this projected 25-man roster in early-November:
Catcher

Infielders

Outfielders

Rotation

Bullpen

Brian McCann
1B Mark Teixeira
LF Brett Gardner
Masahiro Tanaka
Dellin Betances
2B ?
CF Jacoby Ellsbury
Michael Pineda
Adam Warren
DH
SS Simmons
RF Heyward
CC Sabathia
Shawn Kelley
Carlos Beltran
3B Martin Prado
David Phelps
Justin Wilson
?
Esmil Rogers
BENCH
DISABLED LIST
David Huff
C John Ryan Murphy
OF Chris Young
Ivan Nova
Preston Claiborne
IF Brendan Ryan
DH A-Rod
The Yankees made a couple moves this winter that I think they would have made even with the Heyward/Simmons blockbuster. Re-signing Young, for example. He re-signed two weeks before Heyward was traded to the Cardinals and I think the Yankees would have done that anyway, especially since they would have had an all-left-handed hitting outfield with Heyward. Francisco Cervelli was traded for Wilson five days before the Heyward trade, and again, I think that's a deal that happens anyway. That move was about bolstering the bullpen and clearing a spot for Murphy more than anything.
Heyward and Simmons are relatively cheap but they do cost real money — Heyward will earn $7.8M in 2015 and Simmons will earn $3M as part of the extension that will pay him $56M through 2020. That's $10.8M between the two of them and that's not nothing. That's more than the Yankees will pay Andrew Miller ($9M) and a little less than they'll pay Headley ($13M) in 2015. Perhaps Hal Steinbrenner would okay an increased payroll because Heyward and Simmons are so young, but I have no reason to assume that. The money has to be balanced out somewhere.
Since the bullpen was such a focal point, my hunch is the Heyward/Simmons money means no Headley, not no Miller. No Headley means Prado plays third base — Alex Rodriguez playing third ain't happening — and Prado playing third base means no Eovaldi for the rotation and no Domingo German to replenish the minor league prospect pipeline. Prado was traded to the Marlins but the Yankees didn't dump his $11M salary — the money in the trade was structured so that it was a wash. That's why the Yankees are sending Miami $3M this year and $3M next. It's not like trading Prado clears money for Headley and boom, they still have Headley and Eovaldi. Had the Yankees swung the Prado trade even after Heyward/Simmons, they'd have Eovaldi, no third baseman, and basically the same payroll situation.
Without the Prado/Eovaldi trade, the Yankees would still have Phelps, who essentially takes Eovaldi's rotation spot. The club would still need a fifth starter and re-signing Chris Capuano strikes me as a move the Yankees would still make even after the Heyward/Simmons deal. Maybe it's not Capuano himself, but someone like him on a one-year, $5M-ish contract. Aaron Harang or Kyle Kendrick. Whoever. A veteran fifth starter type on a one-year contract to fill out the rotation. Perhaps they would have made a more aggressive play for Brett Anderson — or Justin Masterson, though he has Red Sox roots — but topping the $10M he got from the Dodgers seems really unlikely. I'm not sure any other team would have offered him that. The Yankees still would have needed a veteran back-end guy like Capuano.
The second base situation is somewhat interesting because the Yankees would be in the same spot as they were in real life after Prado was traded for Eovaldi, meaning they wouldn't have had a true big league second baseman, just some prospects in Rob Refsnyder and Jose Pirela. (Assuming they weren't traded for Heyward/Simmons!) Because the Yankees went out and re-signed Stephen Drew on the cheap even with Refsnyder and Pirela around, I think they would have done it again with Heyward/Simmons. It's a boring answer but I honestly think that's what happens. They've been after Drew for a few years now.
Huff was non-tendered and Claiborne was lost on waivers, but those are minor moves. (Remember, Claiborne was cut to make room for Gonzalez Germen, who was then cut for Chris Martin.) The Yankees were looking to upgrade those spots anyway, and ultimately they did with David Carpenter and Chasen Shreve. And that's where it gets complicated, because those two came over from the Braves for Banuelos in January. Would they have been part of the Heyward/Simmons blockbuster? Maybe! I don't think we can assume that though. The hypothetical Heyward/Simmons trade happened in early-November and the actual Banuelos trade happened in early-January. Lots can change in two months.
Instead, I think the Yankees would have looked to bolster their bullpen with smaller moves. Waivers claims and the like. Maybe they would have found a way to keep Claiborne and Germen and Martin, for example. (Who knows what the 40-man roster would have looked like after Heyward/Simmons.) And, also, no Carpenter likely means either Kelley isn't traded or the Yankees find a similarly priced pitcher in free agency, say John Axford or Burke Badenhop or (gasp!) Joba Chamberlain. Miller and Wilson were the big reliever moves this winter. I think no Carpenter/Shreve means more scrap-heaping, not another trade for bonafide big leaguers.
The bench is pretty straight forward thanks to Young, Murphy, and Ryan. The A-Rod/Beltran dynamic at DH looks problematic but would probably take care of itself via injury — neither Beltran nor A-Rod is especially durable at this point of their careers — before long. Until then, there would probably be a DH rotation, a rotation that includes guys like McCann, Teixeira, and Prado too. The Yankees and Joe Girardi have made it clear they prefer a DH rotation to have one set DH. Basically all non-Red Sox AL teams are like they now.
Alright, so after all those hypothetical moves, the 25-man roster coming into Spring Training would look something like this in the wake of the Heyward/Simmons blockbuster:
Catcher

Infielders

Outfielders

Rotation

Bullpen

McCann
1B Teixeira
LF Gardner
Tanaka
Betances
2B Drew
CF Ellsbury
Pineda
Miller
DH
SS Simmons
RF Heyward
Sabathia
Warren
A-Rod/Beltran
3B Prado
Phelps
Kelley
Capuano
Wilson
BENCH
DISABLED LIST
Rogers
C Murphy
OF Young
Nova
Claiborne, Etc.
IF Ryan
A-Rod/Beltran
Now for the twist ending: I'd rather have the current Yankees than the Heyward/Simmons Yankees, especially since the Heyward/Simmons Yankees would have a gutted farm system. Heyward is a terrific player, but he's going to be a free agent after the season. The Yankees would only be acquiring one year of him. Any extension will cost free agent dollars too, otherwise there's no reason for him to sign it. Simmons is better than Gregorius, but yeah, give me Headley and Eovaldi over Prado and Phelps all day, every day.
The farm system angle is very important. The Yankees wouldn't just be trading Severino, they'd be trading several other prospects as well. Good ones too. Maybe Judge, maybe Bird, maybe Jacob Lindgren. Maybe all three. Guys like Heyward and Simmons don't come cheap. The Yankees would be better in right field (for a year) and better at shortstop with potentially weaker options at third base (Headley vs. Prado), in the rotation (Eovaldi vs. Phelps), in the bullpen (Carpenter/Shreve vs. Claiborne, etc.), and have fewer top prospects to trade to fill other needs.
I assume that because the Yankees were looking to trade for Heyward, they were also willing to extend him at a handsome price. They could still have him at that handsome price after the season in real life though. That's the thing. Again, he fits what they look for these days — young, great defense, lefty power and patience — and he'll be a free agent in a few months. Maybe the Cardinals extend him first. That's possible. More possible than Heyward saying "I'm so damn close to free agency, I owe it to myself to wait until after the season to see what the market has to offer me at age 26?" Nah.
The Heyward/Simmons trade sure would have qualified as a blockbuster — it would have been the biggest Yankees trade since what, A-Rod? — and man it would have been fun to analyze and dissect from every angle. I'm just not convinced the trade and a potential chain of events afterward would have automatically resulted in a better Yankees team going forward.