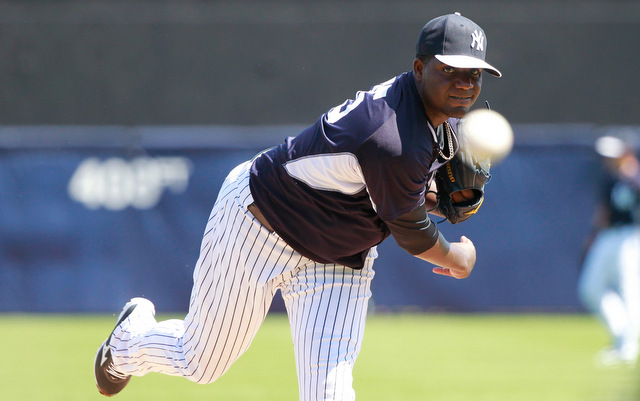 Finally. After two years of nothing, the Yankees finally got to see Michael Pineda in action last season. And it was glorious, even if it was only 13 starts. Big Mike pitched to a 1.89 ERA (2.71 FIP) in 76.1 innings across those 13 starts, and, most importantly, he showed his stuff had not been seriously compromised by his shoulder injury. He did lose some velocity — his fastball averaged 95.4 mph in 2011 and 93.3 mph in 2014 — but not a career-sabotaging amount.
Last year was sort of a feeling out period for the Yankees and Pineda. The team had no idea what he could do following two lost seasons and I don't think Pineda did either. Sure, he was confident (he's always confident), but the hitters were going to tell him how good he was after the injury. And they told him he was still good. Pineda has yet to hold up over a full season in pinstripes, though we know more about him now than we did at this time last year, and that affects his role on the 2015 Yankees.
Yankees Need: A Full Season
Pineda was great last year but only in flashes. He missed nearly four months with a teres major strain the Yankees officially called a "shoulder" injury in their press release. Pineda pulled a muscle in his back near his shoulder, basically. The injury limited him to those 13 starts, the only 13 he's made in three years with New York.
The Yankees need Pineda to get over that physical hump now. He's now three years removed from shoulder surgery and they want to see him out there for 30 starts. It's time. They need him to do it because other pitchers in the rotation carry injury concerns and because they want him to lead the rotation. Remember, the Yankees acquired Pineda hoping he would have developed into their ace by now. That didn't happen. The next step now is to be someone who takes the ball every fifth day.
Pineda Can: Just Go Out There And Pitch
Pitchers who have major shoulder surgery tend to continue having problems throughout their careers. Pineda is young and strong, so maybe he has a better chance of staying healthy than a veteran pitcher who undergoes a similar procedure, but we don't know that for sure. I wouldn't say I feel confident in Pineda staying healthy this summer, but I do think it's important to note his injury last year was just a muscle pull. There was nothing wrong with his surgically repaired labrum. That's encouraging in a lesser of two evils kinda way. Otherwise no one knows if Pineda's physically capable of making 30 starts after his shoulder surgery. The only thing he can do is pitch as his body allows, that's all.
Yankees Need: Find Some Strikeouts
Pineda was awesome last year, but he only struck out 59 batters in 76.1 innings. That works out to 6.96 K/9 and 20.3 K%, which is more or less league average for an AL starting pitcher (7.36 K/9 and 19.4 K% in 2014). Pineda struck out 173 batters in 171 innings as rookie in 2011 (9.11 K/9 and 24.9 K%) and his minor league strikeout rates were as good as it gets, so last year's league average-ish strikeout rate was a big startling. I wouldn't say alarming, he was pretty damn effective with a reduced strikeout rate, but the Yankees would like to see those strikeouts return in 2015, even with their improved team defense. Strikeouts are the best outs for pitchers.
Pineda Can: Still Get Swings & Misses, Just Not As Many He Once Did
Watching his stuff on television as a dumb fan sitting at home, it looks like Pineda should strike out more batters. He throws hard, he locates exceptionally well for someone who throws that hard, and slider is just filthy. Pineda's changeup is very much a work in progress though it did flash some nice potential last year, like this one (GIF via IIATMS):
That specific changeup was poorly located — that baby is center cut, thigh high and splitting the plate right down the middle — but it had action and the hitter's timing was disrupted. Like I said, the changeup is a work in progress but it shows flashes of being a weapon with some more refinement.
The changeup and slider are Pineda's moneymakers, and his decline in strikeout rate last year comes with a decline in overall swing-and-miss rate. Here are the numbers (via Brooks Baseball):
| | Four-Seamer | Sinker | Changeup | Slider |
| --- | --- | --- | --- | --- |
| 2011 | 10.5% | 8.7% | 6.4% | 19.4% |
| 2014 | 8.2% | 16.7% | 15.2% | 17.9% |
| MLB AVG | 6.9% | 5.4% | 14.9% | 15.2% |
Ignore the sinker and changeup. Pineda threw those two pitches less than 10% of the time combined in both 2011 and 2014. We're focusing on his four-seam fastball and slider, both of which had an above-average whiff rate last year yet were down considerably from his rookie year in 2011. Swing-and-miss rates are among the first stats to stabilize, within 300 pitches or so, so this isn't a sample size issue.
As mentioned earlier, Pineda did lose some velocity between 2011 and 2014 thanks mostly to the shoulder surgery. His fastball velocity dropped but his slider velocity stayed the same — the pitch averaged 84.68 mph in 2011 and 84.67 mph in 2014. Pitches are not mutually exclusive. Pineda's slider plays off his fastball and vice versa. The decline in fastball velocity means the separation between his two main pitches isn't as great as it once was, giving hitters slightly more time to react. Enough to take that big a bite out of strikeout and whiff rates? I don't know. Maybe.
Pineda's stuff is still very good, just not as good as it once was. Shoulder surgery has a way of doing that to a pitcher. That doesn't mean his strikeout and swing-and-miss rates will never recover, however. This could be an adjustment he has to make, an adjustment he was unable to make last year because a) he only made 13 starts, and b) he was dominating even without the strikeouts.
Weak contact has always been Pineda's thing — he gets a ton of pop-ups, which are near automatic outs, so his career .250 BABIP in 247.1 innings is not necessarily a fluke — and he still generated a bunch last year. Adding in more strikeouts will help take him to the next level, however. Weak contact is good. Weak contact and missing bats is better.
Yankees Need: More Development
As good as he looked last year, we have to remember Pineda missed two full seasons at ages 23 and 24 due to his shoulder injury. That's pretty serious. Those are crucial developmental years and he won't get them back. He just has to try to catch up this season. The Yankees need to Pineda to make up for some of that lost development this year. As a pitcher, as a teammate, as a big leaguer, the whole nine. He's a guy with nearly four years of service time but only a year and a half of actual MLB experience on the mound. Pineda has a lot of learning to do.
Pineda Can: Learn!
In his first spring as a Yankee, Pineda showed up to camp out of shape and didn't seem to take his profession all that seriously. I don't know if that led directly to the shoulder injury, but it certainly didn't make a good first impression. This year though, Pineda camp to camp in tremendous shape, which he did last year as well. He's grown as a person and better understands the kind of work this game requires. Learning how to read swings and set hitters up, stuff like that, he can only learn while being on the mound, and hopefully he does a lot of that in 2015.