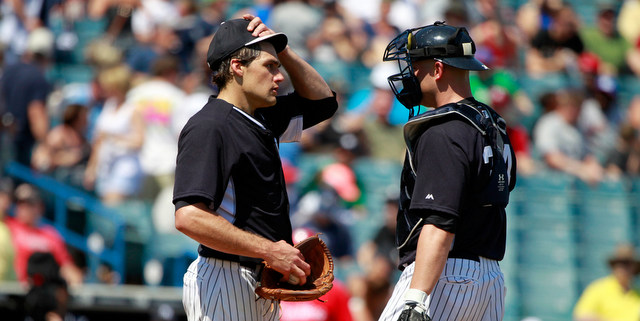 The Yankees beat the Phillies by the score of 3-2 this afternoon. Nathan Eovaldi started and was very good, allowing just two singles in four scoreless innings. He struck out three and faced the minimum thanks to a double play and a caught stealing. Erik Boland says 38 of Eovaldi's 45 pitches were strikes (84%) and scouts had him sitting 96-98 mph. That'll do. Chase Whitley threw two scoreless innings, David Carpenter allowed two runs in an inning, and Justin Wilson threw a scoreless inning.
On offense, Chase Headley again led the way with a solo homer. He's having a great spring. Jacoby Ellsbury and Brett Gardner both went 1-for-3 while Garrett Jones and Stephen Drew both went 0-for-3. Ellsbury's hit was a triple. Brian McCann went 0-for-2, Mark Teixeira went 0-for-2 with a walk, and Alex Rodriguez went 0-for-1 with a walk. Here's the box score — there are no video highlights because the game wasn't broadcast anywhere — and here's the rest from Tampa:
The Yankees announced their first round of roster cuts today: C Trent Garrison, RHP Nick Goody, C Juan Graterol, LHP James Pazos, RHP Diego Moreno, RHP Luis Severino, and LHP Tyler Webb were all reassigned to minor league camp before today's game and OF Jake Cave, SS Cito Culver, and OF Aaron Judge were reassigned after the game. There are still 58 players in big league camp by my unofficial count.
Masahiro Tanaka, Adam Warren, and Bryan Mitchell all threw bullpen sessions this morning. Brendan Ryan (mid-back sprain) is expected to take some regular batting practice this week and he hopes to start playing in actual games soon. [Ryan Hatch]
And finally, tomorrow is the Yankees' first off-day of the Grapefruit League season. Joe Girardi said some players might be at the complex to play catch, but otherwise there are no workouts scheduled. [Hatch]
Here is your open thread for the evening. MLB Network is showing the Angels and White Sox live right now if you're really jonesin' for some baseball. The (hockey) Rangers are playing right now and the Knicks are playing later tonight. Talk about anything right here.