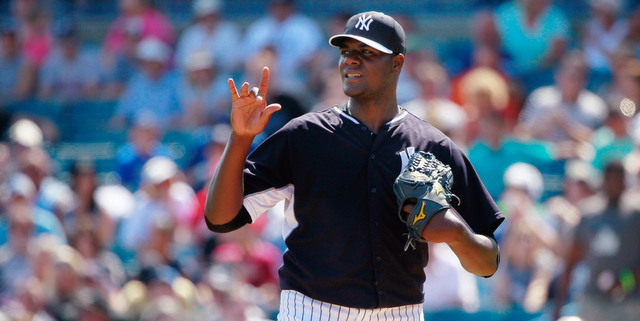 Thanks to a three-run rally in the bottom of the ninth, the Yankees walked off with a 3-2 win over the Astros this afternoon. Eddy Rodriguez doubled in two runs to tie the game and Jake Cave sealed the win with a sacrifice fly. Carlos Beltran went 1-for-3, Mark Teixeira went 2-for-3, and both Brian McCann and Didi Gregorius went 1-for-2. Brett Gardner, Chase Headley, Chris Young, and Stephen Drew were all hitless.
Michael Pineda started and allowed two runs on four hits in 3.2 innings. Both runs and three of the four hits came in the first inning. Pineda struck out six. Justin Wilson (1.1 innings), Andrew Miller (one inning), and Andrew Bailey (one inning) each struck out two and did not allow a run. Jacob Lindgren fanned one and allowed a hit in his scoreless inning. The bullpen allowed one hit, one walk, and struck out eight in 5.1 innings. Here's the box score — the game wasn't on television so are no video highlights available — and here's the rest from Tampa:
Jose Ramirez was optioned to Triple-A, the Yankees announced. He's officially out of the running for a bullpen spot. By my unofficial count, there are still 47 players in big league camp.
Bryan Mitchell and Masahiro Tanaka are starting Monday and Wednesday, respectively. Nathan Eovaldi, Esmil Rogers, and Mitchell were among the pitchers to throw bullpen sessions. [Sweeny Murti, Brendan Kuty, Chad Jennings]
The next two games are on Florida's east coast, so the minor leaguers making the trip will play both games and stay in a hotel rather than ride the bus back and forth to Tampa. [Jennings]
This is your open thread for the evening. All the local hockey and basketball teams are in action except the Knicks. MLB Network is replaying some games tonight (not the Yankees) and of course there's March Madness as well. Talk about whatever.