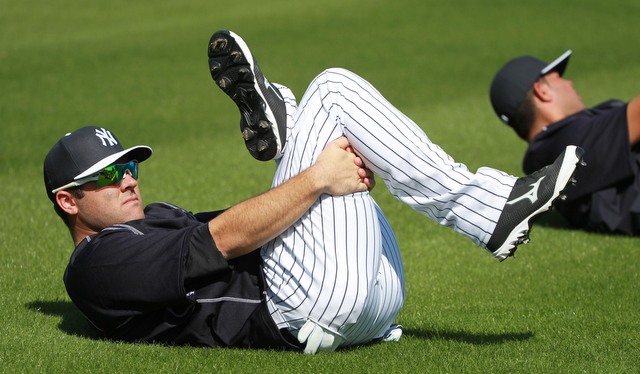 According to George King, the Phillies are among the teams with interest in catcher Austin Romine. Romine is out of minor league options and can't be sent to Triple-A without first passing through waivers — chances are he would be claimed, catchers are hard to find — making a trade likely if he doesn't manage to beat out John Ryan Murphy for the backup catcher's job.
The Phillies have a clear cut starter in veteran backstop Carlos Ruiz. The backup situation is much more wide open, with 40-man roster players Cameron Rupp and Tommy Joseph competing against non-roster invitees John Hester, Koyie Hill, and Rene Garcia this spring. A trade won't happen anytime soon — the Yankees will keep Romine until the very end of camp in case Murphy or Brian McCann gets hurt — but I'm sure the feeling out process has begun.
Romine, 26, reported to camp in great shape and said he intended to make the backup catcher decision difficult for the Yankees even though Murphy is considered the favorite. Romine is off to a 1-for-8 (.125) start to Grapefruit League play, and while that's a really small sample, he needs to hit this spring to win the job. Hitting .275 in March won't force the issue. Romine needs to mash if he wants a spot on the Opening Day roster.
Trades involving out of options players on the margins of the roster are not at all glamorous. The return is usually very small, something along the lines of a player to be named later or cash. The Yankees sent George Kontos, an up-and-down reliever, to the Giants for Chris Stewart when he was out of options at the end of Spring Training 2012. Jose Lobaton netted the Rays the interesting Nate Karns last winter, but Lobaton was coming off a 103 wRC+ in 2013. He had way more trade value that Romine does right now.
An out of options player for an out of options player trade is always possible but those are rare. It's not often the needs and excess players of two teams match up that well. The Phillies have six out of options players in camp according to Todd Zolecki:
In Phillies camp there are six players without options: right-handers Jerome Williams, Justin De Fratus and Phillippe Aumont; left-hander Andy Oliver; and infielders Freddy Galvis and Cesar Hernandez.
De Fratus is actually good (2.39 ERA and 3.11 FIP in 52.2 innings in 2014) so he's not available. Galvis is penciled in as Philadelphia's starting shortstop in the wake of the Jimmy Rollins trade and Williams signed a $2.5M deal this winter to bolster the pitching staff. Those two aren't available either. Hernandez and Oliver don't really move the needle for the Yankees given their internal options. That leaves Aumont.
Aumont, 26, was part of the Cliff Lee trade way back when, and he's struggled in multiple cups of coffee the last three years (6.13 ERA and 4.44 FIP in 39.2 relief innings). His Triple-A numbers the last three years — 4.07 ERA (3.99 FIP) with way too many walks (17.9%) in 135 relief innings — aren't all that good either. Aumont hits the trifecta for the Yankees though, and that's important:
Miss bats? Yes. Aumont has a 11.07 K/9 (26.7 K%) in Triple-A the last three years and 8.85 K/9 (20.0 K%) in his MLB time.
Throw Hard? Yes. Aumont has averaged 95 mph with his fastball and topped out at nearly 99 mph at the MLB level according to PitchFX.
Physically Huge? Also yes. Aumont is listed at 6-foot-7 and 240 lbs. The Yankees love big pitchers.
The last bullpen spot is currently up for grabs — it's still way too early in camp to say if someone has taken over as the front-runner — and it could be two spots if Adam Warren or Esmil Rogers replaces the injured Chris Capuano in the rotation. The Yankees have no shortage of candidates for the bullpen job(s), but, if they're going to lose Romine anyway, flipping him for Aumont and trying him for a few weeks might make more sense than accepting cash or some Grade-C prospect in Single-A.
Now, would the Phillies trade Aumont for Romine? Who knows. Aumont is in the running for a bullpen spot with Philadelphia, which means he would have to pitch pretty poorly in camp to not make the roster. And if he pitches poorly in camp, why would the Yankees want him? Then again, if Romine plays poorly in camp and doesn't make the Yankees, why would the Phillies want him? The out of options player market is a weird one.
Sifting through depth charts, the Diamondbacks and Padres stand out as clubs that could use catching help along with the Phillies, meaning they're potential trade candidates for Romine. There's still three and a half weeks of Spring Training left, which means there's three and a half weeks left for catchers to get hurt. (San Diego just lost backup catcher Tim Federowicz to a torn MCL.) Lots of time for the market to change.
Maybe things will break right for the Yankees and Romine will clear waivers and go to Triple-A before Opening Day. That would be pretty great, but the Yankees can't count on it. History suggests trading Romine away rather than rolling the dice on waivers won't bring much of a return, and, frankly, considering how the last few years have gone for him, there's no reason to think he has much trade value anyway. Phillies or otherwise, Romine's stint in the organization will likely come to an end in about three weeks, and the Yankees don't figure to be left with much to show for it.