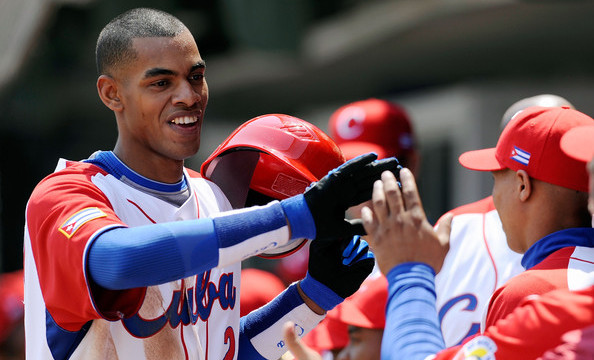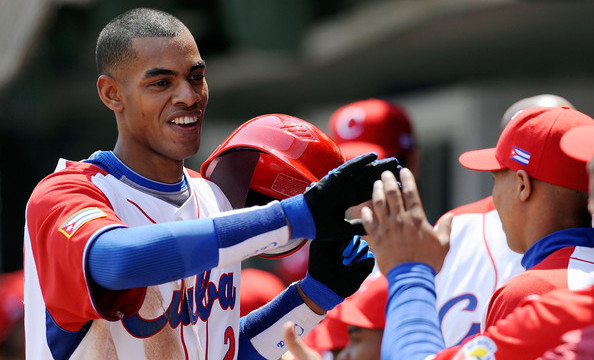 According to Jesse Sanchez, the Dodgers have agreed to sign Cuban infielder Hector Olivera to a six-year contract worth $62.5M. The deal includes a $28M signing bonus and is pending a physical, which is not insignificant. There are concerns about Olivera's elbow ligament and he may need Tommy John surgery.
The Yankees scouted Olivera like everyone, and while we heard they had "strong interest" back in January, it had been quiet since. The Dodgers and Padres were considered Olivera's most serious suitors with the Braves and Marlins also in on the bidding. Here's a quick scouting report from Ben Badler:
At around 6-foot-2, 220 pounds, Olivera is a physical righthanded hitter with a loose, quick swing and a good hitting approach. He showed good power for a middle infielder, and given that several Cuban players have transformed their bodies and increased their power since leaving the island, it wouldn't be a surprise if Olivera did the same. His size, athleticism and plus speed (at least at his peak) made him one of the most well-rounded players in Cuba.
Olivera, who turns 30 next month, missed the entire 2012-13 season in Cuba with a blood disorder and hasn't participated in many international tournaments since then. Although he has participated in showcase events in recent weeks, scouts haven't been able to see much of Olivera in game action the last few years.
I'm not surprised the Yankees passed on Olivera and not because they are seemingly terrified of pricy Cuban players. A six-year contract for a 30-year-old is the kind of contract they avoided all winter. Add in that Olivera might have a bad elbow, Chase Headley just re-signed for four years, and Rob Refsnyder is knocking on the door at second base, and Olivera wasn't a great fit for the Yankees and vice versa.