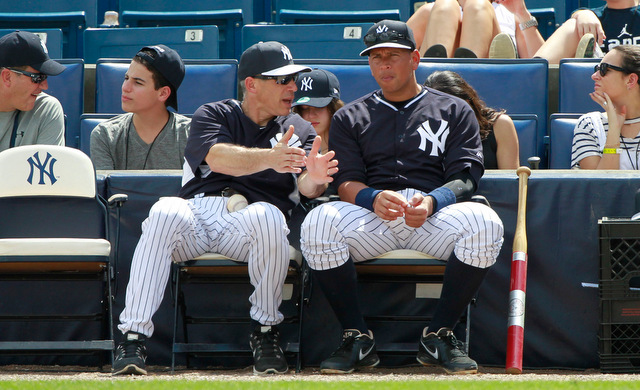 It's that time of the year again. Time for the Yankees and Red Sox to renew their rivalry. Except this afternoon's Spring Training game will feature a lot of minor league players and guys who otherwise won't play any kind of role in the regular season. So yeah, this is Yankees-Red Sox. But only kinda.
The Sawx are up from Fort Myers and, as expected, they didn't bring many regulars. Here's their lineup for the afternoon. No Hanley Ramirez, no Pablo Sandoval, no David Ortiz, no Dustin Pedroia. We'll see plenty of those guys during the regular season, don't worry. Enjoy an afternoon of Brock Holt and Christian Vazquez.
Today's reason to watch: A-Rod is making his second start at third base. He wasn't tested much the first time he played the hot corner — he did make one real nice play — so we're still waiting to see how playable he is in the field. It would be nice if he could be a legitimate backup third baseman this year. Also, Andrew Miller and Dellin Betances are scheduled to pitch, and Greg Bird is coming off the bench. Bird is 5-for-10 with three doubles, a homer, and one strikeout this spring. That'll do.
Here is this afternoon's starting lineup:
CF Jacoby Ellsbury
LF Brett Gardner
RF Carlos Beltran
DH Brian McCann
3B Alex Rodriguez
1B Garrett Jones
2B Jose Pirela
C Austin Romine
SS Cito Culver
LHP Chris Capuano
Available Position Players: C John Ryan Murphy, 1B Greg Bird, 2B Rob Refsnyder, SS Cole Figueroa, 3B Jonathan Galvez, LF Slade Heathcott, CF Mason Williams, RF Chris Young, and DH Tyler Austin are the day's second string off the bench. C Trent Garrison, C Francisco Arcia, C Kyle Higashioka, 1B Kyle Roller, IF Nick Noonan, OF Aaron Judge, OF Jake Cave, and OF Ramon Flores are the extra players.
Available Pitchers: RHP Bryan Mitchell, LHP Andrew Miller, RHP Dellin Betances, RHP Jared Burton, LHP Tyler Webb, and RHP Nick Rumbelow are all listed as scheduled to pitch. RHP Chris Martin and RHP Diego Moreno are the extra arms.
It's pretty hot in Tampa, with temperatures expected to be in the upper-80s/low-90s this afternoon. There are a few clouds in the sky but no rain in the forecast. This afternoon's game is scheduled to begin a bit after 1pm ET and you can watch live on YES, MLB Network, and MLB.tv. The game will be blacked out on MLB Network — but not MLB.tv! — in the New York area, however. I'm honestly surprised ESPN isn't in town for this game. It's Yanks-Sox and A-Rod is playing. Anyway, enjoy the game folks.