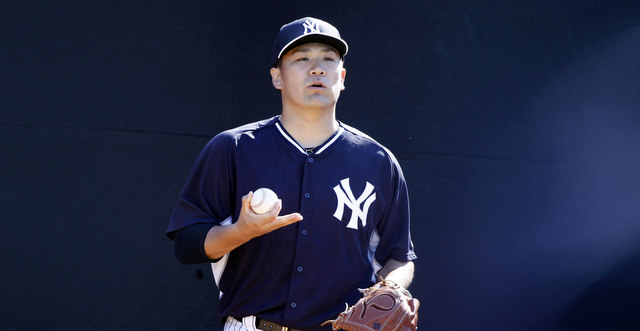 The Yankees have not officially announced anything yet, but all signs point to Masahiro Tanaka being this year's Opening Day starter. CC Sabathia is starting Saturday, so he wouldn't be able to start Game 1 without pitching on short rest at some point, either in his final Grapefruit League start or Opening Day. That ain't happening. Tanaka will get an extra day of rest before his final spring and then another extra day of rest before Opening Day.
Anyway, Tanaka will be on the mound this afternoon for his second to last Spring Training start. He's looked excellent in his previous two starts, allowing just two hits in 5.2 scoreless innings, striking out five and getting eleven ground ball outs compared to just one in the air. His fastball has shown its usual velocity, his splitter is falling off the table, and his slider is breaking like it did last year. If you didn't know any better, you'd think his elbow is 100% healthy. Kinda like the doctors said it was last September. Amazing!
Today's reason to watch: Tanaka, obviously. Also Dellin Betances, Andrew Miller, and Justin Wilson are all scheduled to pitch for the second straight day, the first time each guy is pitching back-to-back days in camp. They're only going to face a batter or two each though, not throw a full inning. Andrew Bailey is also scheduled to make his third spring appearance. I don't think he's an Opening Day roster candidate, but if he's healthy, we'll see him in the bullpen at some point during the regular season.
The Mets took the long cross-state bus ride from Port St. Lucie to Tampa this afternoon. They sent a decent number of regulars — here's their lineup — but not ex-Yankee Curtis Granderson. For shame. I've still got nothing but love for the Grandyman. Here is Joe Girardi's starting lineup:
CF Brett Gardner
3B Chase Headley
RF Carlos Beltran
1B Mark Teixeira
DH Alex Rodriguez
LF Garrett Jones
2B Stephen Drew
SS Didi Gregorius
C John Ryan Murphy
RHP Masahiro Tanaka
Available Position Players: C Eddy Rodriguez, 1B Greg Bird, 2B Rob Refsnyder, SS Brendan Ryan, 3B Cole Figueroa, LF Jonathan Galvez, CF Slade Heathcott, and RF Ramon Flores will be the second string off the bench. C/1B Francisco Arcia, C Kyle Higashioka, and IF Nick Noonan are the extra players.
Available Pitchers: RHP Chase Whitley, LHP Justin Wilson, LHP Andrew Miller, RHP Dellin Betances, RHP David Carpenter, and RHP Andrew Bailey are all scheduled to pitch. My guess is Wilson, Miller, Betances, Carpenter, and Bailey face their hitters, then Whitley pitches the rest of the game to stay stretched out. Just a guess though. RHP Nick Rumbelow, RHP Alex Smith, RHP Chris Smith, and RHP Nick Goody are the extra arms.
It's cloudy in Tampa this afternoon but there's no rain in the forecast. Temperatures in the mid-80s with just enough humidity to make your legs stick to the stadium seats. This afternoon's game is scheduled to begin at 1:05pm ET and you can watch on YES locally and both MLB Network and MLB.tv nationally. There is no SNY broadcast and the MLB Network broadcast will be blacked out in both teams' home market. MLB.tv won't be blacked out though. Enjoy the game.