It's no secret the Yankees are heading into the regular season with some significant health concerns in the rotation. Masahiro Tanaka, CC Sabathia, and Michael Pineda have all made it through Spring Training just fine up to this point, though that could change in an instant, either now in March or at some point during the season. On top of that, Chris Capuano will be out several weeks with a quad strain. One of the starters who wasn't supposed to get hurt got hurt.
Capuano's injury has forced the Yankees to hold a fifth starter competition in camp. While guys like Bryan Mitchell, Chase Whitley, and Scott Baker are being stretched out and throwing multiple innings per appearance during Grapefruit League play, the fifth starter competition is basically a two-horse race between Adam Warren and Esmil Rogers. Those two were supposed to compete for the sixth starter's job — the Yankees have indicated they want to use a strategic sixth starter on occasion this year to rest the other starters — but now they're fighting for the fifth spot.
Either way, starter or reliever, Warren and Rogers are locks to make the Opening Day roster. Their roles as relievers would be very different, however. Let's preview New York's two sixth-turned-fifth starter candidates.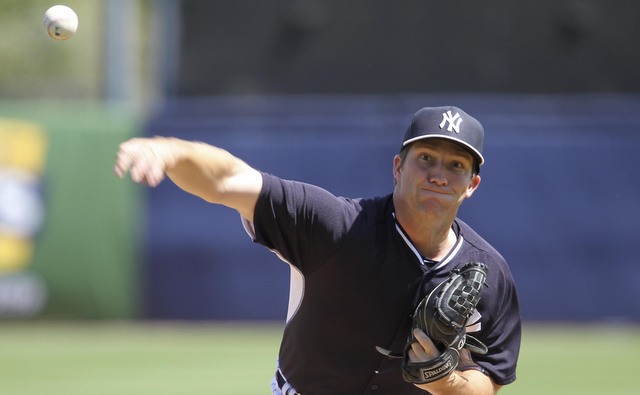 Warren In The Rotation: Uncharted Territory
All signs point to Warren being the favorite for the fifth starter's job right now. He's performed better than Rogers during Grapefruit League play and it seems like the Yankees want him to be the fifth starter, at least until Capuano gets healthy. They haven't come out and said that, but we can read between the lines. Warren appears to be the heavy favorite.
Warren is about to enter his third full season with the Yankees, though his track record as a big league starter is very short. He's made three career starts in pinstripes:
June 29th, 2012: Six runs on eight hits and two walks in 2.1 innings against the White Sox. Warren's big league debut was ugly.
August 21st, 2013: Two runs on four hits and two walks in three innings against the Blue Jays. He was on a strict pitch count (60 pitches) during the spot start.
September 27th, 2013: Two hits in five scoreless innings against the Astros in Game 160. Both teams had been eliminated from the postseason and Houston's players checked out for the season in, like, June.
That doesn't tell us a whole lot about what Warren can do as a starter in 2015. It doesn't tell us anything, really. Warren was a starter all throughout college and in the minor leagues, though he gained experience and presumably confidence while working in the bullpen these last two years. He's a different pitcher now, and while I think that increases Warren's chances of success as a starter, it doesn't guarantee it.
One thing we do know about Warren is his repertoire and pitch selection. Even as a reliever the last two seasons he regularly used five pitches, so he has the arsenal to start. Here are his pitch usage percentages since breaking into MLB (via Brooks Baseball):


Ignore 2012. That is only one game worth of data. As a long reliever in 2013, Warren used all five pitches at least 10% of the time and four of his five pitches at least 18% of the time. He used everything. In a short relief role last year, he scaled back on his sinker and curveball and stuck mostly with his four-seamer and slider. Warren emphasized his two best pitches in last season's short reliever role like most short relievers.
As a starter I would expect Warren to scale up the usage of his sinker and curve, though that experience factor I discussed earlier could come into play here. Warren may feel the sinker isn't worth the trouble — it had a below average 42.5% ground ball rate from 2012-13 (MLB average for a sinker is 49.5%) — and stick with his four-seamer as his main fastball, making him a four-pitch pitcher. That's not automatically a bad thing! The sinker has been his least effective pitch as a big leaguer, so pushing that aside in favor of his better pitches may equal a more effective Warren overall.
We're basically just guessing here. Warren has no meaningful track record as a starter in MLB and it's close to impossible to know what he can do taking a regular turn in the rotation. We do know he's a big league caliber pitcher though, at least in relief, and he has a deep enough repertoire to turn a lineup over two or three times even without the sinker. The question is whether Warren can be effective while pacing himself as a starter rather than airing it out as a reliever.
Warren In The Bullpen: Setup Reliever
Should the unexpected happen and Warren start the season in the bullpen, he figures to move right back into the role he held last year, that late-inning setup guy. He'd probably be Joe Girardi's number two righty behind Dellin Betances since David Carpenter hasn't yet had the opportunity to enter the Circle of Trust™. There's even an off chance Warren could close — Girardi has mentioned that as a possibility this spring.
Warren was outstanding last year, throwing 78.2 innings with a 2.97 ERA (2.89 FIP) and good to great strikeout (8.69 K/9 and 23.5 K%), walk (2.75 BB/9 and 7.4 BB%), and ground ball (45.4%) rates. His velocity also ticked up noticeably, averaging 95.2 mph in short relief in 2014 after averaging 93.9 mph in long relief in 2013. With the caveat that relievers can start sucking at any time for no apparent reason, I would expect Warren to match if not improve upon last season's performance this year if he again fills a setup role.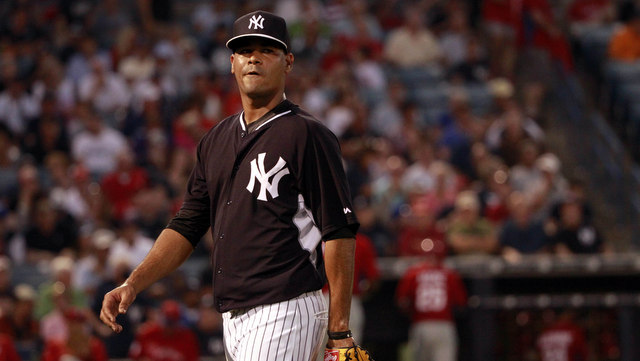 Rogers In The Rotation: Ugly Track Record
Unlike Warren, Rogers has spent time as a regular MLB starter, making 43 starts with the Rockies, Blue Jays, and Yankees in his career. (He made that one spot start soon after being acquired last August.) Twenty-two of those 43 starts came with the Rockies and seven of those 22 came in Coors Field. Here are Esmil's career numbers as a starter and reliever:
| | IP | ERA | FIP | K% | BB% | GB% | HR/FB% |
| --- | --- | --- | --- | --- | --- | --- | --- |
| as SP | 225.2 | 5.50 | 4.72 | 16.5% | 8.6% | 48.2% | 14.4% |
| as RP | 195.1 | 5.58 | 4.10 | 21.2% | 8.9% | 43.6% | 11.5% |
That's not very good! Rogers has been less bad as a reliever when you look at strikeout rate, home run rate, and … well, that's about it. There's not much to like here, though these are career stats, and I'd put more value in what Rogers did from 2012-14 (4.91 ERA and 4.35 FIP) than what he did from 2009-11 (6.57 ERA and 4.57 FIP). That doesn't really help things, I guess.
The Yankees clearly like something about Rogers. He has good stuff — his fastball has sat north of 93 mph his entire career and his slider has had at least a 17.2% swing-and-miss rate every year since 2010, better than the 15.2% league average — and he's a converted position player who may be a late blooper. (Rogers is an ex-shortstop who didn't start pitching until 2007.) The club has had some success with starters exceeding expectations under pitching coach Larry Rothschild in recent years and perhaps they're banking on that with Rogers.
Rogers In The Bullpen: Swingman
Again, unlike Warren, Rogers would not step into some sort of setup role should he fail to win the fifth starter's spot. He's stretched out and his greatest value to the team comes as a swingman, someone who can spot start if needed or throw five innings out of the bullpen. Rogers has had success as a one-inning reliever — 3.06 ERA (3.13 FIP) in that role with the Indians in 2012 — but this is a "what have you done for me lately" business. Warren was excellent in a setup role last year. Rogers hasn't done that for the Yankees. He's a swingman all the way, assuming he loses the fifth starter's spot to Warren.