New season, same ol' story. The Yankees have lost their first series of the season for the fourth consecutive year thanks to Thursday night's 6-3 rubber game loss to the Blue Jays. Good starts are overrated anyways. Or at least I think they are. Can't remember many of 'em. The Yankees have had the lead for a total of one half-inning in their three games so far this season.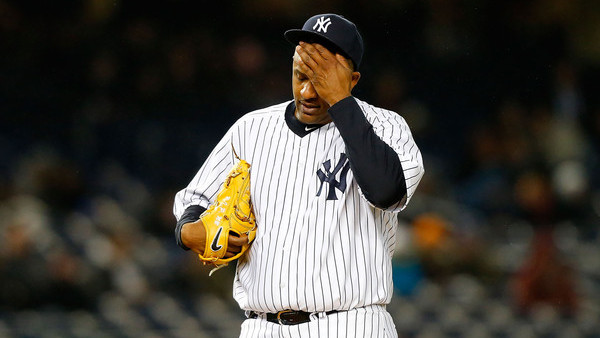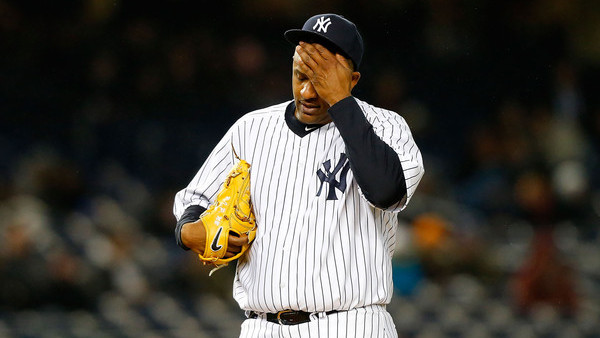 Dr. Jekyll and Mr. Sabathia
Gosh, what an uneven start for CC Sabathia. Outside of the second inning, he allowed three singles and one unearned run in 4.2 innings, striking out seven and getting five other outs on the ground. Sabathia was sharp from the third through fifth inning, striking out six and allowing just a single. I can't remember seeing a stretch like that last year before he got hurt.
Unfortunately, the second inning happened, and in that second inning the Blue Jays scored four runs on five singles and two run-scoring ground outs. Four of the five hits were ground balls through the infield (one was an infield single) but the underlying problem was Sabathia's inability to put hitters away while pitching from the stretch. He was ahead in the count to four of the batters who either singled or drove in a run with a ground out. Sabathia was striking dudes out left and right from the windup. But from the stretch, the swing-and-miss ability wasn't there for whatever reason. Maybe it was just one of those things on one of those nights.
The Blue Jays scored a fifth run with Sabathia on the mound in the sixth inning that was sorta dopey. Josh Donaldson reached on an infield single then scored all the way from first on a Danny Valencia ground ball single and some defensive hilarity. Carlos Beltran's throw from right hit Donaldson as he slid into third and the ball got by Chase Headley, and Sabathia wasn't in position backing up third base, so Donaldson trotted in to score. That run doesn't count against CC's ERA (error charged to Beltran) but it was his fault for not backing up.
All told, Sabathia allowed the five runs on eight hits (all singles) and no walks in 5.2 innings. He struck out eight and threw 68 of 95 pitches for strikes, including 15 swings and misses. That's pretty good! But the inability to limit the damage in the second inning was a killer. There was no put-away pitch that inning and balls kept finding holes. Maybe they'll find fielders next time.
Turn Back The Clock
For one brief, five-minute window in the sixth inning, we got a look back at an era when the Yankees could hit. Alex Rodriguez and Mark Teixeira both went deep off Daniel Norris, cutting what was then a four-run deficit in half. It was the first homer of the season for both guys and the 655th of A-Rod's career. He's five away from tying Willie Mays and triggering that first $6M bonus. Dingers. Remember when the Yankees hit too many of those?
The Yankees didn't stop there though. Chris Young was awarded first base after being grazed by a pitch, and John Ryan Murphy dunked his second double of the game into the left field corner. Joe Girardi wisely pinch-hit for Gregorio Petit — aside: platoons have gone too far when you're giving Petit at-bats — but chose Stephen Drew over three superior options in Brett Gardner, Brian McCann, and Garrett Jones.
I can kinda sorta understand why Girardi wouldn't pinch-hit one of those guys — they'd burn three players (Petit, the pinch-hitter, then Drew to play second) in one move — but I don't like it. The tying run was in scoring position and runs for this team are at a premium. I'm willing to give Drew time to show he's better than last year, but choosing to use him off the bench in that spot over those other guys? Nah. I'd have hit Gardner. In the sixth inning with a rookie pitcher on the mound? That was too good a chance to go with someone other than your best available hitter.
Chances, But No Runs
Before the two homers, the Yankees scored a run in the fifth inning when Didi Gregorius singled — his first hit as a Yankee and it was off a lefty! — in Murphy, who doubled into the left field corner. The serial killer killed it in his first start of the year. Of course, these are the 2015 Yankees, so Gregorius got caught making too big a turn at first base and was thrown out on the single. Three games, two bad base-running blunders for the new shortstop. Growing pains, yo.
The Yankees had other opportunities to score though. They had the leadoff man on base in the fourth (A-Rod walk) and seventh (Gregorius walk) innings but did not score. The fourth inning was particularly gross — Beltran doubled to left following A-Rod's walk to put runners at second and third with no outs, yet the Yankees still failed to score. Teixeira hit a tough luck liner right at Donaldson, Headley turned a 3-0 count into a backwards K, and Young popped up. A ground out and two strikeouts followed Didi's walk in the seventh.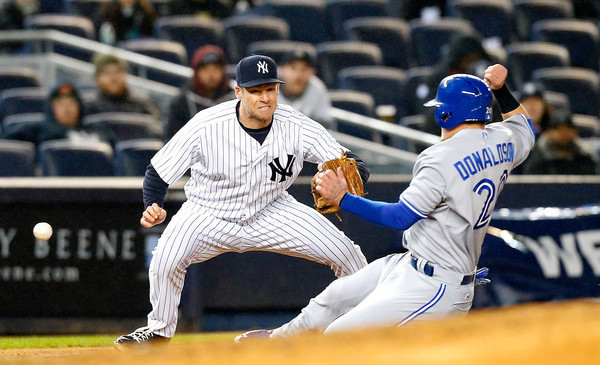 Leftovers
I usually write these things bit by bit during the game, and no joke, I was about to write something saying Esmil Rogers did a nice job keeping the Yankees close after Sabathia exited when he hung that slider Edwin Encarnacion hit off the back wall of the visitor's bullpen for a solo homer. One run in 2.1 innings is okay, right? Okay fine, no. (David Carpenter retired all three batters he faced in the ninth.)
Everyone in the starting lineup reached base at least once except for Petit, who got two-at bats before being lifted for Drew. A-Rod (tater, walk), Gregorius (single, walk), Murphy (double double), and Young (walk, hit-by-pitch) reached base twice. The Yankees went 1-for-9 with runners in scoring position and just one of the last ten men they sent to the plate reached base. That non-Gardner at-bat was killer. It proved to be their last real chance to get back in it.
Box Score, WPA Graph & Standings
Here are the box score and video highlights, and here are the updated standings. It's way too early to be scoreboard watching though. Also make sure you check out our Bullpen Workload page and our brand new Announcer Standings pages. The Bullpen Workload page is useful. The other one … not so much. But it's fun, so why not. Here's the win probability graph:

Source: FanGraphs
Up Next
The Yankees are finished with the Blue Jays for now and will welcome the Red Sox to the Bronx for a three-game weekend series starting Friday night. Nathan Eovaldi and Wade Miley will both be making their first starts for their new teams. Check out RAB Tickets if you want to catch any of the games live.