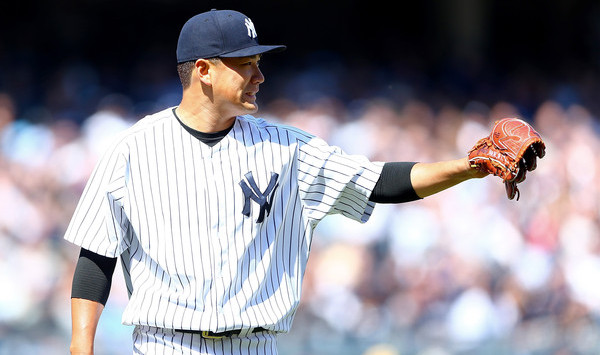 Yesterday afternoon, the Yankees opened the 2015 season with a 6-1 loss to the Blue Jays. Masahiro Tanaka started out very strong, with dominant first and second innings, then quickly unraveled and allowed five runs (four earned) in the third. He pitched into and out of danger in the fourth and left the game after 82 pitches, the last 50 or so of which were pretty high-stress.
Tanaka's velocity was a hot topic both before and after the game. It has been for a week or two now. Tanaka said in Spring Training he's not focused on velocity because he's throwing more sinking two-seamers, then he doubled down on Saturday by saying he doesn't expect the velocity to return. Nothing was lost in translation. Tanaka made it clear velocity is a secondary concern this season.
PitchFX says Tanaka averaged 92.5 mph and 91.1 mph with his four-seamer and sinker yesterday, respectively, down negligibly from 92.7 mph and 91.4 mph last year. He did top out at 94.5 mph yesterday, so it's not like he was out there with Jered Weaver velocity. Most pitchers add a tick or to as the season progresses and the weather heats up, and if Tanaka hadn't done so much talking about his velocity this spring, we wouldn't have even noticed it yesterday.
What stands out to me more than the raw radar gun readings is this: 27. Tanaka threw 27 fastballs out of 82 total pitches yesterday. Five four-seamers and 22 sinkers. That's all. Before the elbow injury last year, Tanaka threw about 40% fastballs and 60% offspeed pitches. Yesterday it was roughly 30% and 70% overall and even more drastic late in his outing — only six of Tanaka's final 33 pitches were fastballs (18%). He flat out abandoned his heater.
When asked about his lack of fastballs after the game, Tanaka said it was "because they were being hit," which makes sense. It wasn't just actual hits either. There were a lot of foul balls and balls in play off his four-seamer and sinker as well. The Blue Jays didn't swing and miss once at those 27 four-seamers and sinkers, so they were getting the bat on his fastball each time they swung.
Clearly Tanaka is tentative with his fastball right now. Is it mental or physical? Who the hell knows. Considering he did reach back and top out 94.5 mph yesterday, my guess is mental. After the elbow issue last year, I would totally understand if Tanaka was hesitant to cut it loose. Heck, I had a tooth fixed last year and I didn't chew on that side of my mouth for months even though the dentist said it was fine. I get it.
The weird part of all this is Tanaka is apparently holding back with his fastball but is still willing to throw sliders and splitters seven out of every ten pitches. We've heard for years and years that sliders and splitters are bad for the elbow, especially when thrown a lot, so if Tanaka is still concerned about his elbow, you'd expect him to throw fewer non-fastballs, not more. Right? Tanaka abandoning his splitter would be a major red flag. Tanaka abandoning his fastball is just weird.
As good as his offspeed pitches are — Tanaka threw 55 non-fastballs yesterday and got a dozen swing and misses (22%), which is outstanding — Tanaka can't go through the season throwing 30% fastballs. No non-knuckleballer can. The lowest percentage of fastballs thrown by a non-knuckleball qualified starter during the PitchFX era is 35.5% by … wait for it … 2008 Mike Mussina. Even late-career Moose and his mid-80s gas threw more fastballs on average than Tanaka yesterday.
Hopefully yesterday's game was just step one for Tanaka. Step one towards feeling normal and trusting the elbow. Like I said, I totally understand why he would be tentative to cut it loose, but this can't last forever. Hopefully as the season progresses and he realizes that hey, I'm healthy, Tanaka will gain more faith in his fastball and get back to being where he was before the injury last year. The guy we saw yesterday was a reliever. Not someone who can turn a lineup over multiple turns. The Yankees need much more than that from Tanaka.
"Physically, he seems to be fine," said pitching coach Larry Rothschild to Chad Jennings yesterday. "I've watched him between starts all spring, play catch in between, and he's building arm strength still. We went slow early in the spring, knowing that it's going to be a work in progress, really. I think he's holding his own right now. This isn't the results that you anticipate or want, but I think you have to be reasonable the way you look at things. He is building arm strength and will continue to. There were positives with the split today, it was really good, and I think you'll see him — as he stays healthy, you'll see him pitch the way he has in the past."