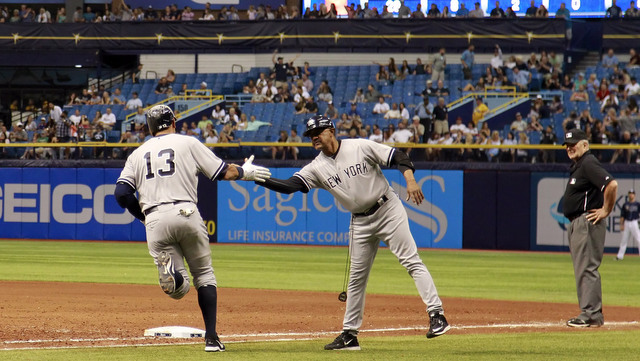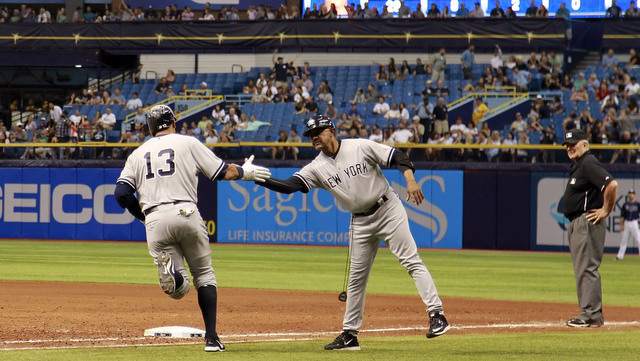 Last night was a turn back the clock night for Alex Rodriguez, who hit two home runs and drove in the go-ahead run with a single in the eighth inning. According to ESPN, his monster solo homer in the second inning was the second longest by a Yankee in the last ten years and the longest at Tropicana Field in ten years. Alex is now just two homers shy of tying Willie Mays for fourth place on the all-time list, and hey, it could happen today. That would be some kind of follow up to yesterday's game.
In the grand scheme of things though, Masahiro Tanaka's start tonight is much more important than whatever A-Rod does. Tanaka has not looked like himself in his first two starts — he's walked five in nine innings after not walking his fifth batter until inning 32 last year — and it's impossible to diagnose the problem. Is it the elbow acting up? Is he apprehensive? Is it just two games against very good lineups? Who knows. We've yet to see the Tanaka of last season in 2015 and it would be cool if he showed up soon. Here is tonight's starting lineup:
CF Jacoby Ellsbury
LF Brett Gardner
DH Alex Rodriguez
1B Mark Teixeira
C Brian McCann
RF Chris Young
3B Chase Headley
SS Stephen Drew
2B Gregorio Petit
RHP Masahiro Tanaka
The Rays are starting right-hander Jake Odorizzi, who has allowed a total of four hits in 14.2 innings in his two starts this year. Here is Tampa's lineup.
The weather won't be a factor once again because Tropicana Field is domed — it's a balmy 82 degrees in St. Petersburg, if you're curious — and tonight's game will begin a little after 7pm ET. You can watch only on FOX Sports 1. Here's the channel finder. Enjoy the game.
Injury Updates: Carlos Beltran has some kind of illness and may not play tomorrow either, Joe Girardi told reporters.