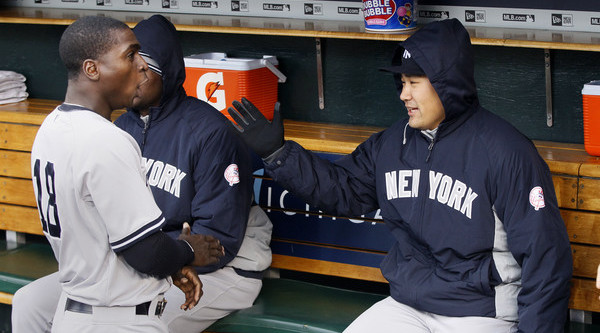 Considering it started with a series loss in Baltimore, this ten-game road trip has gone pretty darn well for the Yankees. They've won six of nine games so far — including five of the last six — and this afternoon's series finale with the Tigers will determine if it's a great 7-3 road trip or merely a very good 6-4 road trip. I'm greedy, I want the former.
Masahiro Tanaka is on the mound this afternoon and he is making his first start on normal rest this year. He's made all of his previous starts — regular season and Spring Training — with an extra day of rest by design. Tanaka looked like the pre-injury version of himself in his last start, during which he threw only 85 pitches in seven innings. Detroit's lineup is much tougher than Tampa Bay's, but, when Tanaka is on, he can dominate anyone. Here is the Tigers' lineup and here is the Yankees' lineup:
CF Jacoby Ellsbury
LF Brett Gardner
DH Carlos Beltran
C Brian McCann
3B Chase Headley
RF Chris Young
1B Garrett Jones
2B Stephen Drew
SS Didi Gregorius
RHP Masahiro Tanaka
It's still really cold and windy in Detroit, but thankfully there is no rain (or snow!) in the forecast this afternoon. The game will begin at 1:08pm ET and you can watch on YES locally and MLB Network nationally. Enjoy the game.