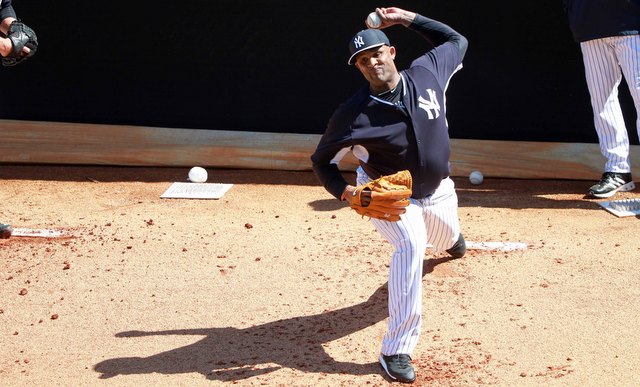 For the first time since May 10th of last season, CC Sabathia will be on the mound in a regular season game for the Yankees tonight. He missed most of last year due to knee surgery and had an ugly spring in which he emphasized health over results. For a veteran guy who's been doing this as long as Sabathia, that makes sense.
This is the regular season though, and results matter. The Yankees and Blue Jays have split the first two games of this three-game series, and New York is trying to win their first season-opening series since 2011. Yeah, it's been a while. How about a strong start from Sabathia and some offensive rallies that involve more than one ball being hit out of the infield? Modest goals for tonight. Here is the starting lineup:
CF Jacoby Ellsbury
DH Alex Rodriguez
RF Carlos Beltran
1B Mark Teixeira
3B Chase Headley
LF Chris Young
C John Ryan Murphy
2B Gregorio Petit
SS Didi Gregorius
LHP CC Sabathia
Joe Girardi said the regulars who aren't starting (Brett Gardner, Brian McCann, Stephen Drew) are all healthy, they're just sitting against the lefty Daniel Norris. Here is Toronto's starting lineup.
The weather is the same as last night, basically. Cold with some very slight rain, though it isn't as windy. Tonight's game is scheduled to begin at 7:05pm ET and will be broadcast on YES. Enjoy the game.