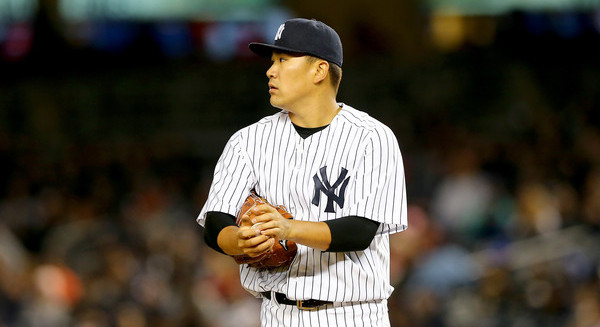 8:29pm: An MRI showed Tanaka has tendinitis in his wrist and a "small" forearm strain, Brian Cashman told reporters at Yankee Stadium. There is no change to his UCL. He will be placed on the 15-day DL and will "conservatively" miss about a month according to GM. Considering the elbow issue last year, there's no such thing as a "small" forearm strain for Tanaka.
Here is Cashman talking about the injury:
8:17pm
: According to
George
King
, Masahiro Tanaka is not at Yankee Stadium tonight and it is "believed" he went for tests on his right wrist. The Yankees have not confirmed anything.
Marly Rivera
says Tanaka did not speak to the Japanese media this afternoon, which he usually does the day before a start.
Tanaka has never had any wrist problems as best I can tell. He missed all that time with the partial ligament tear in his elbow last season, and a few years ago he missed some starts with the Rakuten Golden Eagles due to a shoulder issue, but that's all. No other injuries from what I can find.
Obviously losing Tanaka for any length of time would be pretty devastating to the Yankees. His last two starts have been pretty awesome, vintage Tanaka, and that guy is impossible to replace. Stay tuned for any updates.