Extra innings have not been kind to the 2015 Yankees so far. The bullpen held on as long as possible Wednesday afternoon, but ultimately the offense never did come through, leading to 3-2 loss to the Rays in 13 innings. The Yankees won the series but couldn't finish off the sweep. Whaddayagonnado.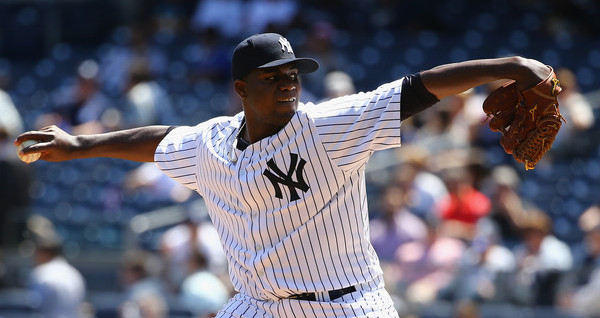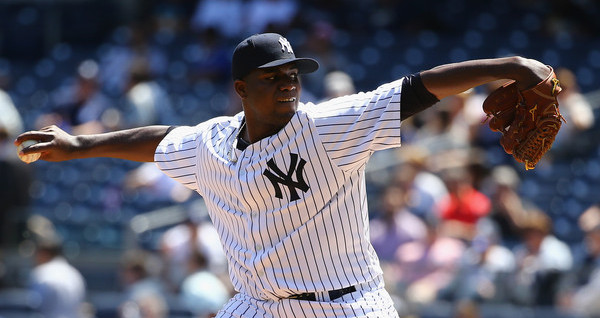 Worn Down
It wasn't until Tuesday afternoon that Michael Pineda knew he was going to pitch this game. He was originally scheduled to start Friday, but the Yankees had to change plans and start him Wednesday (on regular rest) because of Masahiro Tanaka's wrist/forearm injury. In fact, Joe Girardi had to find Pineda on Tuesday to make sure he didn't throw his between starts bullpen so he could be ready for this game.
Big Mike started in typical Big Mike fashion, retiring the first six batters of the game before running into a little trouble in the third inning. A leadoff single, a bunt, and a strikeout/wild pitch combo gave Tampa Bay runners on the corners with one out, but Pineda responded by striking out David DeJesus and getting a ground out from Steven Souza to escape the jam.
Things unraveled a bit in the fourth and it happened after the first two batters made outs on four total pitches. James Loney grounded a single through the shift and Logan Forsythe grounded a single the other way to beat the shift — oh look, the Yankees were burned by the shift again! — to put two on for Kevin Kiermaier. Kiermaier worked Pineda real hard. It was a nine-pitch at-bat and he fouled off a pair of well-placed full count fastballs to stay alive.
The third full count fastball was a meatball. Center cut, middle of the plate, and Kiermaier banged it off the very top of the wall in right-center field for a two-run triple. I thought it was gone off the bat. Pineda hit the next batter with a pitch before stranding Kiermaier at third. The damage had been done though. The Rays were up 2-0 after having two outs and the bases empty in the inning. Those rallies are always annoying. Kiermaier just wore Pineda down with his at-bat.
Pineda's afternoon came to end after Forsythe doubled with two outs in the sixth inning. It was another one high off the wall — this one in left field — that I thought was gone off the bat. Big Mike allowed those two runs on six hits and no walks in 5.2 innings. He fanned five and also got nine ground ball outs compared to ten in the air. Pineda now has a 32/2 K/BB in 31.1 innings this year with a 54.9% grounder rate, which is really awesome.
Strikeouts & Dingers
Rays lefty Drew Smyly was making his second start of the year after missing time with a shoulder problem, yet he showed no rust Wednesday afternoon. He gave up two Jacoby Ellsbury singles and a Chris Young walk through the first four innings — Ellsbury made it to third on a steal and a bunt in the first inning but was stranded — while striking out six. Smyly was looking pretty sharp.
The first of his two mistakes came in the fifth inning, when he hung a 1-1 changeup to Chase Headley, who smacked a no-doubt solo homer to left field. All three of Headley's dingers this year have been bombs. No doubters off the bat. Smyly settled down and retired the next four batters (three on strikeouts) before making his second mistake: a hanging breaking ball to Young. It wasn't an awful pitch, it was down around the knees, but it was over the plate and Young golfed it out for a game-tying solo homer in the sixth.
In his second start off the DL, Smyly held New York to four hits and one walk in six innings, striking out ten. It was only the third double-digit strikeout game of his career. He did a really nice job keeping the Yankees off balance with his breaking ball I thought, especially back-footing it to righties. The Yankees' right-handed hitters went 2-for-16 (.125) with nine (!) strikeouts against Smyly. Unfortunately for him, the two hits left the park.
Bullpen Battle
It's hard not to feel confident whenever this Yankees team gets locked in a battle of the bullpens. After Pineda exited with two outs in the sixth, five relievers combined to retire the next 14 batters before Chris Martin walked Asdrubal Cabrera with one out in the top of the 11th. Justin Wilson (one out), David Carpenter (three outs), Dellin Betances (three outs), Andrew Miller (six outs), and Martin (one out) got those 14 straight outs.
Unfortunately, Tampa Bay's bullpen was excellent as well. Three Rays' relievers retired eleven in a row at one point from the seventh through the tenth, and they pitched around leadoff singles in both the 11th and 12th innings as well. Ellsbury singled to leadoff the 11th yet never attempted to steal. Carlos Beltran singled to leadoff the 12th and pinch-runner Brett Gardner also never attempted to steal. I don't understand. I don't understand at all!
Chasen Shreve, in his second inning of work, opened the door for the Rays in the 13th with a one-out walk to Souza. Souza moved to second on a ground out and Evan Longoria was intentionally walked to set up the left-on-left matchup with Loney. The six-pitch battle ended with a weak ground ball through the right side that Stephen Drew snared in shallow right field but was unable to turn into an out. He had no play on Loney at first or Souza at home. The play developed too slowly.
The Rays scored all three of their runs thanks to perpetually awful Yankees' shifts. They get burned by them game after game after game it seems. I'm not making this up either — the MLB average on ground balls is a .242 BABIP. The Yankees came into Wednesday with a .286 BABIP on ground balls. That shouldn't happen with this infield defense. The bullpen held on as long as possible. One hit in 7.1 innings for the relievers!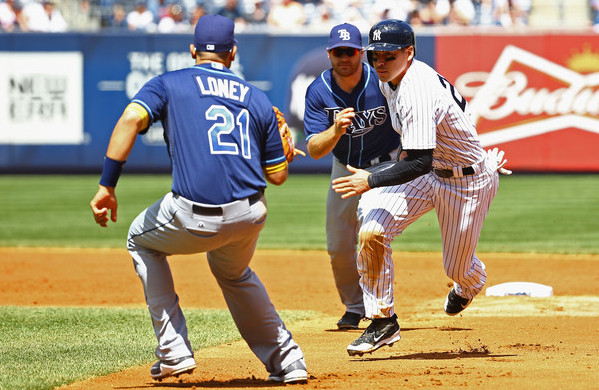 Leftovers
The Yankees struck out 16 times on Wednesday, a new season high. (They struck out only 13 times in the 19-inning game.) It was their highest strikeout total since the final game of the 2013 season, when they struck out 16 times in 14 innings. The franchise record is 17 strikeouts, which has been done a few times. The 7-8-9 hitters went combined 0-for-12 with eight strikeouts and at one point nine of 12 Yankees' batters struck out from the fifth through eighth innings. Not good!
Alex Rodriguez had his worst offensive day of the season so far, going 0-for-6 with four strikeouts and the game-ending double play. It was his first four-strikeout game since April 2008 and only the fifth of his career. Those other four four-strikeout games were nine-inning games though. Ellsbury had three hits, Young had two hits, and the rest of the team had two hits.
Loney banged into a 6-4-3 double play in the sixth inning. It was the first ground ball double play Pineda has induced in 26 starts, dating back back to July 2011, when he was with the Mariners. Also, Miller faced Loney to start the ninth inning. It was the first lefty batter Miller faced in 2015. The first 37 batters he faced were all righties.
And finally, Betances limped off the field in the eighth inning, but Girardi told reporters after the game he just has a blister on his big toe. It's a non-issue. A band-aid will take care of that.
Box Score, WPA Graph & Standings
Here are the box score, video highlights, and updated standings. Also make sure you check out our Bullpen Workload and Announcer Standings pages. Lots going on there. Here is the win probability graph:

Source: FanGraphs
Up Next
The Yankees have an off-day Thursday and will open a three-game series with the Red Sox on Friday night. CC Sabathia and Justin Masterson are the probable starters for the opener at Fenway Park.