There are few people who could have predicted Alex Rodriguez would be the leader or co-leader on the Yankees in batting average, on-base percentage, Wins Above Replacement, OPS, runs, RBI and homers – and arguably the team MVP – after the first two weeks of the season (yes, despite his 0-fer on Monday). Heck, six months ago it seemed like everyone was trying to figure out how the team could release him and recover part of the $61 million he's still owed over the next three seasons.
Sure, it's an incredibly small sample. The guy is also almost 40 years old while playing on two surgically-repaired hips, so he's very likely not going to sustain this incredible pace.
But this scorching hot start is still very real, and nearly unprecedented even in the context of A-Rod's career. The last time he had this many homers, RBI and hits in the team's first 13 games was 2007, the same year he won the AL MVP award.
We know that only a few years ago he was an elite third baseman and his natural hitting skills are off the charts, but these eye-popping numbers are still somewhat shocking for a player that was out of the game for a year and was pretty mediocre the last time we saw him in a baseball uniform.
So what has been the key to A-Rod's early-season performance? And how much of it can he sustain going forward?
Going, going, going…gone!
One of the reasons to be optimistic about his numbers is the fact that he's absolutely crushing the ball. We're talking mammoth, tape-measure homers and really solid bat-to-ball contact — power that few could have predicted at the start of spring training.
His average batted ball distance of 246 feet leads all major league players and his average batted ball velocity of 99.3 mph is the second-highest in MLB (min. 5 at-bats). He also ranks among the top 20 of all players in hard-hit rate – the percentage of at-bats ending in a hard-hit ball, based on video review – according to ESPN's stat guru Mark Simon.
A-Rod owns the longest home run hit by anybody this season – a 477-foot shot on Friday night – and is the only player with three "no doubt" homers, according to hittrackeronline.com. (A no-doubt homer means the ball cleared the fence by at least 20 vertical feet and landed at least 50 feet past the fence.)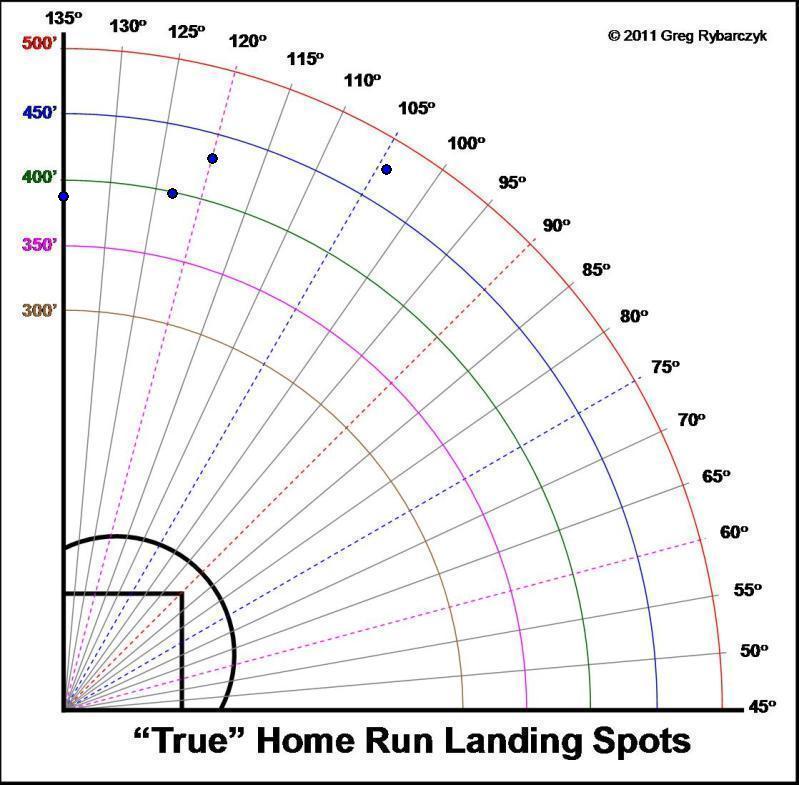 Can he handle the heat?
A key question heading into the season is whether A-Rod's bat would be able to catch up to fastballs. Pitchers haven't been shy about challenging A-Rod with the heater, and he's done a good job so far answering his critics by going 6-for-15 with four homers and a double in at-bats ending in four-seamers.
Of the 11 four-seasm fastballs he's put into play so far, only one has been a ground ball and four have been classified as line drives. Need more proof? No player has a higher slugging percentage or hit more homers against four-seam fastballs this season than Alex.
Patience is a virtue
Another encouraging sign is the strong place discipline numbers that Rodriguez is showing so far. His walk rate of 18 percent would be a career-high and swing rate at pitches out of the zone (26 percent) is better than the current league average. He clearly has done a good job of working counts and waiting for pitches in his sweetspot, while laying off pitches he can't demolish.
If there's one big weakness in his approach at the plate, though, it is his high whiff rate. His contact (63 percent) and strikeout percentages (31 percent) would both be career-worsts and are well-below-average. Pitchers have really exposed A-Rod's propensity to swing and miss at off-speed and breaking pitches, especially down in the zone, as detailed in the heat map below: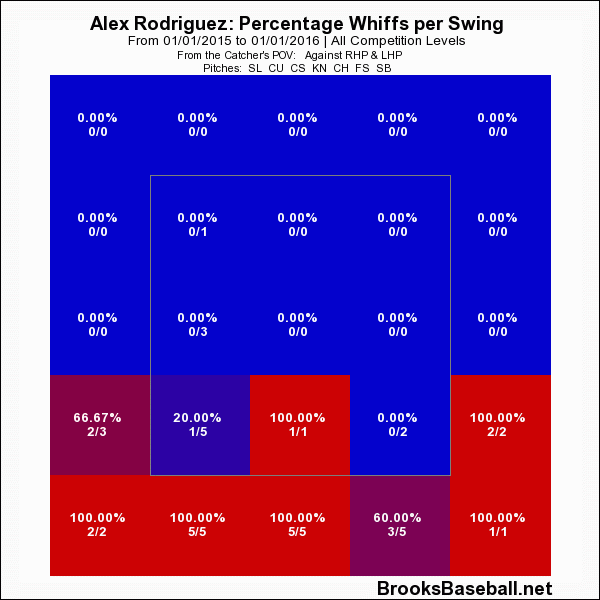 While this lack of contact and tendency to chase soft stuff could be a concern going forward, it's impact is probably lessened by his patience and good batting eye. As long as he can continue to get ahead in the count, take his walks and force pitchers to throw him hittable pitches, A-Rod should be able to keep up a high on-base percentage and give the Yankees a solid power bat on a consistent basis.
We know that A-Rod is probably not going to hit 40 homers and likely won't finish with a near-.500 OBP at the end of the season. He is going to regress, but based on what he's shown in these first few weeks, there is a good chance that he'll be at least capable of providing above-average production for a team that could really use his power and patience in the lineup.