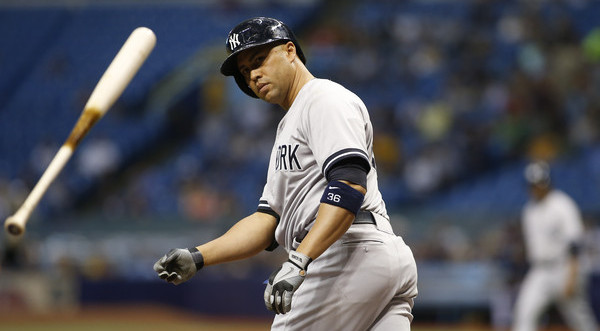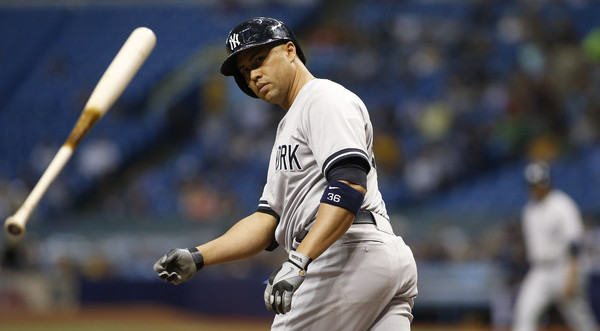 After sitting in favor of Chris Young last night, Carlos Beltran is hitting .171/.222/.268 (33 wRC+) in 45 plate appearances so far this season. He's yet to hit a home run and in general his bat seems lifeless. Beltran turns 39 on Friday and he looks every bit the part of a washed up ex-slugger. We saw this firsthand with Alfonso Soriano last season — when it goes, it can go in a hurry. Soriano hit 34 homers in 2013 and was completely cooked in 2014.
Beltran started last season very well before the bone spur in his elbow became an issue, which ostensibly hurt his performance the last three or four months of the season. He had the elbow cleaned out in the offseason, rehabbed all winter and early in Spring Training, then got into Grapefruit League games in early March. Counting the spring, Carlos has now had 90 plate appearances since having his elbow fixed, and he's looked good for basically none of them.
Joe Girardi finally bumped Beltran down in the lineup earlier this week — I'm pretty sure that had more to do with Alex Rodriguez's hot start than Beltran's poor performance though — but that only helps so much. The Yankees need Beltran to hit. If he doesn't hit, he's completely useless, because he doesn't play defense or run the bases like he once did. Because of his track record and the $30M or so the team owes him though the end of next season, expect Beltran to get a nice long leash to show he isn't washed up.
"There's nothing that I see that's necessarily (wrong). Does his bat speed look different to me? No. Just he's gotten off to a slow start and hopefully the consistent at-bats will get him going," said Joe Girardi to Brendan Kuty last week when asked about Beltran's early season slump. Hitting coach Jeff Pentland told George King that Beltran "is a little frustrated right now because I don't think he is used to struggling," and cautioned he doesn't "want to overload him with mechanical things because sometimes you fool with the mind and it turns into something more serious."
Last year, MLB Advanced Media tested a new tracked system in three ballparks (Citi Field, Miller Park, Target Field) that records every movement on the field. The ball, the defenders, you name it. It's the backbone of StatCast. The system was installed in all 30 parks this season, and, for the very first time, we now have precise batted ball velocity and distance data at our fingertips. MLBAM makes the data available via Gameday and it can be parsed just like PitchFX. It's a gold mine.
So, now that this data is available, let's use it to see if Beltran is showing any signs of life with his bat in the very early going this season. It stands to reason that if Carlos is getting closer to snapping out of his early season slump — regardless of whether it is due to his age, his elbow, sample size, whatever — he would be hitting the ball harder in recent days. Right? You always hear announcers say a player is getting close to breaking out of a slump when he starts making loud outs.
It seems like we haven't seen many loud outs from Beltran this year, but we don't have to rely on anecdotal evidence anymore. We have MLBAM's batted ball data now. Here is Beltran's exit velocity through the first two and a half weeks of the new season (via Baseball Savant):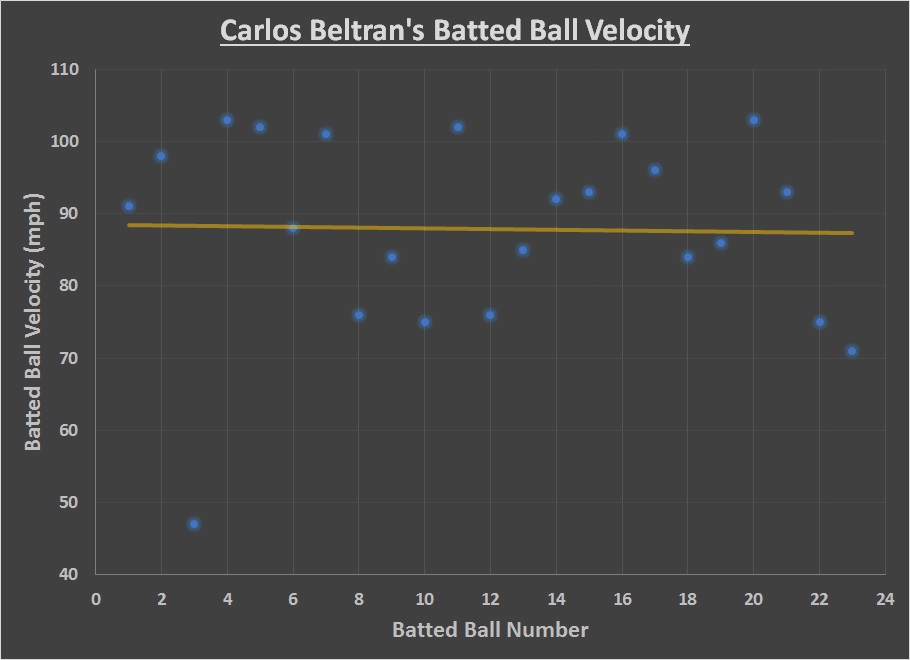 There is no upward trend (the trendline shows a very slight downward trend, in fact), so no, Beltran isn't hitting the ball any harder now than he was the first few days of the season. His hardest hit ball this season left the bat at 103 mph, which he's done twice. A-Rod has hit a ball 103+ mph six times, for comparison. Beltran's average batted ball velocity of 87.9 mph ranks 91st out of the 159 batters with at least 20 at-bats this season.
That might not necessarily be bad! Guys like Kyle Seager (88.1 mph), Matt Kemp (87.8 mph), Pablo Sandoval (87.5 mph), and Jacoby Ellsbury (87.4 mph) are near Beltran on the batted ball velocity leaderboard and no one is calling them cooked. (At least not yet!) The league average exit velocity is approximately 88.2 mph, so these guys are right in that neighborhood. A couple of well-struck line drives tonight and tomorrow and they'll be over the league average.
It's important to remember this information is all new and we don't know a whole lot about it yet. How long does it take to stabilize? Ten batted balls? Fifty? A thousand? What happens when the weather warms up? How volatile is it year to year? How well does it actually correlate to performance? These are all questions we can't answer yet, so for now we can't use this data to say anything definitive other than "Player X is hitting the ball this hard."
Right now we're all working on assumptions. Hitting the ball hard is better than not hitting the ball hard, that much is obvious, but do hitters actually hit the ball harder as they get closer to snapping out of a slump? It's way too early to say with this data. It would have been encouraging to see Beltran is hitting the ball harder recently but I'm not sure it would have meant anything anyway. Beltran being below the league average — even slightly — is not surprising though. It confirms what our eyes have been telling us the first 14 games of 2015.