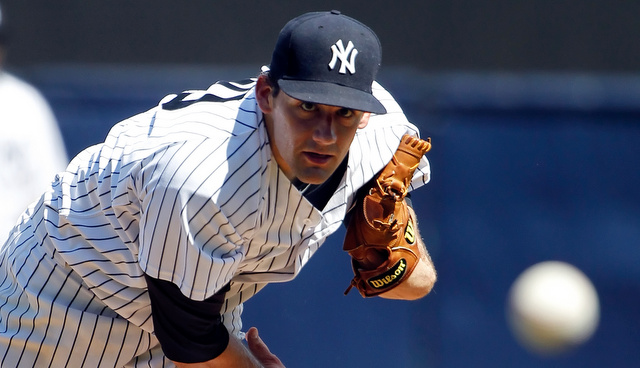 The Yankees are in Washington this afternoon for one last spring tune-up game against the Nationals. They're off tomorrow then will open the 2015 regular season at home against the Blue Jays on Monday afternoon. I'm so ready for the season. Let's get these last nine innings over with and get the regular season started already.
Today's reason to watch: Nate Eovaldi! We haven't seen a whole lot of Eovaldi this spring. He started a bunch of minor league games last month and some of his Grapefruit League starts weren't televised. Eovaldi threw something like 20 innings last month but only four of five innings were actually watchable, that's it. Also, Dellin Betances is scheduled to pitch today. It'll be his last chance to get his mechanics straightened out before the games count for real.
As I said, the Yankees are in Washington to play the Nationals at Nationals Park. A real live Major League stadium with three decks. It's been too long. Here is the Nats' lineup and here is the Yanks' lineup, which is the same lineup I expect to see on Opening Day aside from the starting pitcher:
CF Jacoby Ellsbury
LF Brett Gardner
RF Carlos Beltran
1B Mark Teixeira
C Brian McCann
3B Chase Headley
DH Alex Rodriguez
2B Stephen Drew
SS Didi Gregorius
RHP Nathan Eovaldi
Available Position Players: C John Ryan Murphy, C Austin Romine, IF Gregorio Petit, 1B/OF Garrett Jones, OF Chris Young, C Eddy Rodriguez, 2B Rob Refsnyder, IF Nick Noonan, OF Ramon Flores, OF Ben Gamel, OF Slade Heathcott, and UTIL Jonathan Galvez are all on the lineup card. I'm not sure who's coming off the bench to play though.
Available Pitchers: RHP Esmil Rogers, RHP Chris Martin, RHP David Carpenter, RHP Dellin Betances, LHP Justin Wilson, LHP Chasen Shreve, LHP Andrew Miller, RHP Nick Rumbelow, RHP Jose Ramirez, and LHP Tyler Webb are all on the lineup card. Again, not sure who's scheduled to pitch aside from Dellin.
It's sunny but chilly and windy in Washington. Temperatures are only in the mid-50s. There is no YES broadcast for this afternoon's game but you can watch live on MLB.tv anywhere or MASN in the Nats' home market. There is no MLB.tv blackout and this is the MLB.tv Free Game of the Day, so you won't need a subscription to watch either. First pitch is scheduled for just after 1pm ET. Enjoy.