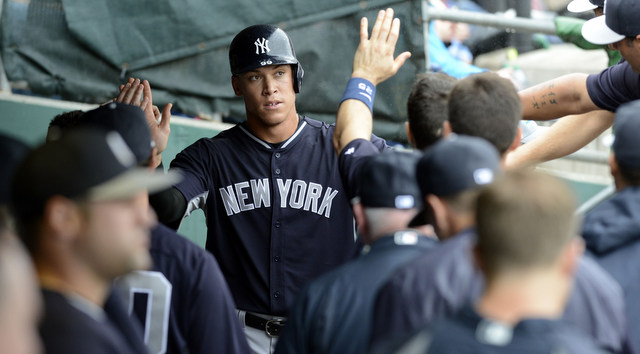 Early last week, Baseball America released their annual farm system rankings, which are predictably topped by the Kris Bryant-led Cubs. The Red Sox and Dodgers round out the top three while the Angels, Orioles, and Tigers claim the bottom three spots. The farm rankings and write-ups are free. You don't need a subscription.
The Yankees are ranked 18th overall, which, believe it or not, is actually down from 13th last year, when the Yankees had that miserable 2013 season. That's because Baseball America considered Masahiro Tanaka a prospect last year — he was fourth on their 2014 top 100 prospects list — and he's graduated to the big leagues. I guess the massive international spending spree doesn't make up to Tanaka's graduation. Anyway, here's the blurb on New York's farm system:
How They Got Here: The Yankees got breakout seasons from Luis Severino and Aaron Judge, who are opposites physically. However, the Yankees have failed to develop in-house young replacements for an aging roster that has missed the playoffs in back-to-back seasons. New York's unprecedented July 2 international spending ($17.3 million) brought in impressive depth, obviously with risk that is ameliorated by the depth.

High-Ceiling Sleeper: The system is full of them, but a spring candidate who was emerging was 21-year-old Domingo Acevedo, a big-bodied Dominican signee who is starting to coordinate the long levers in his 6-foot-7, (listed) 190-pound frame. His fastball was sitting in the 94-96 mph range during the spring and reaching higher, and it was still just March. He's headed for his full-season debut.

2015 Rookies: A concussion this spring interrupted 2B Jose Pirela's chase for a utility role or to compete with Rob Refsnyder for the second-base job. LHP Chasen Shreve and RHP Bryan Mitchell competed for staff roles in spring training, with Mitchell headed back to the minors to start the year in a rotation role.
Acevedo continues to get a lot of love this spring. A strong year with Low-A Charleston should shoot him up prospects lists. Also, I'm surprised Jacob Lindgren was not mentioned as a top 2015 rookie in the write-up, but whatever. We know he'll be up at some point and that's all that matters.
Baseball America is the high man on the Yankees' farm system this spring, though not really. Keith Law had them 20th and Baseball Prospectus had them 21st, and there's not really much of a difference between 18th and 21st. It's a matter of personal preference at that level, not quality or quantity of talent. As I've been saying all winter, the farm system figures to take a big step forward this summer thanks to the international talent haul. That's a lot of talent added at once.