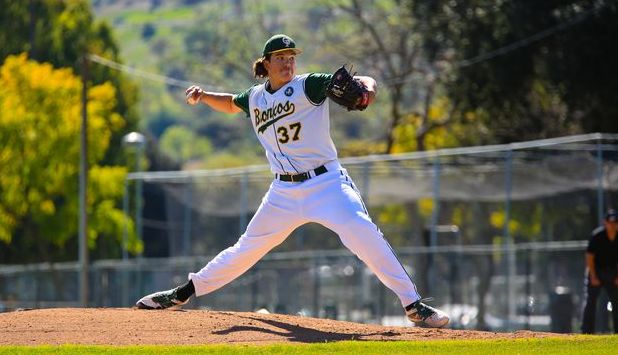 It's Friday, which means John Manuel of Baseball America has posted his updated mock draft. It's free to read. You don't need a subscription. This week Manuel has the Diamondbacks taking Vanderbilt SS Dansby Swanson with the first overall pick, and that seems to be the consensus now. There is no clear top prospect this year, so the D'Backs have been in on everyone, but lately everything seems to be converging towards Swanson.
This week Manuel has the Yankees taking Cal Poly Pomona RHP Cody Ponce with their first pick, 16th overall. Here's my profile on Ponce. The Yankees have been connected to Ponce, a big right-hander with a deep repertoire who isn't as refined as the typical college hurler, for a few weeks now. Scouting director Damon Oppenheimer loves physically huge Southern California pitchers and that's Ponce.
With the 30th overall selection, the compensation pick for David Robertson, Manuel has the Yankees selecting California HS C Chris Betts. Here's my profile on Betts. Like Ponce, the Yankees have been connected to Betts for several weeks now. He's a bat first catcher with huge left-handed power, maybe the most in the draft, but he's not a lock to stay behind the plate. It's not impossible, Betts just has work to do defensively.
Within the write-up Manuel notes the team "wants an arm," and while the Yankees "don't mind dealing with tough signability … they remain unlikely to gamble with difficult medical issues." Manuel notes they also prefer Ponce to Louisville RHP Kyle Funkhouser, who has a big arm but is tumbling down draft boards because he was missing 5-6 mph in his last start. Yikes.