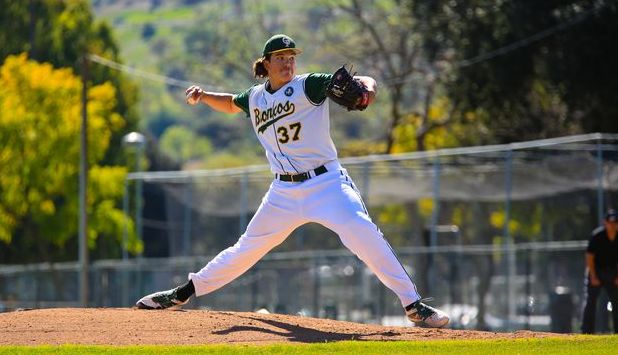 Yesterday afternoon, John Manuel at Baseball America published his second mock draft, and this time he has the Diamondbacks selecting Vanderbilt RHP Carson Fulmer with the first overall pick. Last week it was UC Santana Barbara RHP Dillon Tate. I think Fulmer would be a big reach with the first pick, but that's just me. The mock draft is free for all. You don't need a subscription to read it.
Manuel has the Yankees selecting UCLA RHP James Kaprielian with their top pick, 16th overall, which is the same as the last mock draft. Kaprielian is a classic "safe" college pitcher with four pitches, good command, a sturdy frame, and a track record of success. Scouting director Damon Oppenheimer loves his Southern California pitchers (Ian Clarkin, Gerrit Cole, Ian Kennedy, etc.) and Kaprielian fits. Kaprielian threw nine no-hit innings last night, by the way.
In the supplemental first round, Manuel has the Yankees taking Cal Poly Pomona RHP Cody Ponce with the 30th pick, the compensation pick for David Robertson. Another SoCal pitcher! Ponce tore up the Cape Cod League last summer, and success on the Cape is another Oppenheimer trademark, so Ponce makes sense. Here's a snippet of his free MLB.com scouting report:
Ponce stands out primarily for his size and fastball. The 6-foot-5, 235-pounder sits at 91-94 mph and touches 96, though his heater gets hit more than it should because it tends to straighten out. Ponce's secondary pitches are still a work in progress. His improving cutter is his No. 2 option, he's not afraid to throw his firm changeup and he also has a curveball that often devolves into a slurve.
As a reminder, Manuel's mock drafts are informed speculation, he's not just guessing. It's based on industry buzz and all that, so it's very likely the Yankees have real interest in both Kaprielian and Ponce. Manuel notes they're also in on California HS C Chris Betts, but are likely to steer clear of injured hurlers Duke RHP Mike Matuella (Tommy John surgery), Florida post-grad LHP Brady Aiken (Tommy John surgery), and California HS LHP Kolby Allard (back).
This draft class is very pitcher heavy, there isn't much position player talent at all, and it seems like the Yankees are leaning towards arms for their top picks based on the little we know right now. Obviously a lot can change in the coming weeks. The Yankees could use some pitching depth in the farm system, and although I'm not a fan of drafting for need with top picks, it just so happens their needs and the strength of the draft line up this year.