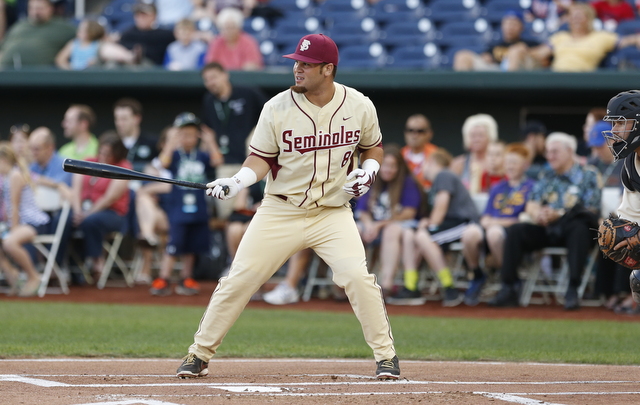 As usual, John Manuel at Baseball America published his weekly mock draft today, and this week he has the Diamondbacks taking Illinois LHP Tyler Jay with the first overall pick. I believe that is now the fourth player we've seen connected to Arizona for that top pick in the various mock drafts in recent weeks. As always, Manuel's mock draft is free to read. You don't need a subscription.
For the third time in three mock drafts, Manuel has the Yankees selecting UCLA RHP James Kaprielian with their first round pick, 16th overall. Jim Callis at MLB.com also had the Yankees taking Kaprielian with that 16th pick in his most recent mock draft. Here's my profile on Kaprielian, who is more of a high-probability prospect than a high-upside prospect.
With their second pick, 30th overall, Manuel has the Yankees taking Florida State OF D.J. Stewart. That's the compensation pick for losing David Robertson. (Callis didn't include the supplemental first round in his mock draft.) The Yankees selected Stewart out of high school in the 28th round back in 2012 but obviously didn't sign him. Here's a snippet of his free MLB.com scouting report:
Stewart has a quick left-handed stroke, strength and patience. He has plus raw power but he doesn't fully tap into it because he bats from an extreme crouch and has a flat swing. He might hit 20 homers per season if he stands more upright and adds some loft … Though he's listed at 6 feet and 230 pounds, he's a better athlete than his build might indicate … Stewart has close to average speed. He has good instincts as a runner and defender, though a below-average arm limits him to left field.
Stewart comes into the weekend hitting .323/.510/.598 with 13 homers, 64 walks, and 40 strikeouts in 57 games this spring. The Yankees love lefty hitters with power and patience, though I'm not a big fan of Stewart as a prospect. I think he's likely to end up a bad left fielder or first baseman down the road, maybe even a DH, and I'm not sure I buy his power at the next level. I'd like a more well-rounded prospect that high in the draft. That's just me.
Manuel notes the Yankees are also in on California HS C Chris Betts and a variety of high school pitchers, including Pennsylvania HS RHP Mike Nikorak, Tennessee HS RHP Donny Everett, and Indiana HS RHP Ashe Russell. Here's my profile on Everett. This draft is very heavy on pitching and it seems very likely to the Yankees will end up with at least one pitcher out of their two first round picks, if not two. That works well, the system is thin on arms at the moment.