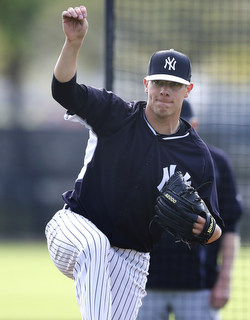 A little more than one week after being shut down with a right shoulder strain, right-hander Andrew Bailey is a few days from starting a throwing program, Brian Cashman told Brendan Kuty. "He's trying to do almost the impossible," said Cashman, referring to Bailey's attempt to return from a torn shoulder capsule, a very severe injury.
Bailey, 30, was shut down with discomfort in his surgically repaired shoulder after pitching in back-to-back games with High-A Tampa. Bailey made six appearances in Spring Training and had a 5.40 ERA (3.59 FIP) with seven strikeouts and one walk in five innings with Tampa before being shut down. It was the first time he pitched in back-to-back games as part of his rehab.
Obviously the Yankees aren't counting on Bailey to help in any way this year. Anything he gives them is a bonus, and they have enough bullpen depth in Triple-A that they don't need to count on him. The Yankees took a low-risk flier and gave Bailey a minor league contract, so if he can help, great. If not, they've lost nothing.
Now, that said, Bailey could give the Yankees a nice shot in the arm, especially now that Chris Martin appears to be coming back to Earth and David Carpenter couldn't be any further outside the Circle of Trust™. Another right-hander wouldn't hurt. There's a spot for Bailey in the bullpen if he manages to stay healthy and show he can produce.