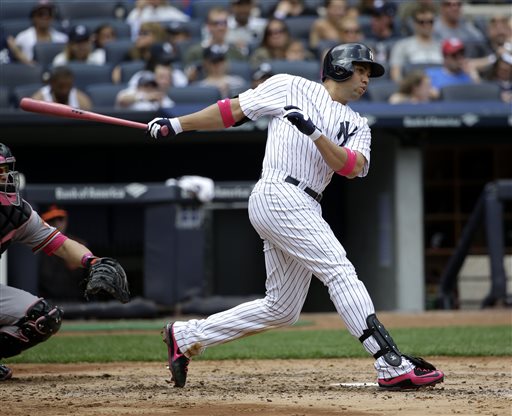 To say Carlos Beltran had a slow start to the season would be a massive understatement. There is no sugar-coating the fact that for the first month of 2015, Carlos Beltran looked every bit like a struggling 38-year-old veteran in decline. He was unable to catch up to fastballs, repeatedly chased breaking balls out of the zone and was essentially a near-automatic out almost every time he stepped to the plate.
His numbers in April were just plain ugly — 11-for-68 (.162), seven RBI, 21 strikeouts, five walks — which ranked him among the bottom-10 players in batting average, on-base percentage and OPS. According to weighted runs created — a statistic that attempts to quantify a player's total offensive value — Beltran was 76 percent worse than the league average hitter, ranking 181st out of 186 qualifying players in the month.
He was a black hole in the Yankees lineup, and scouts around the league were calling for him to become a platoon/DH-type player, citing how slow and un-athletic he looked in the field and at the plate. Yet Joe Girardi kept running him out there nearly every day, insisting that he'd find his swing again.
Two weeks into the month of May, and it looks like Beltran may finally be breaking out of his slump. Sure, Girardi hinted that Beltran was better than his numbers showed in April because of his high "exit velocity" — but who could have predicted this outburst? Beltran already has more hits and RBIs this month than all of April and, after going homerless in his first 98 at-bats of the season, he hit two homers in a span of four at-bats on May 10 and 11.
What has been the key to Beltran's breakthrough? His recent hot streak is obviously a very small sample of less than a dozen games, so we can't suddenly say that Beltran is completely fixed and back to being the highly productive middle-of-the-order bat who excelled with the Cardinals in 2012 and 2013. But are there signs that he's turned the corner and on the verge of being at least a capable hitter in the Yankees lineup for the rest of the season?
**********
First, let's take a glance at his traditional batting stats.
CARLOS BELTRAN THIS SEASON
| Month | PA | AB | H | HR | RBI | BB | SO | BA | OBP | SLG | OPS |
| --- | --- | --- | --- | --- | --- | --- | --- | --- | --- | --- | --- |
| April | 74 | 68 | 11 | 0 | 7 | 5 | 21 | 0.162 | 0.216 | 0.265 | 0.481 |
| May | 43 | 41 | 13 | 2 | 8 | 2 | 4 | 0.317 | 0.349 | 0.561 | 0.910 |
Bravo! Everything is looking good here: he's getting on base more, he's hitting for power and he's significantly cut his strikeout rate. Remember earlier when we said that Beltran in April was 76 percent worse than league average in terms of his overall offensive production … this month, he is 50 percent above league average in that same stat.
Beyond those basic numbers, Beltran also appears to have made fundamental changes to his plate approach. Although his walk rate remains below-average, he's become more aggressive swinging at pitches within the strike zone (that's good!), and is making more contact overall (90 percent in May vs. 81 percent in April). He has cut his swinging strike rate from 9.3 percent to 6.7 percent, and has whiffed on just one pitch in the strike zone in May: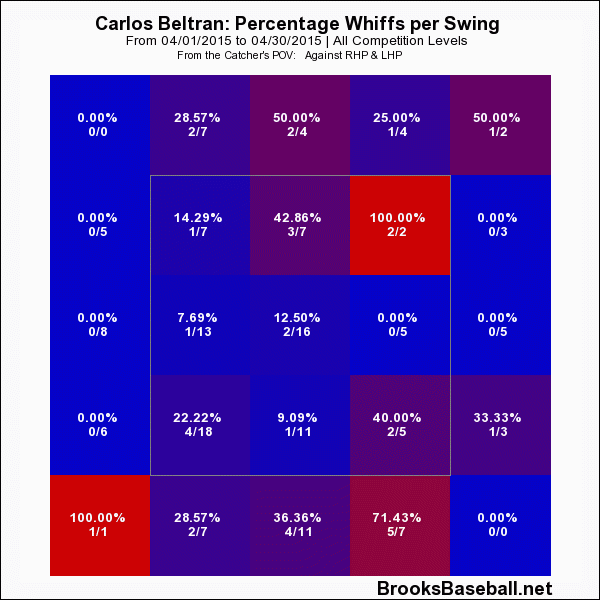 His monthly batted ball profile also makes you optimistic that Beltran has become a different – and better – hitter in May. Most significantly, he is hitting the ball harder and is really starting to show his pull-side power stroke at the plate.
Beltran has doubled his line drive rate over the last two months, while increasing his percentage of hard-hit balls from 23 percent in April to 35 percent in May. Last month, only one of every three balls he put into play were pulled; this month, 60 percent of his batted balls have been hit to his pull side.
Another encouraging sign is that Beltran's bat speed appears to have returned — he has had little trouble handling above-average velocity fastballs in May. He was just 1-for-13 in at-bats ending in a pitch 93 mph or higher during the first month of the season; this month, he has six hits in 10 at-bats ending in 93-plus mph pitches. After whiffing or fouling off 39 percent of those 93-plus mph pitches in April, he's chopped that rate to just 19 percent in May.
Here's what the "May" Beltran can do to a 94 mph fastball in his hitting sweetspot: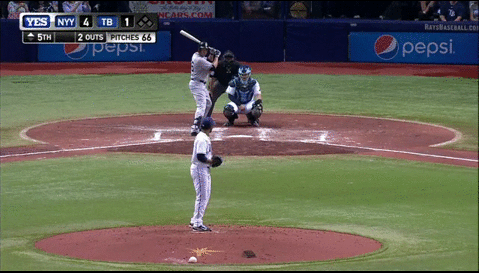 If there is one concern about Beltran's recent hot streak, it's that the entire thing has come against right-handed pitchers. Literally. He is 0-for-9 against lefties in May and 13-for-32 (.406) against righties. That's not a serious problem yet because he's had so few plate appearances against them – but given the fact he was awful against southpaws in April (3-for-20), too, you'd like to see him get a few hits from the right side of the plate this month before declaring him completely back.
Despite the small sample of his empty at-bats against lefties this month, there is a lot to like about what Beltran is doing at the plate in May. The improvement in his peripheral batting stats – i.e. the decline in his strikeout and whiff rates – combined with a better approach at the plate and real increases in his ability to hit the ball with power, indicate that Beltran's performance in May just might be sustainable for a few more months.
If Beltran can remain healthy the rest of the season, the Yankees may have added yet another dangerous bat to a lineup that already was among the best in the league, giving them even more firepower to remain atop the AL East and on track for a deep playoff run in October.