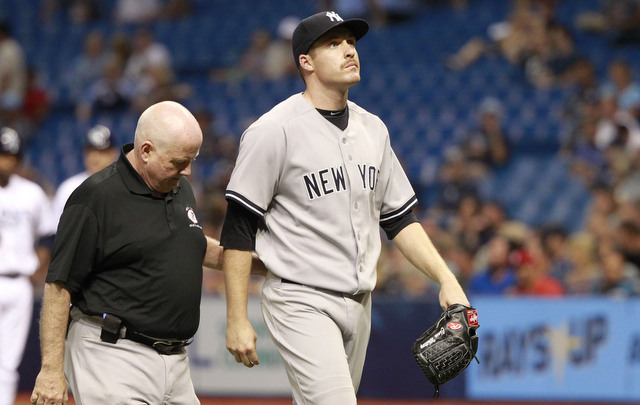 10:05pm: Following the game, Joe Girardi told reporters Whitley has been dealing with an elbow issue for a while now. He didn't tell anyone and tried to pitch through it. Ugh. Hate that. No shame in speaking up if you're hurt, especially if you're a pitcher and it's your arm. That's the moneymaker, man.
8:48pm: Whitley left the game with a right elbow injury, the Yankees announced. He's being looked at by a doctor and will go for tests in the morning. YES showed Whitley winching in pain after throwing several pitches in that second inning. Ominous, this is.
8:03pm: Right-hander Chase Whitley left tonight's start against the Rays in the second inning with an unknown injury. There was nothing obvious — Whitley didn't appear to be favoring anything from what I saw — before Joe Girardi and trainer Steve Donohue came out to the mound. Whitley exited the game without even attempting a test pitch. Here's the video.
Whitley walked his final batter on four pitches, none of which were particularly close. He made several other pitches that were well off the mark as well, including one that went to the backstop, which was the only indication something was wrong. The Yankees have not yet given any sort of update on the injury, so stayed tuned.
Injuries are never good, especially to pitchers, but the timing isn't disastrous for the Yankees. Chris Capuano threw six innings in his third minor league rehab start earlier this week and will presumably be able to step right into Whitley's rotation spot, if necessary. These things always work themselves out, don't they?