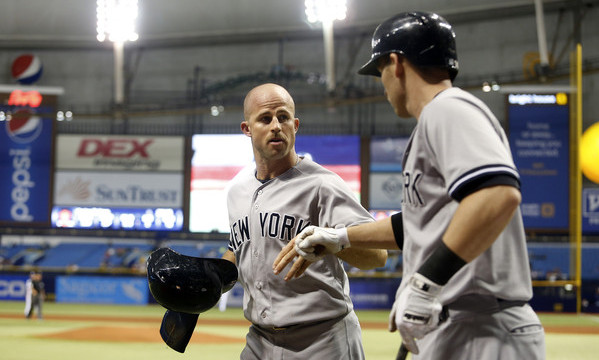 Those losses the last two nights were pretty annoying. Annoyingly similar too. Early offense, nothing thereafter, and a quality pitching performance squandered. Blah. The Yankees lost back-to-back games for the first time in nearly a month, and hey, it was bound to happen sometime.
The Yankees can earn a split of this seemingly never-ending four-game series with the Rays tonight. They're 6-3 against Tampa Bay so far this season, including 4-2 in Tropicana Field despite these last two losses. They Yankees are playing well. This is just one of those inevitable blips. Right? Right. Here is the Rays' lineup and here is the Yanks' lineup:
CF Jacoby Ellsbury
LF Brett Gardner
DH Alex Rodriguez
1B Mark Teixeira
C Brian McCann
RF Chris Young
3B Chase Headley
SS Didi Gregorius
2B Jose Pirela
RHP Chase Whitley
More rain in St. Petersburg tonight. Hooray for the dome and climate control. First pitch is scheduled for 7:10pm ET tonight and you'll be able to watch live on YES locally and MLB Network nationally, depending on where you live. Enjoy the game.
Injury Update: Brendan Ryan (calf, hamstring) played in an Extended Spring Training game today but had to leave due to heat exhaustion. Seriously.