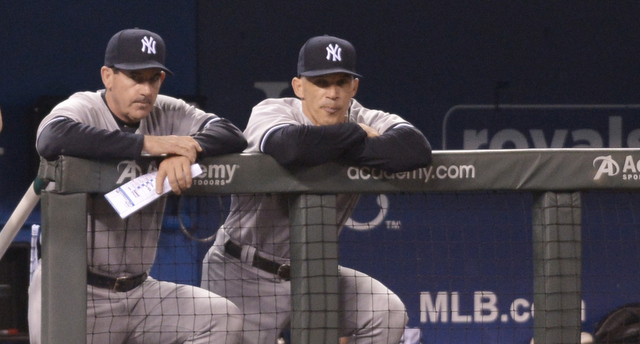 The Yankees have lost four straight games, and while the pitching staff got contact-bombed last night, the offense has been the biggest issue. They've scored six runs total in the four losses and have scored in just one inning in each game. It's one thing to get shut down by someone like Chris Archer the other day, but Erasmo Ramirez? Chris Young? Blargh.
Anyway, losses happen, even four losses in a row, but no team in the AL East can afford an extended losing streak this season. The division is way too tight. The Yankees lost Chase Whitley to an elbow injury that will likely result in Tommy John surgery two days ago, so go out and win it for him. Ace Whitley did a nice job for the Yankees in a non-familiar role as a starting pitcher. Here is the Royals' lineup and here is the Yankees' lineup:
CF Jacoby Ellsbury
LF Chris Young
DH Alex Rodriguez
1B Mark Teixeira
RF Carlos Beltran
3B Chase Headley
2B Jose Pirela
SS Stephen Drew
C John Ryan Murphy
LHP CC Sabathia
It cloudy and sticky in Kansas City and it's supposed to rain later tonight. It shouldn't impact the game unless it goes to extra innings though. Tonight's game will begin a bit after 7pm ET and will air on WPIX. Try to enjoy.
Injury Update: Masahiro Tanaka (wrist, forearm) will throw another bullpen session on Monday. He'll then pitch in a minor league rehab game after that, likely on Thursday.
Roster Move: Bryan Mitchell has been called up and Jose Ramirez has been sent down, the Yankees announced. Mitchell was scheduled to start for Triple-A Scranton today, so he can give the team lots of innings out of the bullpen. I really hope they don't need them.