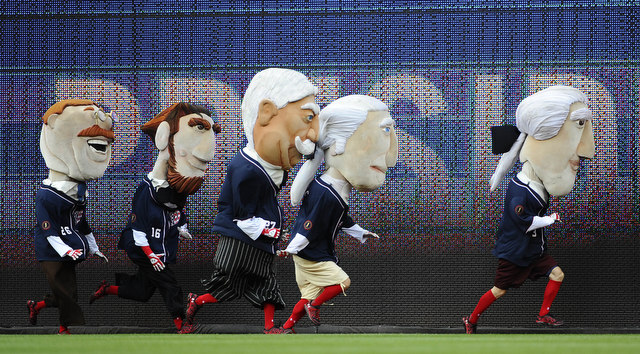 Coming into the season the Nationals had the best roster in baseball, at least on paper. Then they got off to a slow start (7-13), people called them overrated, and they've gone 15-4 since. Turns out they were pretty good the whole time. And, you know, it helps that Bryce Harper has turned into the best hitter on the planet. He's hit nine homers in his last eleven games and will probably hit another one tonight. That's just the way it is.
The Yankees have kinda done the opposite of the Nats. No one expected much coming into the season, they got off to a great start (21-12), but have since dropped five of their last six games. The good news is they are still in first place, and while it's still crazy early, I'd much rather see the Yankees sitting near the top of the AL East right now than wondering how they'll jump over three or four teams. A win or two against the Nats this week sure would be a nice confidence booster. Here is Washington's lineup and here is New York's lineup:
CF Jacoby Ellsbury
LF Brett Gardner
RF Chris Young
1B Mark Teixeira
C Brian McCann
3B Chase Headley
2B Jose Pirela
SS Stephen Drew
RHP Nathan Eovaldi
It's a little cloudy in Washington but otherwise the weather is fine. First pitch tonight is scheduled for 7:05pm ET and you can watch live on YES locally or MLB Network nationally. Enjoy the game.
Injury Updates: Chase Whitley had his Tommy John surgery as scheduled earlier today. Joe Girardi told reporters his UCL was pretty shredded. "There were only a few fibers left, so he had a few more pitches left," said the skipper … in case you missed it earlier, Masahiro Tanaka (wrist, forearm) will make his first minor league rehab start with Triple-A Scranton on Thursday.