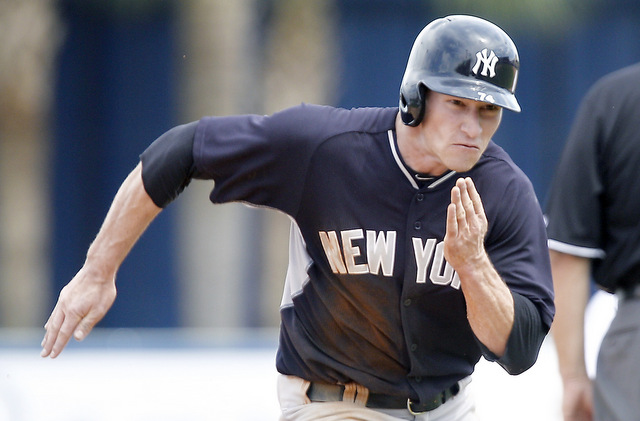 This day has been a long-time coming. The Yankees selected Slade Heathcott out of a Texas high school with the 29th pick in the 2009 draft — the compensation pick they received for failing to sign Gerrit Cole in 2008 — and tonight he can finally say he's a big leaguer. To say the road from Texarkana to the Bronx was rocky would be a massive understatement.
Heathcott, now 24, had a turbulent upbringing and hit rock bottom soon after being drafted, when he battled alcoholism and even missed a flight to Instructional League because he'd been out drinking. The Yankees sent Heathcott to Alcoholics Anonymous in April 2010, and while that helped him deal with his substance abuse issues, Slade's body started to betray him. Multiple knee and shoulder surgeries limited Heathcott to 306 minor league games from 2010-14. He played nine last year due to knee problems.
Now, after being non-tendered in the offseason and returning to the organization on a minor league contract, Heathcott is with the Yankees, having impressed in Spring Training and again during his stint with Triple-A Scranton. It has been almost six years since the Yankees drafted Heathcott, and during those six years he went from multimillionaire first round pick to an underdog. Tonight, all the hard work finally pays off. He's in the show. Give 'em hell, Slade.
Here is the Nationals lineup — Jordan Zimmermann is starting for Washington, not A.J. Cole, so boo to that — and here is the Yankees lineup. Heathcott is on the bench for his first game:
LF Brett Gardner
RF Carlos Beltran
1B Mark Teixeira
C Brian McCann
3B Chase Headley
2B Stephen Drew
CF Chris Young
SS Didi Gregorius
RHP Adam Warren
It's cloudy and cool in Washington, so not perfect weather, but there won't be any rain. That's coming tomorrow. The Yankees are getting out of town just in time. Tonight's game will start a bit after 7pm ET and you can watch on YES. Enjoy.
Roster Moves: As expected, Chase Whitley (elbow) was transferred to the 60-day DL to clear a 40-man roster spot for Heathcott, the Yankees announced. The team still has another 60-day DL candidate in Brendan Ryan (calf, hamstring) should they need another 40-man spot.
Injury Updates: Jacoby Ellsbury (knee) said the injury is to the outside of his knee and he is wearing a brace. He'll see the team doctor on Friday and they won't know his timetable until then. For what it's worth, Joe Girardi said the injury is "not something that requires surgery" … Ivan Nova (elbow) threw four innings and 42 pitches in an Extended Spring Training game on Monday. He'll make another ExST start on Saturday and could begin an official 30-day minor league rehab stint after that … Ryan has resumed baseball activities in Tampa.