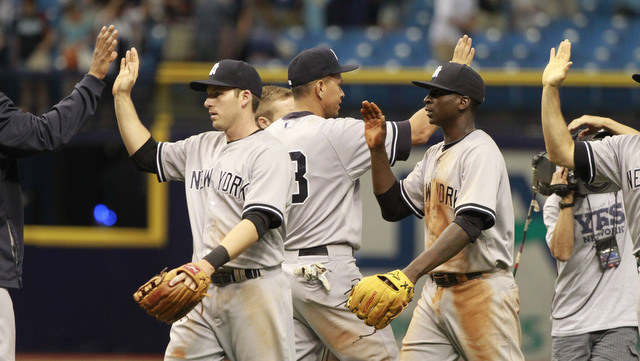 Back in the day, the late-1990s dynasty was built on excellent production from the up-the-middle positions. The Yankees were getting high-end production from Jorge Posada at catcher, Derek Jeter at short, and Bernie Williams in center. Chuck Knoblauch never did put up huge numbers with the Yankees like he did with the Twins, but he still had a .377 OBP as the starting second baseman from 1998-99.
Those four positions are the hardest to fill in baseball, historically. Third base is tough too, but not as tough. Quality first basemen and corner outfielders are plentiful. Catchers, middle infielders, and center fielders are not, which is why teams are more willing to sacrifice offense for defense at those positions. It's really hard to find someone who can hit there, so at least get someone who will catch the ball.
Right now, the Yankees have too many defense-first — in some cases, defense-only — players at the four up-the-middle positions. Jacoby Ellsbury in center field is the team's only up-the-middle player who has been solidly above-average on both sides of the ball so far this season. Brian McCann, Stephen Drew, and Didi Gregorius are providing defense but very little offense, especially the last two.
| Position | NYY Player | NYY AVG/OBP/SLG | Average MLB AVG/OBP/SLG |
| --- | --- | --- | --- |
| C | McCann |  .228/.279/.382 (78 wRC+) | .235/.302/.363 (83 wRC+) |
| 2B | Drew |  .188/.271/.350 (70 wRC+) |  .262/.321/.391 (96 wRC+) |
| SS | Gregorius |  .204/.269/.241 (42 wRC+) |  .248/.304/.361 (83 wRC+) |
| CF | Ellsbury | .324/.412/.372 (126 wRC+) | .257/.319/.391 (96 wRC+) |
Those are some really low bars and yet the Yankees are falling short at three of the four positions. Ellsbury's been awesome at the plate, McCann's hovering close to average for a catcher thanks to his power, and both Drew and Gregorius have been well-below-average. Those two haven't hit at all. Like, not even a little. There's not much of a reason to expect either guy to hit much going forward either, but at least Gregorius has youth on his side.
There's no good way to measure defense this early in the season. You have to take any stats with a huge grain of salt because the sample is too small. Based on the eye test, all four players have been above-average defenders in my opinion, even considering McCann's passed ball/wild pitch issues. Didi's looked much more comfortable at short in recent weeks yet his early season brain farts are still hurting his reputation. He's been really good in the field of late.
Overall though, the Yankees aren't getting enough production from these four positions. It's really just three positions because Ellsbury's been great. It's a bit unfair to lump him in here. The other three guys has been far from great though. McCann's been okay but hardly what the Yankees thought they were getting. Drew and Gregorius have been miserable at the plate, bad enough that their defense probably doesn't make up for it.
The Yankees have limited options to replace these guys, and the one guy they didn't want to replace (Ellsbury) just landed on the DL. McCann's contract ensures he will remain the starting catcher, and besides, finding a better catcher would be damn near impossible anyway. Quality catchers almost never hit the trade or free agent markets. Drew, on the other hand, is totally replaceable and the Yankees do have some internal second base candidates, namely Jose Pirela and Rob Refsnyder.
The best internal candidate to replace Gregorius is, well, Drew. Besides, given Didi's age and ability, he's someone the Yankees should stick with this year and ride out every growing pain. Give him a chance to play everyday and see what happens. The first 40 games of 2015 aren't going to write the story of his time in pinstripes. The Yankees just got done playing a Royals team littered with players who struggled early in their careers before figuring it out, after all. Sometimes it takes time.
The Yankees have gotten great production from first base, left field, and DH this season, which has helped cover for the underwhelming non-Ellsbury up-the-middle numbers. Carlos Beltran and Chase Headley are kinda sorta starting to hit too, which will help even more, though the Ellsbury injury hurts. One step forward, one step back. It wasn't long ago that the Yankees were getting top of the line production from the up-the-middle positions. Now they're barely getting average production and it's one of the reason they haven't been able to get out in front of a wide open AL East.