Biggest mailbag in RAB history. I think it is, anyway. Sixteen questions. Sixteen! Some of the answers are short though. If you want to send us any questions, use the "For The Mailbag" form in the sidebar. If you want to inquire about writing a guest post, email me directly at mike (at) riveraveblues (dot) com. I can't answer you through the mailbag form.
Marc asks: It's the 2018-2019 offseason. Who is more likely to end up a Yankee and why: Bryce Harper or Matt Harvey?
Obviously this is going to depend heavily on what the roster looks like in three and a half years. In a vacuum, I think the Yankees would pursue Harper before Harvey for a few reasons, most importantly their ages. Harper will turn 26 early in the 2018-19 offseason while Harvey will turn 30 in Spring Training 2019. You'd be buying Harper's peak years — in theory, of course — while Harvey's best seasons would likely be behind him. Huge contracts for pitchers near or beyond their 30th birthday are generally really bad investments. Harper is a transcendent talent and I'd have no trouble whatsoever giving him ten years at that age. Heck, given Giancarlo Stanton's contract, Scott Boras might be able to get 12-14 years for Harper. Maybe 15 years. If they need pitching more than they need an outfielder — the Yankees do have a bunch of young outfielders in the system, after all — they might go Harvey instead. Me? I think Harper is way too special to pass up.
Ryan asks: Could you see a scenario where the Yankees draft Mike Matuella and Brady Aiken (assuming both were available at respective picks) and shoot for the moon on talent? If one worked out and became a top of the rotation starter, they would make out. They won't have many chances to grab elite talent in the next few years, and if they are patient, they can land two in one draft.
No and I don't think I'd advise it. That's a very risky strategy, putting all your eggs in the injured prospect basket. The draft pool will another issue — I'm not sure the team's $7.885M pool would be enough to sign both of those guys, and they aren't worth exceeding the pool and forfeiting future picks. I believe Aiken is an elite talent when healthy and would be more willing to roll the dice on him. Matuella's a fine prospect but not someone I'd pin my entire draft on. There has to be a balance between upside and probability, especially when that upside may be compromised by the ol' zipper. If the Yankees want to roll the dice on one or the other, that works. Both is way too much risk for a team that will be really limited in its ability to add amateur talent the next few years.
Samantha asks: 15 of Mark Teixeira's 18 hits this year have gone for extra bases. What's the highest percentage of hits that have gone for extra bases in a season?
Teixeira added two singles and a double since this question was sent in, so it's 16 extra-base hits (six doubles, ten homers) out of 21 hits total this year. Before I looked this up, my guess was late-1990s Mark McGwire or early-2000s Barry Bonds held the record. I would have said McGwire if I was forced to pick one. Here are the top five extra-base hits-to-singles ratios in MLB history among players who qualified for the batting title:
| | XBH | Singles | XBH/H |
| --- | --- | --- | --- |
| 2001 Barry Bonds | 107 XBH (32 2B, 2 3B, 73 HR) | 49 | 68.6% |
| 2010 Jose Bautista | 92 XBH (35 2B, 3 3B, 54 HR) | 56 | 62.2% |
| 2009 Carlos Pena | 66 XBH (25 2B, 2 3B, 39 HR) | 41 | 61.7% |
| 1999 Mark McGwire | 87 XBH (21 2B, 1 3B, 65 HR) | 58 | 60.0% |
| 1998 Mark McGwire | 91 XBH (21 2B, 0 3B, 70 HR) | 61 | 59.9% |
The highest Yankee on the all-time leaderboard is 1921 Babe Ruth at 58.3%, which ranks eighth all-time. Teixeira is on pace to smash the all-time XBH/H record this year (he's at 76.2%), but so are a few other players, including Bautista. My guess is Bonds' record is safe for a while.
Casey asks: What are the chances Derek Jeter would have grown a mustache if he were on this year's Yankees? I say slim to none.
Yeah I'd say close to zero. Maybe a 1% chance Jeter would grow a mustache. My guess is there would be a lot of "Jeter gets it, he's all about winning, not mustaches" articles as well. The mustaches are fun. Team bonding is good. Whatever makes the 162-game grind easier.
Bubba asks: Is it possible to send David Carpenter to SWB? It appears that pitching by appointment isn't helping. Maybe regular work where results won't matter would help.
Nope, he's out of minor league options, so he can't go to Triple-A Scranton without passing through waivers. Given his performance with the Braves from 2013-14 (2.63 ERA and 2.88 FIP), low salary ($1.3M), and three remaining years of team control, my guess is Carpenter would get claimed in a hurry. The Yankees sorta painted themselves into a corner with Carpenter. It seems like he needs more work to get straightened out, but he hasn't pitched well in his limited time so Girardi is hesitant to use him. I think the only solution is biting the bullet and getting him out there more than once a week, even if it means bringing him into the seventh inning of a one-run game once in a while. Carpenter can be a real weapon out of the bullpen and the Yankees have to help get him back to being good.
Ben asks: Similar to Stephen Drew, how long is Carlos Beltran's leash? He has clearly taken a step back, and looks very sluggish in the field and at the plate. Is it time to call up Ramon Flores to see what he can do?
I think Beltran is going to get at least the rest of this season and possibly the first half of next season to show he's not done. His contract really complicates things because it's not cheap — his $15M annual salary is really $22.5M because of the luxury tax — and they're stuck paying him next year no matter what. The Yankees decided to ride it out with Alex Rodriguez this year (and have been rewarded so far!) and I have no reason to think they'll cut bait with Beltran anytime soon. I think the best case scenario is Joe Girardi starts using Beltran in a straight platoon with Chris Young.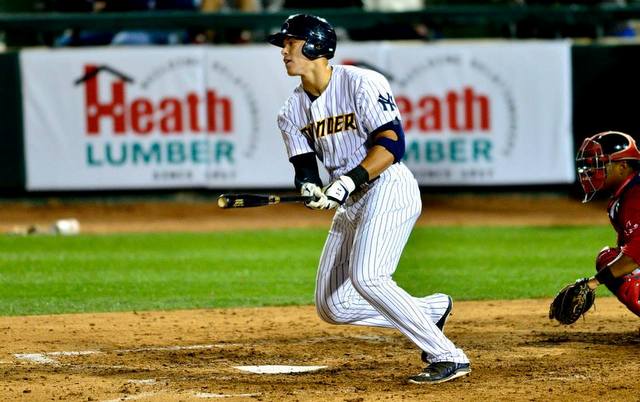 Johnny O. asks: What's the over/under on when Aaron Judge will be moved up to AAA? That .402 wOBA is looking awesome. Only concern is K/BB, anything else?
Judge was promoted from Low-A to High-A in mid-June last year and that's when I expect him to be bumped up to Triple-A Scranton this year. You have to give him a chance to go through the league a second time to see how pitchers adjust, and what he needs to do to adjust back. Judge's strikeout rate (24.6%) is in line with last year's rate (23.3%) but his walk rate has dropped considerably (5.3% after 15.8% last year). I'm actually not too concerned about that — minor league walk rates aren't all that predictive because there are so many pitchers in the minors who have absolutely no idea where the ball is going, and that doesn't necessarily mean they miss the plate, it also means they catch too much of it. I'd give him 60-70 games in Double-A and if he's still mashing, bump him up. We go through this every year it seems. Twenty-five awesome games to start the season doesn't necessarily mean a prospect is ready to be promoted.
Steve asks: Way too early obviously but would a guy like Scott Kazmir make sense for the Yankees to look into? No long term commitment, shouldn't be as expensive prospect-wise as Johnny Cueto, others who might be available but he is also kind of a sneaky-solid pitcher.
Yes, I think Kazmir is a potential option for the Yankees. He has a 2.75 ERA (3.82 FIP) so far this year after pitching to a 3.77 ERA (3.42 FIP) in 348.1 innings from 2013-14. Kazmir is still only 31 and his comeback has been remarkable. He was out of baseball entirely due to arm problems a few years ago and worked his way back through an independent league and winter ball. The guy deserves a ton of credit not only for getting back to MLB, but having this much success in the second phase of his career.
Kazmir isn't missing bats like he did in his prime but both his strikeout (22.8%) and walk (6.8%) rates have been a tick better than league average since resurfacing in 2013. He doesn't get many grounders (42.4%) but his hard contact rate (28.4%) is basically identical to the league average (28.3%), so it's not like all the fly balls are rockets. Kazmir is a rental, he's making $13M this season, and I think the A's would be willing to make him a qualifying offer after the season, so they'd presumably want something more valuable than a supplemental first round pick in a trade. Kazmir could definitely help the Yankees if they're willing to pay what figures to be a high price.
CanGuest asks: First, what do you think of the Josh Hamilton trade? Seems like a great deal for the Rangers, with the Angels covering all but 7m of the deal. Second, one of the reasons I heard for the Angels for making the trade was for additional room under the luxury tax. I thought that if a team is paying a portion of a player's salary, that amount counts toward their luxury tax. Am I wrong, or do the Angels only save like 2m/year in luxury tax room?
It's a win-win-win trade, good for all three parties. The Angels get rid of a player they clearly didn't want, Hamilton gets away from a toxic situation and back to an organization that knows him well, and the Rangers get a potentially productive player on the cheap. I'm not sure how the money is broken down in the trade, but as far as the luxury tax is concerned, the Angels save whatever the Rangers are playing him in a given year. So take Hamilton's $25M luxury tax hit, then subtract whatever Texas is paying him that year. If they're paying him $1M this year, he counts as $24M against the tax for the Angels. And if the Rangers pay him $5M next year, the Halos are stuck with a $20M luxury tax hit. Got it? Course you do.
George asks: If the Yankees don't acknowledge A-Rod's 660th as a milestone, could he design and market his own merchandise? Possibly a generic A-Rod, not in Yankee garb with some reference to 660?
Yes with limitations. Alex can use his likeness on merchandise but he could not use any Yankees or MLB logos without a license, something I highly doubt they would be willing to negotiate given the circumstances. A-Rod's camp could come up with a slogan or a logo like DJ3K (AROD660?) and sell that. A-Rod can design and sell merchandise with his likeness and the number 660 on it — MLB and the Yankees don't hold the rights to that stuff — but there can't be anything linking it to the team or the league without their approval. It would have to be a real generic design.
George asks: Why don't the Yankees and A-Rod agree to give the $6M milestone bonus to a charity of their choice?
Knowing the Yankees and A-Rod, they'd probably end up in front of an arbitration panel fighting over who gets to claim the tax deduction.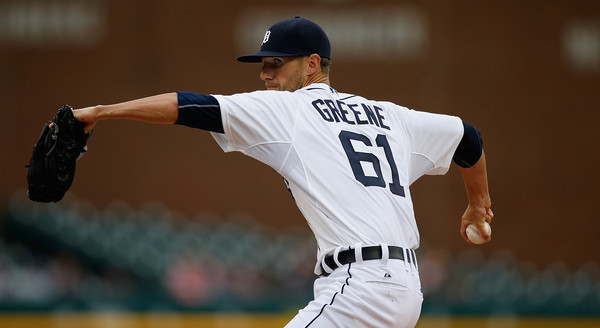 Dan asks: So, is that Shane Greene for Didi Gregorius trade staring to look a little better for the Yankees? Or is it still too soon to tell?
It's too soon to tell. It was too soon to tell last month, it's too soon to tell this month, it'll be too soon to tell next month. We just went through this — and still are, really — with the Michael Pineda-Jesus Montero trade. When you're talking about two players this young and this early in their careers, it's going to take years before you can tell which team got the better end of the trade. Years. I know no one wants to hear that, we all want answers now, but that's not possible. This trade was never about instant gratification.
Bailey asks: Michael Pineda has only pitched over a 100 innings once in his MLB career, and that was four years ago (171). Do we need to worry about him hitting a IP limit/cap? Assuming he stays healthy.
Definitely. Worry maybe isn't the right word. It's just something the team has to monitor. There's a natural concern Pineda may get hurt again given his history, I'm not sure how that couldn't be in the back of anyone's mind, but what if he simply runs out of gas in August or September after throwing 124.2 total innings from 2012-14? I think the Yankees are smart to use a sixth starter every once in a while to give Pineda and others the extra rest. I'd like to see them shuffle the rotation around the All-Star break to give Pineda a nice long 10-12 day break if possible too.
Bavarian Yankee asks: I just realized that both Dellin Betances and Andrew Miller had a 0 ERA in April. Was this the first time the Yankees had their two best relievers start the season with a 0 ERA during the first month?
Betances and Miller threw 12.1 and 11.1 innings in April, respectively, so let's use ten innings as our minimum. Here is the full list of Yankees pitchers who threw at least ten innings with a 0.00 ERA in March/April (via Baseball Reference):
| Rk | Player | G | Year | ERA | GS | SV | IP | H | R | ER | BB | SO | BF | WHIP | SO9 | SO/W | OPS+ |
| --- | --- | --- | --- | --- | --- | --- | --- | --- | --- | --- | --- | --- | --- | --- | --- | --- | --- |
| 1 | Dellin Betances | 11 | 2015 | 0.00 | 0 | 0 | 12.1 | 5 | 1 | 0 | 7 | 19 | 49 | 0.973 | 13.9 | 2.71 | 8 |
| 2 | Andrew Miller | 10 | 2015 | 0.00 | 0 | 8 | 11.1 | 3 | 0 | 0 | 4 | 20 | 43 | 0.618 | 15.9 | 5.00 | -6 |
| 3 | David Robertson | 11 | 2012 | 0.00 | 0 | 0 | 11.0 | 7 | 0 | 0 | 3 | 18 | 42 | 0.909 | 14.7 | 6.00 | 27 |
| 4 | Mariano Rivera | 10 | 2008 | 0.00 | 0 | 8 | 11.0 | 4 | 0 | 0 | 0 | 11 | 37 | 0.364 | 9.0 | | -40 |
| 5 | Lee Guetterman | 10 | 1989 | 0.00 | 0 | 3 | 14.2 | 12 | 0 | 0 | 3 | 6 | 53 | 1.023 | 3.7 | 2.00 | 56 |
| 6 | Dooley Womack | 7 | 1967 | 0.00 | 0 | 0 | 11.0 | 7 | 1 | 0 | 5 | 7 | 43 | 1.091 | 5.7 | 1.40 | 85 |
| 7 | Hal Reniff | 5 | 1967 | 0.00 | 0 | 0 | 10.2 | 9 | 1 | 0 | 1 | 8 | 43 | 0.938 | 6.8 | 8.00 | 58 |
| 8 | Bob Turley | 2 | 1958 | 0.00 | 2 | 0 | 18.0 | 5 | 0 | 0 | 11 | 13 | 70 | 0.889 | 6.5 | 1.18 | -11 |
| 9 | Don Larsen | 2 | 1958 | 0.00 | 2 | 0 | 14.0 | 11 | 0 | 0 | 6 | 10 | 57 | 1.214 | 6.4 | 1.67 | 45 |
| 10 | Hank Thormahlen | 2 | 1920 | 0.00 | 1 | 0 | 11.2 | 10 | 2 | 0 | 3 | 2 | 47 | 1.114 | 1.5 | 0.67 | 77 |
| 11 | Ray Fisher | 2 | 1914 | 0.00 | 2 | 0 | 17.0 | 13 | 2 | 0 | 4 | 5 | 66 | 1.000 | 2.6 | 1.25 | 13 |
That's it. Only eleven times in history has a pitcher — starter or reliever — thrown at least ten innings in March/April with a 0.00 ERA for the Yankees. Dellin and Miller are the third set of teammates to do it, joining Womack and Reniff in 1967 and Turley and Larsen in 1958. I'm surprised Rivera only did it once in all those years of excellence. Then again, there always seemed to be a What's Wrong With Mo Week™ every April. So yeah, what we watched Betances and Miller do last month hadn't been done in nearly 50 years.
Paco asks: NYY 2B has a higher OPS than the Seattle 2B. Is Robinson Cano already in decline, or too early in the season to tell?
It's too early to tell. Robbie is hitting .263/.306/.377 (92 wRC+) in 121 plate appearances this year. He hit .255/.303/.355 (75 wRC+) in his first 119 plate appearances as recently as 2012. He also hit .269/.319/.352 (76 wRC+) in his first 119 plate appearances back in 2007 as well. As great as Cano is, getting off to a slow start isn't unprecedented. This slow start could be considered more of red flag given the fact he'll turn 33 later this year, but hey, that's not the Yankees problem anymore. If anything, Robbie is struggling because I went big on offense in fantasy this year and paid way more than I was comfortable paying to get him in my auction. Blame me.
Dan asks: How is Hiroki Kuroda doing in Japan?
Kuroda has made six starts for the Hiroshima Carp so far this season and is 3-2 with a 3.46 ERA and a 1.28 WHIP. He's struck out 24 and walked eight in 31 innings. Kuroda is also 2-for-15 (.133) with eight strikeouts at the plate. In his six starts, Hiroshima has scored two, zero, seven, two, eleven, and four runs for an average of 4.33 runs of support per game. The Yankees gave Kuroda an average of 3.74 runs of support per game from 2012-14, so at least his new team is taking care of him offensively. The Carp are 13-18 and in last place in the Central Division, which stinks. I'm hoping Kuroda goes out a champ. Dude deserves it.