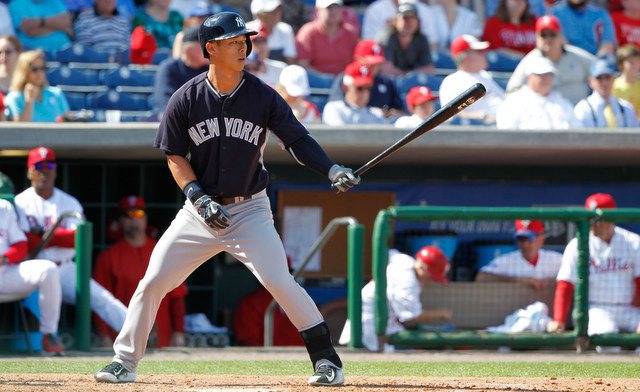 For most of the offseason, it seemed like a matter of when, not if. Second base prospect Rob Refsnyder mashed at Double-A and Triple-A last summer, putting up a combined .318/.387/.497 (146 wRC+) batting line, and when you do that at the upper levels of the minors, you put yourself in position for a big league call-up. That performance all but assured we would see Refsnyder at some point in 2015.
The Yankees opted to re-sign Stephen Drew to a cheap one-year contract in January, which meant Refsnyder was going to head back to Triple-A to open the season. That was perfectly fine in my opinion. I am not a fan of handing jobs to non-elite prospects out of Spring Training and acquiring defensively capable middle infield depth is never a bad move. There were also some reasons to think Drew could bounce back from his dreadful 2014 campaign.
Instead, Drew has continued to be pretty terrible at the plate this year. His defense at second has been great considering his relative inexperience, but he's hitting .182/.263/.339 (65 wRC+) through 138 plate appearances this season after hitting .162/.237/.299 (44 wRC+) in 300 plate appearances last season. We're talking about a guy with a .168/.244/.311 (51 wRC+) batting line in his 438 last plate appearances. That's really bad! Those are the kind of numbers that are supposed to send a team scrambling to find a replacement.
Refsnyder, meanwhile, shook off a slow start at Triple-A last month and is now hitting .312/.378/.440 (143 wRC+) on the season with a .304/.385/.451 (139 wRC+) in 490 career Triple-A plate appearances. He's currently riding a 21-game on-base streak, during which he's gone 33-for-84 (.393) with ten doubles, eleven walks, and 14 strikeouts. Refsnyder got off to a slow start with Double-A Trenton last year, then a few weeks into the season it clicked and he raked the rest of the way. Maybe he's just a slow starter, like Mark Teixeira for much of his career.
Of course, Refsnyder's issue isn't his bat, it's his defense at second, and we got a firsthand look at just how shaky he is in the field in Spring Training. The 24-year-old made six errors in only 92 defensive innings during Grapefruit League play, then made seven errors in his first 14 games with the RailRiders. He's currently at nine errors in 33 Triple-A games at second base this year after making 12 errors in 122 games last year.
"It was awful," said Refsnyder to Brendan Kuty earlier this week while discussing his error-laden spring. "In Spring Training, I was honestly trying to be perfect. I was trying to do everything correctly and right and it just wasn't working. I was making error after error."
Errors are far from the best way to evaluate defense, but in this case the error total matches Refsnyder's defensive reputation. He's a recently converted outfielder — this is only his third full season at second base — who has generated questions about, well, everything. His footwork, his ability to turn the double play, all of it. Second base is a really tough position. Drew taking to it as quickly as he did definitely isn't the norm.
Refsnyder's defense has settled down in recent weeks — "If I'm going to make mistakes. I'm going to make them the way I want to play the game, and I'm trying to play the position as aggressively as possible to be honest," he said to Kuty — but his glove probably won't ever be an asset. He's a bat first prospect and the offensive numbers are there. They aren't for Drew. Not at all. They're polar opposites — one is a no-hit/all-glove guy and the other is all-hit/no-glove.
I was totally cool with the Yankees bringing Drew back and giving him a chance to show he could get back to being a productive player with a regular Spring Training. It was a popular excuse but it seemed totally plausible to me. Drew hasn't hit though. The regular Spring Training didn't help and there's basically no indication a turn around is coming. The exit velocity excuse doesn't even apply — Drew ranked 278th out of 309 players (min. 50 AB) in exit velocity prior to last night's game.
At this point the Yankees should strongly consider calling Refsnyder up to play second base. That doesn't mean Drew has to go away forever, he would have value as a utility infielder, but he hasn't looked like a Major League hitter for quite a while now and those guys should be replaced. That's how baseball works. Refsnyder might not hit either! That's the risk with young players. They're unpredictable. We know with some degree of certainty Drew won't hit though and at some point the Yankees have to try something different.
When I wrote about Drew's leash earlier this month, I figured he would get most of the summer to turn things around, perhaps until the All-Star break. I still think that's the case, but I don't think it should be. The Yankees have a ready made second baseman in Triple-A who may cost them runs in the field, but could create lots more at the plate. Starting Refsnyder in Triple-A made sense. Keeping him in Triple-A with Drew performing like this and offense scuffling doesn't.