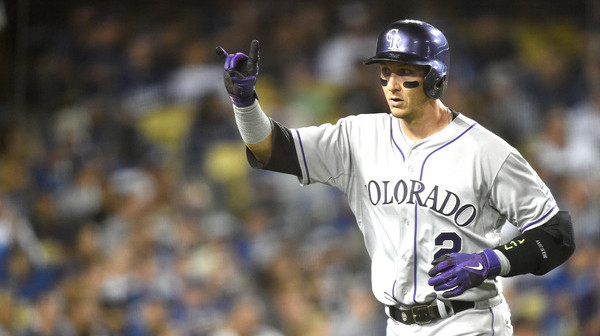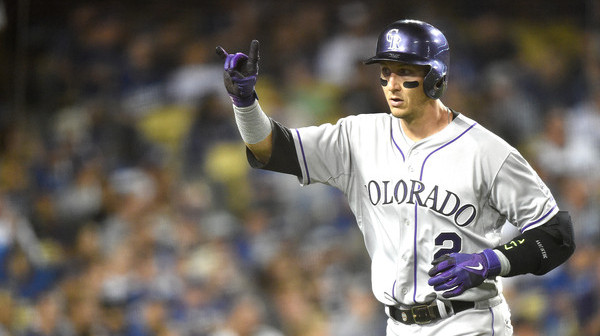 The Troy Tulowitzki song and dance continues. According to Joel Sherman, Tulowitzki will meet with his longtime agent Paul Cohen later this week to discuss whether to ask the Rockies for a trade. Jon Heyman reported last July that Tulowitzki gave the team a "subtle blessing" to pursue trades. Seems like now he could/will make an outright request.
"To say that it is not a possibility would be silly," said Cohen to Sherman, regarding a possible trade request. "It could get to the point for [owner] Dick Monfort and GM Jeff [Bridich] that the storyline every day with the team is when is Tulowitzki being traded. That is negative for the franchise as the idea of trading the face of the franchise. They are smart enough to recognize they don't want that going forward."
At this point it seems like a matter of when Tulowitzki will asked to be traded, not if. The Rockies are bad (11-18), they've been bad for years (haven't finished higher than fourth in the NL West since 2010), and it doesn't look like they will stop being bad anytime in the near future. And publicly weighing a trade demand is just as bad as actually demanding a trade, right? The cat's out of the bag. There's no going back now.
Tulowitzki, 30, is hitting .298/.306/.481 (94 wRC+) with two homers in 108 plate appearances this year, including .295/.302/.475 (107 wRC+) away from Coors Field. His walk rate (1.9%) has plummeted and, not coincidentally, he's swinging at more pitches both in (65.2%) and out (32.1%) of the zone (57.6% and 27.6% career, respectively). Could be permanent decline, could be a blip. Swing rates do tend to stabilize very quickly, for what it's worth. I think there's a chance Tulowitzki is frustrated with the team and it's showing up in his offense though.
Anyway, even with Tulowitzki set to hit the trade block soon, the Yankees are "emphasizing defense and limiting long-term risk" and are unlikely to be involved in the bidding, according to Sherman. That fits everything we heard all offseason. The Yankees are steering clear of long-term contracts with ugly back-ends now that they're getting burned by the deals they already have on the books. Paying twice — once in prospects and once in big salary — is not something the club has done all that much in recent years either.
Tulowitzki's contract isn't bad — he's owed $118M through 2020 — relative to what he'd get as a free agent these days, when teams have more money than ever before and fewer and fewer elite players are hitting the market. Tulowitzki would be a big upgrade at shortstop for the Yankees this year, but he may already be in decline on both sides of the ball, and his injury history is really scary. He had the Alex Rodriguez hip surgery last August, for example.
That said, there's always a price at which acquiring Tulowitzki would make sense for the Yankees. Perhaps the Rockies are willing to eat a bunch of money, or maybe they'll take second tier prospects just to shed the contract. Who knows. It never hurts to hear what the other team has to say. The Yankees could offer a young shortstop in Didi Gregorius and a smorgasbord of prospects. Pitching, MLB ready outfielder, high-upside lower level infielders. It's just a question of what they're willing to give up.
I do think Colorado missed their chance to get the best possible trade return for Tulowitzki — that was probably two or three years ago — but there's nothing they can about it now. The Rockies have to make the best possible trade they can and, given New York's newfound commitment to avoiding killer long-term deals, the Yankees don't seem to be much of a trade match for Tulowitzki. As good as he is, Colorado's already received his best years.