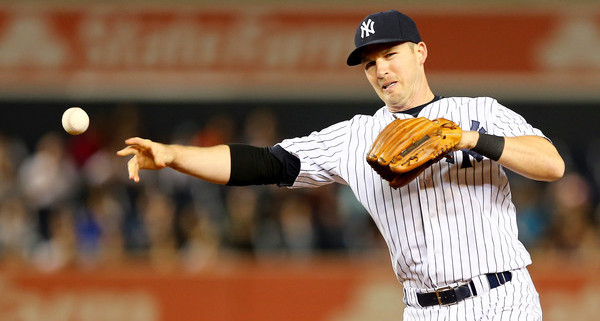 Even prior to last season's suspension, staying on the field has been a bit of a problem for Alex Rodriguez later in his career. He played 664 of 972 possible games from 2008-13 — he hasn't played more than 140 games in a season since 2007 — due to a variety of injuries, ranging from the very minor (pulled calf in 2010) to the very major (hip surgery in 2009 and 2013).
The Yankees and Joe Girardi have limited A-Rod to mostly DH duty this season — he's started 27 games at DH, two at third base, and one at first — knowing his 40th birthday is two months away and those two hip surgeries are not far in the rear-view mirror. And yet, Rodriguez is still dealing with a minor hamstring issue, suffered when he legged out that triple over the weekend. His bat is too valuable and they have to do what they can to keep him healthy.
So, in an effort to keep A-Rod in the lineup, he is no longer being considered Chase Headley's backup at third base. Stephen Drew spent some time working out at the hot corner in recent days and was thrown into the fire last night, getting the start at the hot corner. Girardi confirmed this is all because they're looking to scale back Rodriguez's time in the field. "We're just thinking of keeping him at DH mostly," said the skipper to Mark Feinsand.
Drew had never played third base as a pro before last night but didn't seem too concerned about manning the hot corner — "I'll be fine. You've got to do it sometime, right?" he said to Feinsand — after all, he had never played second base until the Yankees ran him out there last summer. He spent a few days taking ground balls at third and wasn't really tested last night. Had one kinda sorta tough play. That was it.
Didi Gregorius played ten innings at third base last year, his only time at the hot corner in his career, but I understand why the Yankees didn't try him at third. He's settled in nicely at shortstop after a rocky start and he could possibly be a long-term solution there. Drew's the guy you move around, the guy on a one-year contract trying to hang on. Jose Pirela, the other third base candidate on the roster, has played only 14 career minor league games at third.
There's nothing wrong with having Drew or anyone else take ground balls at third base before games — guys work out at other positions all the time — though it was a surprise to see him start a game at the position so soon. The real issue is A-Rod's lack of flexibility. He's hitting very well, so the Yankees want him in the lineup every day, but the only real way to do that is by keeping him at DH. That means fewer DH days for the defensively challenged and also old Carlos Beltran, for Brian McCann, for everyone.
Only a handful of teams have full-time DHs these days. It's basically just the Yankees, Red Sox (David Ortiz), Tigers (Victor Martinez), Athletics (Billy Butler), and Royals (Kendrys Morales). Everyone else uses a rotating DH and MLB seems to be moving in that direction. The Yankees did it the last three or four years in fact. They can't do it now because of A-Rod, and now his apparently inability to play third even part-time gives Girardi even less maneuverability.
That said, if eliminating Rodriguez's time in the field is the best way to keep him in the lineup on a regular basis, then that's what they have to do. A-Rod has very quickly re-established himself as a core piece of the offense. If using Drew at third base is the best way to keep Alex healthy and in the lineup, so be it.