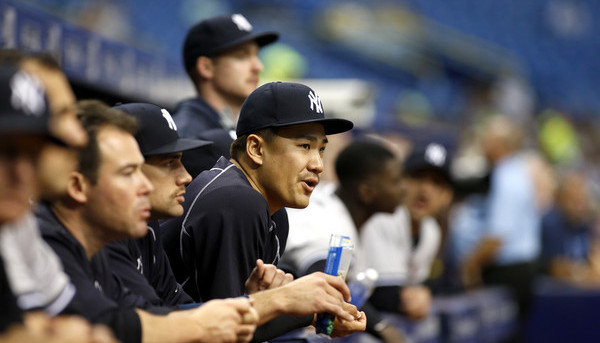 Tuesday: Tanaka will make his first minor league rehab start with Triple-A Scranton on Thursday, the Yankees announced. The RailRiders will be at home playing Durham (Rays) that night. There's no word on how many pitches or innings Tanaka is scheduled to throw yet. All of his bullpen sessions have been around 30 pitches, so perhaps he'll throw three innings and 45 pitches Thursday. We'll see. Tanaka told reporters he is scheduled to throw 45 pitches Thursday.
Monday: Earlier today, Masahiro Tanaka threw a 29-pitch bullpen session at Nationals Park, the Yankees announced. The Yankees have an off-day today and open a quick little two-game series with the Nats tomorrow. Today's bullpen session was scheduled and is Tanaka's third as he works his way back from a wrist and forearm issue.
"We just felt that it would be good for him to throw one more, because he hasn't thrown in a while. We'll make sure he's sharp, then he'll go down and make a rehab start," said Joe Girardi to Mark Feinsand over the weekend, following Tanaka's second bullpen session. Apparently Girardi and pitching coach Larry Rothschild mentioned Thursday as a possible rehab start date if today's bullpen session went well, which it did by all indications.
Both Triple-A Scranton and Double-A Trenton are home Thursday, making them the likely destinations for the rehab start. Unlike Chris Capuano, who basically had to go through an entire Spring Training, Tanaka only needs a tune-up and could make just one or two rehab starts. Not four or five like Capuano, who was pitching in Extended Spring Training for a few weeks before joining one of the minor league clubs.
"I think you have to see where he's at and how many pitches he gets to (in the first start). The one thing you don't want is to have to be in a situation where he can only give you three or four innings," said Girardi to Feinsand. Obviously the Yankees will play it safe with Tanaka, but everyone has insisted the injury was minor from the start, so his rehab could be quick. The Yankees could use him as soon as possible, that's for sure.