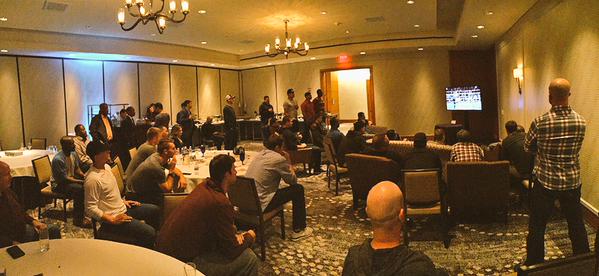 The Yankees and Blue Jays continue their three-game series at Rogers Centre later tonight. Until then, here are some miscellaneous links to check out.
Yankees step up after hitting coach's wife's health scare
Back in February, new hitting coach Jeff Pentland and his wife Liz received some bad health news, bad enough that Pentland considered resigning one month into his new job. According to George King, Liz Pentland tested positive for a cancer gene and needs to undergo a mastectomy. "She didn't want me to (resign), but under no circumstances was I going to let her do this by herself," said Pentland to King.
The Yankees stepped up to help their new hitting coach and his wife, specifically Joe Girardi and head trainer Steve Donahue. They helped arrange visits to the doctor and deal with insurance issues, among other things. Liz will have surgery later this week and Pentland will be away from the team for a few days. Assistant hitting coach Alan Cockrell will fill as hitting coach for the time being.
"Without the New York Yankees, none of this happens. They have been fantastic," said Pentland. "The doctors are experts in their field, top notch, and we feel very comfortable. We owe a lot to the New York Yankees, Brian Cashman and the whole Steinbrenner family. I guess it was meant to be that I became a Yankee.''
The Luxury Tax Problem
As you know, the Yankees plan to get under the luxury tax threshold within the next two years. They tried and failed to get under the $189M threshold last year — missing the postseason and losing out on all that extra revenue played a big part in that, no doubt — but appear willing to give it another go in the near future. Like it or not, it's going to happen.
Nathanial Grow at FanGraphs analyzed the luxury tax and confirmed what has become increasingly obvious with each passing year: the luxury tax threshold is increasing at a much slower rather than league revenues. When it was first implemented in 2003, the luxury tax threshold was set at 90% of the average team's revenue. MLB and the MLBPA then agreed to switch to a fixed threshold, and now it is only 63% of the average team's revenue. Here's Grow's blurb on the Yankees:
Take the Yankees, for example. From 2000 until 2005, New York's payroll increased at approximately the same rate as the team's estimated revenues. As soon as the Yankees faced a 40% penalty as a three-time violator under the new luxury tax framework adopted in 2006, however, the team's payroll effectively flatlined. This has remained true up to today, even though the Yankees' estimated annual revenues almost doubled from 2005 to 2014. As a result, today the luxury tax threshold is set at a level approximately less than 40% of New York's estimated annual revenues.
The current Collective Bargaining Agreement expires at the end of next season and ideally the next CBA would both tie the luxury tax threshold to revenue and reduce penalties, but chances are that won't happen. The MLBPA already caved and agreed to a fixed threshold and stiff penalties. The best they can probably do now is increase the threshold. It has to be over $200M at this point and should probably be closer to $220M or $230M. The revenue is there to support it.
Yankees consulted with sleep therapists before staying Boston
I thought this was interesting. Following Sunday night's game against the Red Sox, the Yankees stayed in Boston and flew to Toronto yesterday morning rather than travel right after the game as usual. They needed MLB approval to do that. According to George King, the Yankees consulted sleep therapists before making the decision to stay in Boston another night.
"You stay on a little more normal sleep schedule. You get here at 4 or 4:30 and we encourage guys not to go to bed at that time unless we are traveling. So (Sunday night) you can go to bed at 1:30 or two o'clock and sleep to 10, 10:30," said Joe Girardi, who called the extra night in Boston an "organizational decision." Obviously last night's game didn't go too well, but that's not necessarily evidence the plan to travel in the morning was a bad. Sometimes baseball just happens.
I wouldn't call it a market inefficiency, but teams nowadays are trying to gain a competitive advantage by getting their players more rest. Several clubs have upgraded their planes to improve travel conditions — the Mariners and Athletics were the first teams to do so, which isn't surprising since they're on the West Coast and fly so often — and now the Yankees are consulting sleep therapists to determine the best time to travel.
Mariano to receive Ellis Island Medal of Honor
ThisOn Sunday, Mariano Rivera will be one of 90 honorees to receive the Ellis Island Medal of Honor, according to the Associated Press. There's a ceremony and a gala and all that. The Ellis Island Medal of Honor recognizes those "who have made it their mission to share with those less fortunate their wealth of knowledge, indomitable courage, boundless compassion, unique talents and selfless generosity; all while maintaining the traditions of their ethnic heritage as they uphold the ideals and spirit of America." Pretty neat. Congrats to Mo.