My favorite thing about the 2015 Yankees so far is that one loss is just that, one loss. It doesn't spiral into two or three or four losses in a row like it the last two seasons. The Yankees rebounded from Monday's tough series opening loss with a 6-3 win over the Blue Jays on Tuesday. This game was pretty stress-free for the first eight and a half innings. New York has won 14 of their last 18 games.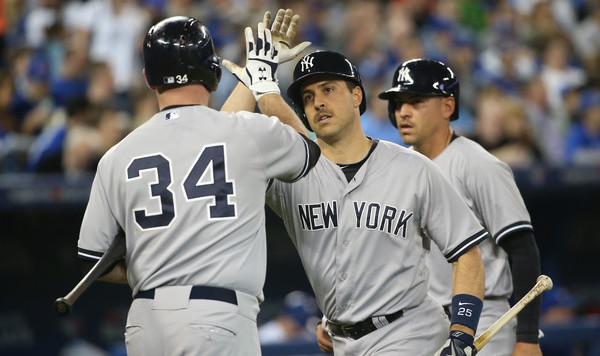 Led By The Leadoff Hitter
Jacoby Ellsbury is a pretty streaky hitter, and right now he's absolutely locked in and pitchers just can't him out. The Yankees had three-run scoring hits in the first five innings and Ellsbury was involved in all three. He led off the first inning with a single, moved to third on Brett Gardner's hustle double, then scored on Alex Rodriguez's double down the line. Blue Jays starter Marco Estrada was in the stretch right away.
In the second, Estrada was on the verge of a clean inning when Josh Donaldson tried to barehand Gregorio Petit's soft ground ball, only to throw it into the stands. I'm pretty sure Petit would have beaten it out anyway, but the throw gave him the extra base. Ellsbury made Donaldson and Estrada pay with a single slashed down the left field line. That gave the Yankees an early 3-0 lead with Ellsbury scoring one run and driving in another.
The fifth inning rally started with another Ellsbury leadoff single, his second leadoff hit of the game and third hit on the night overall. Ellsbury stole second later in the inning but that didn't matter — Mark Teixeira unloaded on Estrada's first pitch fastball for a monster two-run homer to right-center. Gone off the bat, cleared the bullpens, so on and so forth. Estrada led MLB with 29 homers allowed in only 150.2 innings last year and pitches like that fastball to Teixeira show why. Batting practice.
The homer gave the Yankees a nice 5-0 lead in the fifth inning and made things much more comfortable with Joe Girardi understandably wanting to stay away from his key late-inning relievers if at all possible. Ellsbury led the way offensively with three hits in five at-bats, scoring two of the six runs and driving in another. He has an eight-game hitting streak and is 28-for-67 (.418) in his last 16 games overall. Yowza.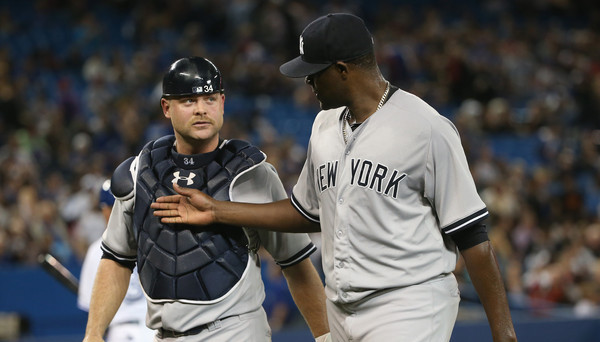 Big Mike Goes Eight
For the first time as a Yankee and only the second time in his career, Michael Pineda completed eight innings on Tuesday. Eight shutout innings too. And he did it a) after laboring a bit in the early innings, and b) on a night when the bullpen really needed a rest. That's what an ace does. Pineda put four men on base in the first three innings and just two in the next five. He retired the last seven and 15 of the last 17 batters he faced.
The Blue Jays had their best chance to rally against Pineda in the third inning, after he walked number nine hitter Ezequiel Carrera on five pitches to start the frame. Two outs followed, but the Yankees caught a break on Russell Martin's two-out double when third base coach Luis Rivera held Carrera up. I thought he was going to score pretty easily with two outs, but I guess not. Pineda got some more help from Gardner when he snow-coned Edwin Encarnacion's fly ball for the final out.
Big Mike was in cruise control after that. He held Toronto to five hits and one walk in those eight shutout innings, striking out six. Pineda also got eleven outs on the ground and another three on infield pop-ups. Considering the trouble he had in those first three innings, completing eight scoreless on only 101 pitches is pretty great. Big time outing from Big Mike. The bullpen needed it too.
Messy Ninth
So we're never going to see David Carpenter in a meaningful spot again. Carpenter, who had thrown only 16 pitches in the last 13 days, allowed three runs on three hits and a walk while getting only two outs in the ninth. Andrew Miller had to come into the game for the final out, which he recorded after walking Jose Bautista to bring the tying run to the plate. Is Carpenter struggling because he hasn't pitched or has he not pitched because he's struggling? We're probably not going to get much of a chance to find out the answer.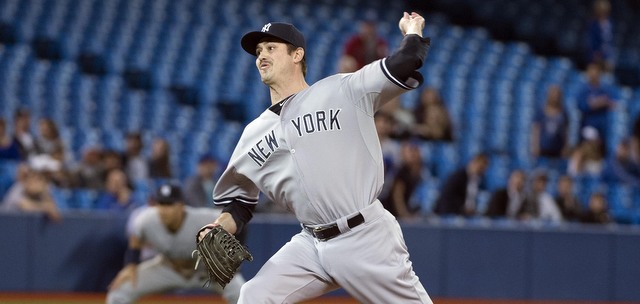 Leftovers
I learned something new in this game: apparently the pitch is still live after a balk is called. That's what happened on Ellsbury's run-scoring single in the second. Estrada was called for a balk mid-delivery, threw the pitch anyway, and Ellsbury shot it down the line to score the run with two outs. Apparently it's a free swing when that happens — the manager gets to decide whether to accept the balk or the outcome of the play. Who knew?
The Yankees scored their sixth run when Didi Gregorius singled in Brian McCann in the eighth. Stephen Drew broke his 0-for-17 skid with two singles, one off a lefty and one off a righty. Everyone in the starting lineup had at least one hit except for Carlos Beltran, who went 0-for-4. Beltran has 16 hits this year — seven against Red Sox starters and nine against everyone else. The Yankees went 4-for-8 with runners in scoring position as a team.
Petit took a pitch to the right hand in his final at-bat of the game. He stayed in to play defense for one more inning before being taken out. Preliminary tests came back clean, but either way Jose Pirela is ready to be activated on Wednesday. Petit would probably rather sit on the big league DL for two weeks rather than go to Triple-A.
Teixeira's home run was his tenth of the season. This was the team's 27th game, and prior to this year, the fastest Teixeira ever reached ten homers was 38 games in 2009. He was a chronically slow starter earlier in his career, but still, beat your old personal best by eleven games? No gluten for anyone next offseason.
Box Score, WPA Graph & Standings
Here are the box score, video highlights, and updated standings. Also check out our Bullpen Workload and Announcer Standings pages. Here is the win probability graph:

Source: FanGraphs
Up Next
The Yankees and Blue Jays will wrap up this three game series on Wednesday night, when veteran southpaws CC Sabathia and Mark Buehrle face off. Feel free to insert a joke about which one has the faster fastball.