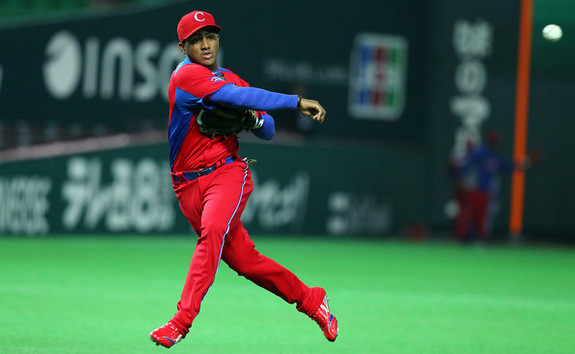 According to George King and Dan Martin, the Yankees held a private workout for free agent Cuban infielder Andy Ibanez at their complex in Tampa earlier this week. The team also scouted him during a workout in Miami last month.
Ibanez, 21, has already been declared a free agent by MLB and unblocked by a Office of Foreign Assets Control, so he is free to sign at any time. King and Martin say he is expected to get a bonus in the $10M neighborhood, which would be taxed at 100% regardless of which team signs him. That would exceed all 30 bonus pools.
Before defecting, Ibanez hit .283/.348/.419 with 60 doubles and 13 home runs in 242 games in the Cuban league. He was on Cuba's roster for the 2013 World Baseball Classic but rode the bench in the deference to their veteran infielders. Here's a scouting report from Ben Badler:
At 5-foot-11, 183 pounds, Ibanez has a thicker build for a middle infielder but he's athletic and has good body control. With fringy speed and an average arm at best, Ibanez isn't flashy, but he has a good internal clock and a high baseball IQ, fitting best at second base. Ibanez's power is mostly to the gaps, projecting as a doubles hitters rather than a big home run threat, but what's sold some scouts on him is his bat.

"He's a strong guy who doesn't have your prototype, ideal body for a second baseman, but he moves around well for his stature," said another scout. "And he performs. He's a good hitter. I liked his swing and the way he manipulated the bat."
Ibanez is subject to the international spending restrictions, so the Yankees are free to sign him for any amount prior to June 25th. But, after that, they will only be able to offer him $300,000 as a result of the penalties from last July's international spending spree. I'm not sure why Ibanez is waiting to sign. You'd think he'd want to sign quickly and start playing in the minors to get his career underway.
Inviting Ibanez in for a private workout really doesn't mean much of anything. The Yankees had Aledmys Diaz in for a private workout last year and they had Yoan Moncada in for three separate private workouts this offseason, but didn't sign either player. It's been a while since the Yankees signed a premium Cuban player. Jose Contreras was the last.
Ibanez is not on the same level as Moncada but he has some ability and is expected to be able to help at the MLB level in the near future. Accumulating middle infield depth is always a good thing, and that goes double for the Yankees, since it's unclear if they have a long-term shortstop or second baseman in the organization right now. (The jury is still out on Didi Gregorius and Rob Refsnyder.)
Until the Yankees actually step up and sign a top Cuban free agent, I won't expect them to do it. They've done the song and dance with several players in recent years — Diaz, Moncada, Yasmany Tomas, Yoan Lopez, and others — but didn't sign any of them. These private workouts are fake interest until they sign one of these guys, as far as I'm concerned.