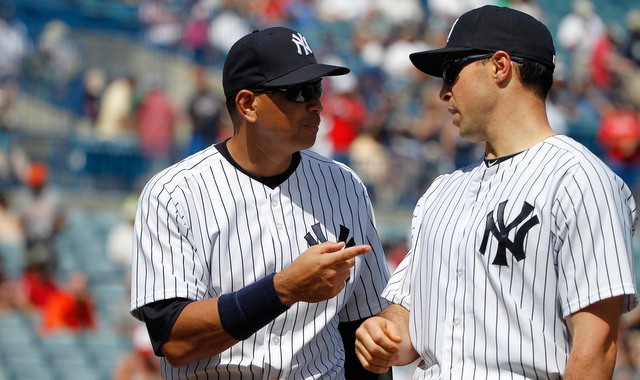 Yesterday afternoon's shutout loss to the Royals capped off a week in which the Yankees really struggled at the plate. After hitting five homers and scoring eleven runs on Monday, the Yankees scored just eleven runs in their next six games combined, with five of those runs coming Saturday. They were shut out yesterday for the first time all season.
This week, the Yankees will temporarily lose a big bat, and not to injury or anything like that. They're set to play a quick little two-game series on the road against the Nationals, and NL rules mean no DH. Alex Rodriguez is hitting .250/.351/.563 (146 wRC+) on the year and Joe Girardi has already said A-Rod will be limited to DH duty going forward, which figures to put him on the bench in Washington.
"We haven't talked about it. After Sunday there is an off day. I will have to see what we do there. I could depend on the next few days. Right now I haven't thought about it," said Joe Girardi to George King last week when asked about A-Rod's status for the Washington series. Given the team's newfound commitment to keeping Rodriguez off his feet so he can stay in the lineup, it's tough to see how he'll be a factor as anything other than a pinch-hitter these next two games.
Now, that said, Mark Teixeira fouled a pitch off his toe yesterday, and he eventually had to leave the game after trying to play through out. Thankfully x-rays came back negative, but Teixeira is still day-to-day, and it wouldn't be a total surprise if the soreness lingers into tomorrow. A-Rod has already started one game at first base this year — it went awkwardly, like all things A-Rod — and starting him at first has to at least be a consideration if Teixeira can't go. Right? Has to.
Girardi acknowledged Teixeira's injury could lead the A-Rod playing against the Nationals — "It could," said the skipper to King yesterday — but ultimately it doesn't really matter who plays first base. Assuming the Yankees don't suddenly reverse course and decide to play Alex at the ultra-demanding third base, they'll be without A-Rod or Teixeira for the Washington series, and they're basically the team's two best hitters. Two best power hitters at the very least.
Teixeira has put up a .248/.366/.576 (149 wRC+) line on the season, and, if you had to pick between him or A-Rod for the Nats series, you'd have to pick Teixeira, right? They're comparable hitters but Teixeira has the advantage of being a switch-hitter and an above-average defender at first. A-Rod's two hip surgeries and recent hamstring issue figure to rule him out completely at third base, as it should. They can't risk injury for two measly games. I love Alex, but Teixeira's the more functional player right now by a considerable margin.
Girardi has a choice to make this week but not really. He's going to lose a big bat during the series in Washington no matter what, and if Teixeira's toe allows him to play first base, he has to play over A-Rod. I'm not sure I see a non-health reason to start Alex over Teixeira at this point. If Teixeira's toe issue keeps him out of the lineup, then that's a different story. I think the Yankees should run A-Rod out there at first over Garrett Jones in that case, even if it's only for six or seven innings.
Either way, the Yankees are losing one of their very best hitters for the next two games, and that's bad. The offense is having a real hard time scoring as it is. Remove A-Rod or Teixeira and suddenly the underperforming Brian McCann and Headley and Carlos Beltran have to carry even more of the load. The Yankees are catching a break by avoiding the Nationals' top starters, but that doesn't make me feel much better. The offense needs to break out of its funk, and they'll have to do it the next two days without one of their top hitters.