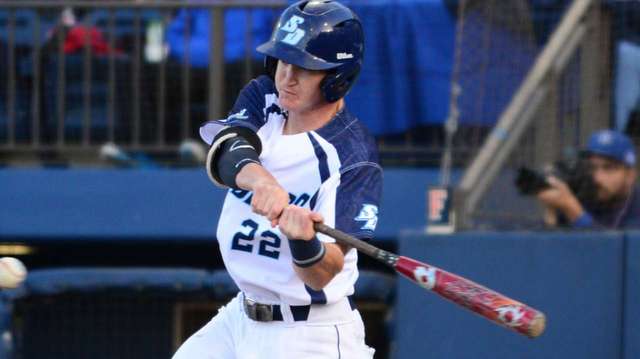 Once again, the Yankees turned to the college ranks for their second pick in the 2015 draft. The team selected San Diego SS Kyle Holder with the the 30th overall pick Monday night. This is the supplemental first round pick they received for losing David Robertson to free agency.
Holder, 21, hit .348/.418/.482 with 14 doubles, four homers, five steals, 19 walks, and 19 strikeouts in 55 games for the Toreros this spring. He was considered arguably the best defensive player in the entire draft class, regardless of position. Here are some scouting report tidbits.
Baseball America (38th ranked prospect):
The athletic 6-foot-1, 185-pounder doesn't run better than average and has an uphill lefthanded swing path, which one scout compared to a cricket swing. However, Holder has shown a knack for the barrel this spring and makes consistent contact. He's unlikely to make an impact offensively but should defensively, where scouts give him grades ranging from 55 to 70. He has an average-to-plus arm to go with excellent, instinctive actions and footwork.
MLB.com (51st ranked prospect):
Unlike many college shortstops, there are absolutely no questions about Holder's ability to stay at the premium position long-term. He has outstanding hands, range and footwork to go along with a strong arm and the athleticism that made him a good shooting guard carries over to baseball. The questions start to come when discussing his bat. While he is performing in his junior year and rarely strikes out, he's still learning how to take good at-bats consistently, and power is never going to be a part of his game.
Keith Law (subs. req'd) ranked Holder as the 91st best prospect in the draft in his latest rankings, but did not write up an individual scouting report. For what it's worth, Holder was a standout basketball player growing up and he didn't focus on baseball full-time until two years ago, so he doesn't have the same level of experience or polish as most college players. Here's video:
I seem to be one of the few people who has no problem with the Holder pick. I actually think there's some upside there — he's got the defensive part of the game figured out and now just needs to gain experience and work on his offense. Is Holder going to be a middle of the order hitter? No, of course not. But I think his chances of developing into a non-zero with the bat are better than he's getting credit for.
Now, that said, the Yankees haven't had much success developing bats in recent years, and I don't think we can give them the benefit of the doubt with Holder either. Getting him to improve his offense is a tall order. Also, this pick continues the team's weird recent trend of prioritizing defense to the point that they are willing to punt offense to get it. Not sure what sparked that but it's kinda annoying.
Anyway, slot money for the 30th overall pick is $1,914,900 and the signing deadline is Friday, July 17th. There's no reason to think Holder will be a tough sign, and heck, he might even sign below slot. We'll see.