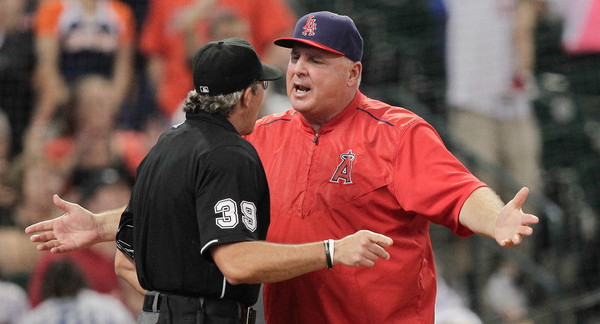 The Yankees are back home after their seven-game West Coast swing, and now a West Coast team is coming to visit the Bronx. The Angels will be in Yankee Stadium for three games this weekend. This will be the first meeting of the season between these two clubs, which have quite a bit of head-to-head history in the 2000s.
What Have The Angels Done Lately?
Like the Yankees, the Halos had an off-day yesterday as they traveled to New York. They lost their last two games to the Rays and two of three in the series overall earlier this week. Prior to that, manager Mike Scioscia's team won six straight, including sweeping a four-game series from the reeling Tigers. The Angels are 28-26 with a +6 run differential overall. They're a distant second to the Astros in the AL West. What a world.
Offense & Defense
After leading all of MLB in runs per game last season (4.77), the Angels are averaging just 3.96 runs per game with a team 96 wRC+ in 2015. That's quite a step back. The Angels are healthy too. Their only injured position player is fourth OF Collin Cowgill (50 wRC+), who is on the DL with a wrist issue. He won't return this series.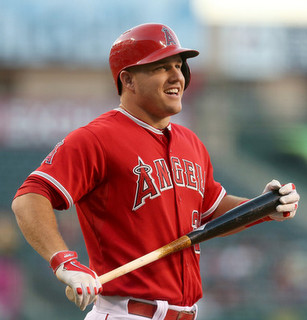 As always, Scioscia's offense is led by OF Mike Trout (160 wRC+), who continues to be baseball's best all-around player. 1B Albert Pujols (129 wRC+) has gotten hot of late — Pujols has hit six homers in his last seven games — and personal fave OF Kole Calhoun (108 wRC+) is having a solid year. Same with 3B David Freese (105 wRC+), who's already hit nine home runs after hitting ten all of last season.
2B Johnny Giavotella (109 wRC+) replaced Howie Kendrick and is making the most of his first extended taste of MLB, specifically with a bunch of big hits late in games and extra innings. Every time I turn on MLB.tv he's driving in a run in the eighth or ninth it seems. SS Erick Aybar (89 wRC+) has been okay-ish but OF Matt Joyce (62 wRC+) has really struggled. C Chris Iannetta (68 wRC+) and C Carlos Perez (128 wRC+) are the catching tandem while Rule 5 Draft pick IF Taylor Featherston (-64 wRC+), UTIL Grant Green (17 wRC+), UTIL Efren Navarro (67 wRC+), and OF Kirk Nieuwenhuis (12 wRC+) are on the bench.
The Angels are a sound defensive club overall. Trout is a stud in center and Iannetta has graded out as a top notch pitch-framer this season, given them two great glove guys. Pujols is very good around the bag but doesn't move as well as he once did, and Aybar is still very good at short. Calhoun and Giavotella are solid defenders but Joyce and Freese are pretty terrible. Nieuwenhuis is quite good in the field and he's been playing regularly of late. The left side of the field is the place to hit it, towards Freese and Joyce.
Pitching Matchups
Friday: RHP Nathan Eovaldi (Career vs. LAA) vs. RHP Jered Weaver (Career vs. NYY)
It's been a tale of two seasons for the 32-year-old Weaver. He had a 6.29 ERA (5.80 FIP) in his first six starts and now has a 1.98 ERA (3.06 FIP) in his last five starts. It all works out to a 4.08 ERA (4.39 FIP) in 70.2 innings. Weaver doesn't strike out (13.2%) or walk (3.5%) anyone, and his 40.0% ground ball rate is actually a career high. He's always been an extreme fly ball/pop-up pitcher. His 1.27 HR/9 is also a career high, and lefties (.331 wOBA) are hitting him harder than righties (.298 wOBA). Weaver's fastball legitimately sits in the mid-80s these days (look!), and he will throw the kitchen sink at you. Four-seamers, two-seamers, low-80s cutters, upper-70s sliders, upper-70s changeups, upper-60s curveballs … he throws everything like seven miles an hour slower than the average pitcher. Crazy.
Saturday: RHP Adam Warren (Career vs. LAA) vs. RHP Garrett Richards (Career vs. NYY)
Richards, 27, was a bonafide Cy Young candidate last season before he slipped covering his first base and shredded his knee in late-August, ending his year. He had surgery and missed the first few weeks of this season rehabbing. Richards has a 3.26 ERA (3.79 FIP) in nine starts and 58 innings since returning, though his strikeout (19.3%), walk (9.9%), and homer (0.62 HR/9) rates are all slightly worse than a year ago. He's still getting a ton of grounders (54.5%) and is doing better against lefties (.242 wOBA) than righties (.308 wOBA), which was true last season as well. Richards throws very hard, sitting in the mid-90s with all three of his fastballs (four-seamer, two-seamer, cutter) and complementing them with an upper-80s slider and a handful of upper-70s curves. He doesn't throw a changeup at all.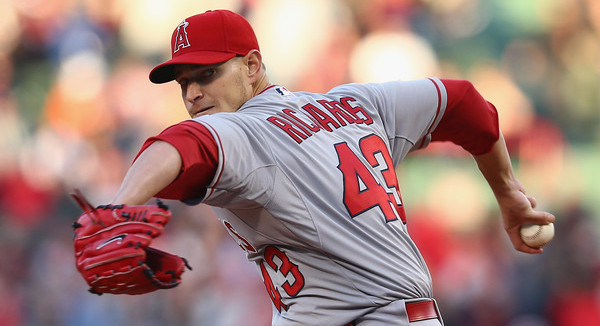 Sunday: RHP Michael Pineda (Career vs. LAA) vs. LHP C.J. Wilson (Career vs. NYY)
The Angels were willing to give Wilson away in the offseason, and now he's arguably their most consistent pitcher, posting a 3.55 ERA (3.64 FIP) in eleven starts and 71 innings. His strikeout rate (19.1 K%), walk rate (8.2%), grounder rate (44.7%), homer rate (0.63 HR/9), and left/right splits (.244/.292 wOBA) are right in line with his career norms. Typical year for the 34-year-old southpaw. Wilson throws six pitches, including five at least 10% of the time. He offers low-90s two and four-seamers, an upper-80s cutter, a mid-80s changeup, a low-80s slider, and an upper-70s curveball. The cutter is the sixth pitch. That one he's thrown only 7% of the time this year.
Bullpen Status
The Angels had a solid bullpen last year (3.52 ERA and 3.40 FIP) when they had the best record in baseball, and Scioscia's relievers are repeating that performance almost exactly (3.53 ERA and 3.41 FIP). Freaky. Setup man RHP Joe Smith (1.98 FIP) and closer RHP Huston Street (2.73 FIP) are a formidable duo at the end of games, and RHP Fernando Salas (2.44 FIP) has been a fine third wheel.
LHP Jose Alvarez (4.49 FIP) and LHP Cesar Ramos (3.69 FIP) are Scioscia's two primary lefties, though neither is a true specialist. Both are starters by trade and can pitch full innings. LHP Edgar Ibarra (2.62 FIP) has two MLB innings under his belt and is currently in the "last man in the bullpen" role. RHP Cam Bedrosian (3.53 FIP) and RHP Matt Shoemaker (5.08 FIP) are the other two guys in the 'pen. Shoemaker is actually in their rotation, but he's really struggled this year (2.06 HR/9!) and the Halos are going to take advantage of some off-days to skip his spot. Head over to our Bullpen Workload page for the status of Joe Girardi's relievers, then check out Halo Hangout for updates on the Angels.