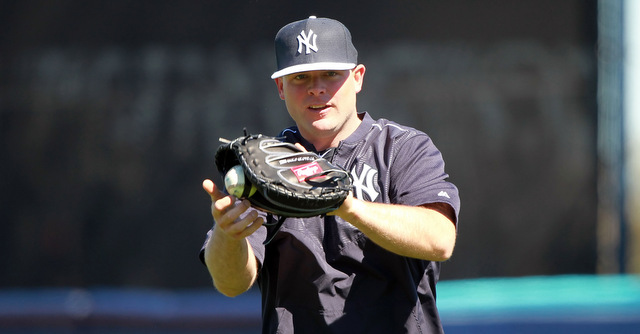 Thursday, 4:51pm: Both an MRI and a CT scan came back negative today, the Yankees announced. McCann is considered day-to-day. He was examined by team doctor Dr. Ahmad and orthopedic foot and ankle specialist Dr. Justin Greisberg. Ex-frickin-hale.
Wednesday, 4:59pm: McCann left the game with right foot soreness, the Yankees announced. He'll undergo an MRI in New York tomorrow. Welp, finger crossin' time. Here's the unembeddable video of the injury.
4:10pm: Brian McCann left this afternoon's game against the Mariners for an unknown reason in the second inning. Replays showed him grimacing after grounding out and running to first following his only at-bat, but it's unclear what was bothering him. Leg, back, oblique … your guess is as good as mine right now.
McCann, 31, left a game with a cramp in his right calf ten days ago, but he returned to the lineup the very next day and hasn't had any problems since as far as I know. McCann's been hot at the plate too — he's 11-for-33 (.333) with four homers in his last eleven games, so if the calf issue lingered, it didn't show in his production.
John Ryan Murphy took over behind the plate and while I irrationally love JRM, losing McCann for any length of time would be a big blow. Not just offensively, but defensively as well. Hopefully it's nothing serious and the Yankees are just being cautious. The team has an off-day Thursday, so McCann will get the day to rest either way.