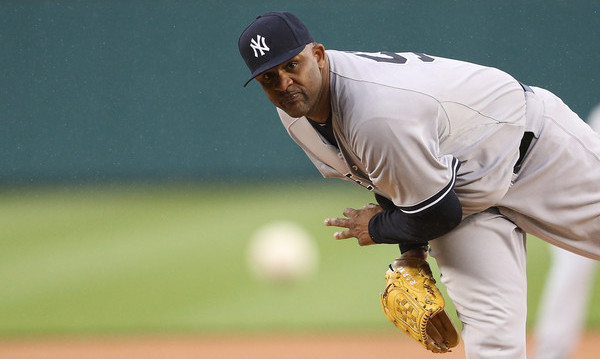 So, let's just forget about last night's game, okay?
Good.
Even with this mini two-game slide, the Yankees have won seven of their last nine games and are 11-5 since May 25. The only AL team with a better record in that span is the red-hot Toronto Blue Jays. Everyone feeling a little better now?
CC Sabathia is on the mound tonight, and is on a bit of a roll right now, with a tidy 3.09 ERA in his first two June outings. He's pitched into the sixth inning and hasn't allowed more than two runs in each of those games. That's great, but Sabathia hasn't had much luck recently pitching in Baltimore. He's 0-5 with a 5.48 ERA in his last seven starts in the Charm City, including a loss on April 14 this season. Time to right the ship!
Here is the Orioles lineup and here is your New York Yankees lineup:
1. Brett Gardner LF
2. Chase Headley 3B
3. Alex Rodriguez DH
4. Mark Teixeira 1B
5. Brian McCann C
6. Carlos Beltran RF
7. Didi Gregorius SS
8. Stephen Drew 2B
9. Mason Williams CF
LHP CC Sabathia
It was hot and humid today in Baltimore, and it looks like the possibility of showers and thunderstorms should hold off until midnight. Tonight's game will start at 7:15 pm ET and can be seen nationally on FOX. Enjoy the broadcast and the game, wherever you are.
(Not)Milestone watch: A-Rod is now one RBI away 2,000 for his career, and six hits away from 3,000. #AROD3K
Roster Update: The Yankees signed Sergio Santos to a major-league contract this morning and added him to the bullpen. He will take the spot of Esmil Rogers, who was outrighted to Triple-A last night. Also, Jose Ramirez has been recalled and is listed in the Yankees bullpen; Jacob Lindgren was sent back down to Scranton to make room for Ramirez on the roster.