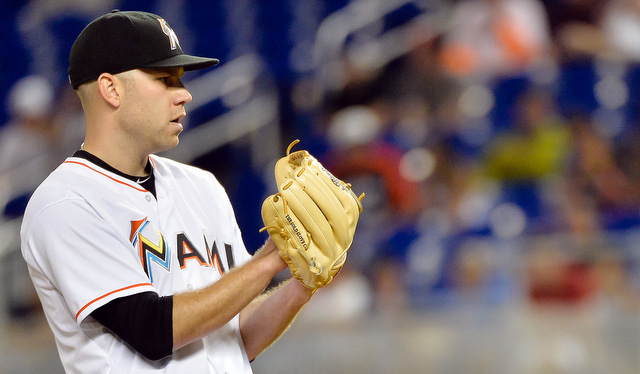 In the grand scheme of things, the five-player trade with the Marlins was the biggest trade the Yankees made this past offseason. Four bonafide big leaguers and one very good prospect were involved, and two of those big leaguers will be on the mound tonight when Nathan Eovaldi and David Phelps square off in the second game of this four-game home-and-home series.
Phelps was a servicable swingman for the Yankees the last three years, pitching to a 4.21 ERA (4.20 FIP) in 40 starts and 47 relief appearances from 2012-14. Considering the Yankees acquired Phelps with a 14th round draft pick (2008) and a $150,000 signing bonus, I'd say they got a pretty great return on their investment. Hopefully he still bleeds pinstripes and throws his former teammates some meatballs tonight. The Yankee could use all the help they can get right now. Here is Miami's lineup and here is New York's lineup:
CF Brett Gardner
SS Didi Gregorius
1B Mark Teixeira
C Brian McCann
3B Chase Headley
RF Carlos Beltran
LF Chris Young
2B Brendan Ryan
RHP Nathan Eovaldi
Typical weather in Miami today, so sunny and hot and humid. Same yesterday, and since the Marlins Park roof was closed last night, I assume that will be the case tonight as well. Today's game begin 7:10pm ET and can be seen on YES. Try to enjoy.
Injury Update: Jacoby Ellsbury (knee) will not stay behind in Tampa to continue his rehab when the team returns to New York tomorrow. "(He's) not where he needs to be," said Joe Girardi. Ellsbury is still unable to run at 100%.