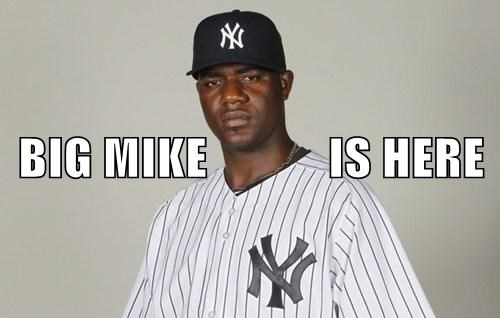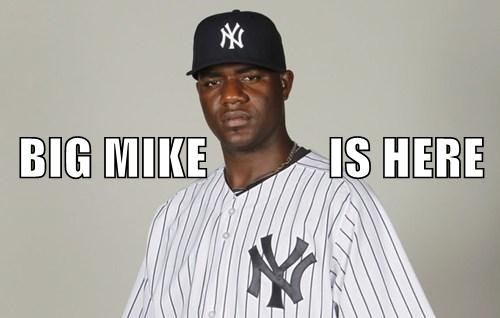 The Yankees open a three-game series with the punchless Phillies this evening — Philadelphia has baseball's worst offense in terms of runs per game (3.10) and wRC+ (75) — and they're sending Michael Pineda to the mound. Last time out Big Mike took a no-hitter into the seventh inning against the Marlins. There is no such thing as a guaranteed win in baseball, but man, I'd be lying if I said I didn't feel good going into this game.
Anyway, the Yankees got blown out by the Tigers on Sunday and that sucked. They had won four straight before that though, and this series with the Phillies is a great opportunity to shake off the blowout and pile up some wins. The Yankees have to take care of business this series. The Phillies are terrible and they need to beat teams like this to remain in the hunt in the AL East. The division is too close to give away series to bad teams. Here is Philadelphia's lineup and here is New York's lineup:
CF Brett Gardner
3B Chase Headley
DH Alex Rodriguez
C Brian McCann
RF Carlos Beltran
1B Garrett Jones
SS Didi Gregorius
LF Chris Young
2B Stephen Drew
RHP Michael Pineda
It's a gorgeous day in New York. Just perfect for baseball. Tonight's game will begin at 7:05pm ET and you can watch live on WPIX. Enjoy.
Injury Update: Mark Teixeira is out of the lineup with a stiff neck. It's been bothering him on and off for a week or so now. Teixeira went for an MRI today and Joe Girardi said he expects him to be back in the lineup in a day or two … Andrew Miller (forearm) will play catch on Wednesday.
Roster Update: In case you missed it earlier, Ivan Nova will start Wednesday and the Yankees will temporarily shift to a six-man rotation … as expected, both Nick Rumbelow and Diego Moreno were called up from Triple-A Scranton. Jose DePaula and Danny Burawa were sent down yesterday.
All-Star Update: MLB released the latest AL All-Star Game voting update today, and the good news is it is no longer Mike Trout and the Royals. Now it's Mike Trout, Miguel Cabrera, and the Royals. No Yankees are remotely close to the top spot for their positions. No non-Royals other than Trout and Cabrera are, basically.