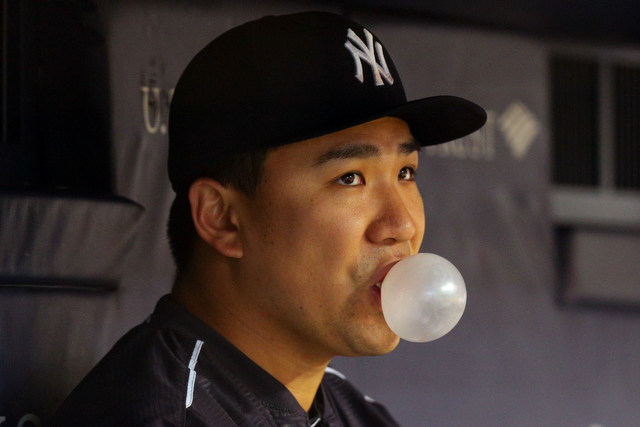 By Game Score, Masahiro Tanaka's last start was the second worst of his relatively brief MLB career. He allowed five runs (including three homers) in five innings against the Tigers and wasn't sharp at all. Tanaka left a lot of pitches up in the zone and Detroit made him pay. Naturally, everyone worried about his elbow, but Tanaka said his problems were all mechanical.
So, in an effort to get things back on track, Tanaka threw two bullpen sessions between starts instead of his usual one. He told reporters he identified a mechanical issue while watching video and wanted two throwing sessions to make sure he ironed it out. Tanaka was pretty excellent prior to his last start (1.31 ERA and a 35/2 K/BB in his previous five starts), so hopefully that one was just a blip on the radar. Here is Houston's lineup and here is New York's lineup:
CF Brett Gardner
LF Chris Young
DH Alex Rodriguez
1B Mark Teixeira
C Brian McCann
RF Carlos Beltran
3B Chase Headley
SS Didi Gregorius
2B Jose Pirela
RHP Masahiro Tanaka
It's hot and humid in Houston, and it's supposed to start raining pretty soon, so the Minute Maid Park roof will be closed. Apparently it's going to start raining today and not stop until next Saturday. Texas is weird. This afternoon's game will begin a bit after 4pm ET. You can watch on YES locally and, depending where you live, MLB Network nationally. Enjoy the game.
Injury Updates: Jacoby Ellsbury (knee) will run today and tomorrow. The Yankees will then decide whether he's ready to begin a minor league rehab assignment … Andrew Miller (forearm) made 45 throws from 100 feet today and I assume everything went fine. We probably would have heard by now if it didn't.